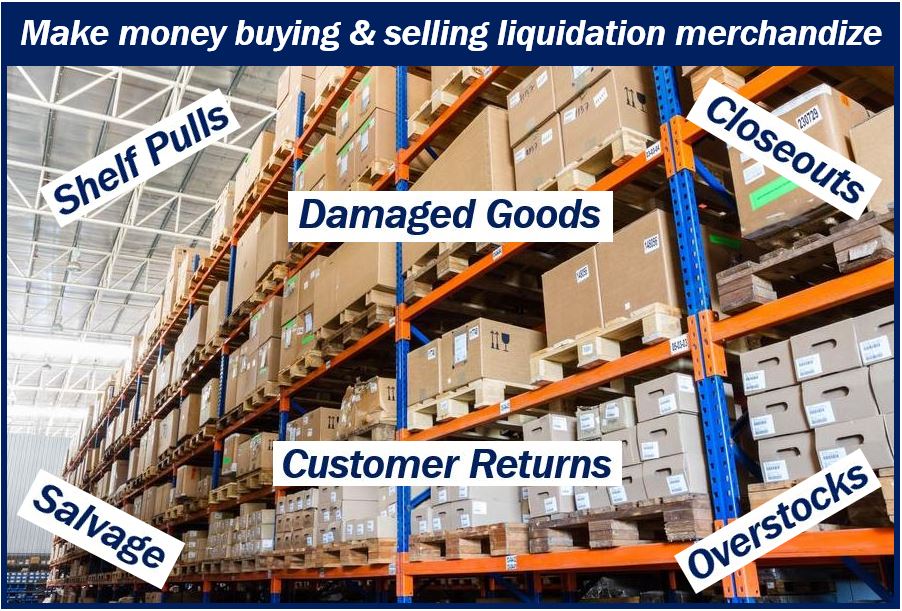 Making money has become challenging in the modern world, with more and more competition targeting the same market. Businessmen, especially, have a tough time maintaining a successful trade that will keep their livelihood running. When conventional methods fail to provide you the desired compensation, you need to find innovative and more effective ways to earn money.
Many people run successful businesses by dealing in liquidation merchandize. Be it part time trade to full time occupation, the liquidation market has room for all. As long as there are e-commerce giants and retail stores, this type of business will keep going strong. It ensures quick turnover, significant profits and assured success. With a little effort and investment, you can earn a lot of money.
What is Liquidation Merchandize
Liquidation is done for merchandize that has been overstocked by retailers or big businesses. They remain excess in amount due to many reasons. It might be that the company ordered a bulk amount, their demand suddenly falls or the company needs to clear their warehouse before making room for new stocks.
Due to several reasons, these big businesses look towards liquidating their stocks, which in turn gives rise to a booming business for others. The companies sell their excess products at greatly discounted prices to small business or established liquidation companies like Quicklotz.
Making Money through Overstocked Items
You can make good money buying overstocked items at a great discount and reselling it to make profit. In this scenario, you will be able to purchase bulk orders from resellers who are eager to get rid of their excess stock. With a small investment, you will be able to gain a huge stock to resell. Then, you can reach buyers, mostly customers or small businesses who will help you make profit.
Depending upon the scale of your business, you can buy products in various sizes, like pallets, truckloads or containers. Your merchandize can be of a similar item or miscellaneous products. From store returns to brand new products, overstocked items are available in both varieties.
The products are sold through various channels, like company websites or through a middleman, like Quicklotz. The sale may be made at a fixed price or through an auction, after which it reaches the market through other businesses.
Tips to Resell Products Successfully
There are certain things to keep in mind while setting up a successful business buying and reselling overstocked products. If you play the right cards, you will be able to make major profit in this field.
It is important to know the market. Think carefully before buying a particular kind of shipment; analyze whether the products are attractive to customers and how much resell value they have.
Set up clear channel for customer communication. Make your business available and accessible to the public, be it through a website or social media. Make sure your business is visible.
Avail major e-commerce brands like eBay and Amazon to market your products. These sites have massive traffic and give your listings high visibility.
Set the right price. Be aware of the market rates and make sure your price is lucrative to the customer. Do not ask for unreasonably high prices or extremely low ones, bringing the quality of the product into question.
Do not ignore local channels like small stores, garage sales and even flea markets. They have their own loyal customer base, who will definitely contribute towards your profit making.
Why Should You Buy and Sell Liquidation Merchandize
Buying and selling overstocked items can be a lucrative business opportunity for beginners and professionals alike. It is great for a livelihood as well as part time income option. It gives you a great investment to profit ratio. The initial costs are low compared to most other businesses, so the profit margin can be quite high.
All you need to do is keep an open eye and be aware of the market. With the right knowledge and buying decisions, you can become a successful businessman in a few months, if not less. It only takes a bit of hard work and sincere effort.
You do not have to make the products or take care of shipping and other expenses. Just buy from major sellers at an extremely reduced rate and resell it for major profit. Everything else is taken care of by other channels. When you think about it, setting up a business and making money has never been easier. Try it and let us know your experience as an entrepreneur.