When it comes to managing your small business, having the right tools can make all the difference between things running smoothly or not. With all of the latest offerings from Apple, it can be hard to know which iPhone to choose for your particular business needs. Based on our research, it could quite possibly be the iPhone 8 Plus. It might not be the latest offering from Apple but here we will take a look at how you could use the iPhone 8 Plus to manage your business, which apps to download, and where to get it from.
Screen Size
One of the advantages of the iPhone 8 Plus is the screen size. It is close to being tablet-sized yet still able to fit into your pocket. The 5.5-inch screen is larger than its predecessors, but only a fraction smaller than the iPhone X. The iPhone X increases this to 5.8-inches of the screen. There is an increase in height, but no change to the width.
The absence of the home button has allowed this to be possible even with the addition of the now-infamous "notch" on the top of the screen for the camera.
It can also be noted that when utilizing the iPhone X in landscape mode, you have less viewable display area due to the narrower width and the "notch". While this is not a major flaw, it can make a big difference in how much screen display you will lose with various apps. Be sure to plan accordingly.
A11 Bionic Chip 
Both the iPhone 8 Plus and the iPhone X have the same type of A11 Bionic Chip with 64-bit architecture, although the battery on the iPhone X is slightly bigger. Of course, the iPhone X has a higher display resolution and Face ID which requires various sensors to be running in the background on a constant basis. Perhaps as a result of these additional features, tests from the independent testing website, GSMArena, found that the iPhone 8 Plus lasted three hours longer than the iPhone X for basic web browsing and video playback.
Price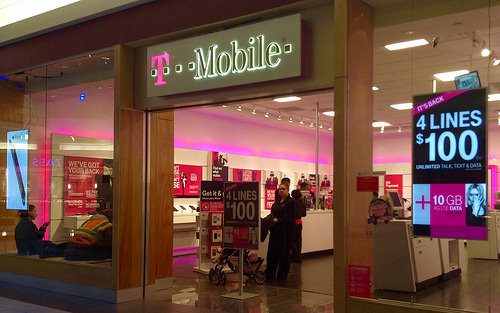 If you purchase your iPhone 8 Plus from a carrier such as T-Mobile it will only cost $949.99 as opposed to $1,149.99 for the iPhone X. That is a big saving when you consider that the iPhone 8 Plus is better than its predecessors yet comparable in performance, sometimes even better than the iPhone X. Additionally, according to a recent report from OpenSignal, when you use a reputable carrier such as T-Mobile, you can guarantee that you are getting a great deal on the most reliable and fastest network in America.
Useful Apps to Download
When it comes to managing your small business, you need apps that are user-friendly and can be trusted with important information. Here is a look at some of the best apps for businesses.
Keeping track of your clients and their data is crucial for any business. This CRM app allows you to access all information, edit, and delete records, even if you are offline.
An accounting app that has been designed to take away the stress of managing your accounts and invoices. This app has many features such as creating professional invoices, keeping track of payments, and saving a record of sales.
This app is a personal automation app that can be used to seamlessly organize your workflow and productivity. With over 200 actions, Workflow has the ability to combine many of your current app processes to produce workflows that can make your day feel much smoother and easier.
So the good news is that it is possible to manage your small business effectively with the less expensive iPhone 8 Plus. It ticks all the boxes by having a decent-sized screen, high-tech features, functionality, and excellent battery life, and yet it is still an affordable option for small business owners. Business owners can find even more amazing apps to suit their individual business needs at the App Store.