Coronavirus has turned out to be critical global stress. It has proven to be a challenge for every leader in the world. Every mitigation strategy and contingency plan that any leader has envisioned seems to be failing. The same is the case with business leaders all around the globe. Countless people are losing jobs, as businesses are going down. These are indeed challenging and depressing times for people regardless of the field they belong to.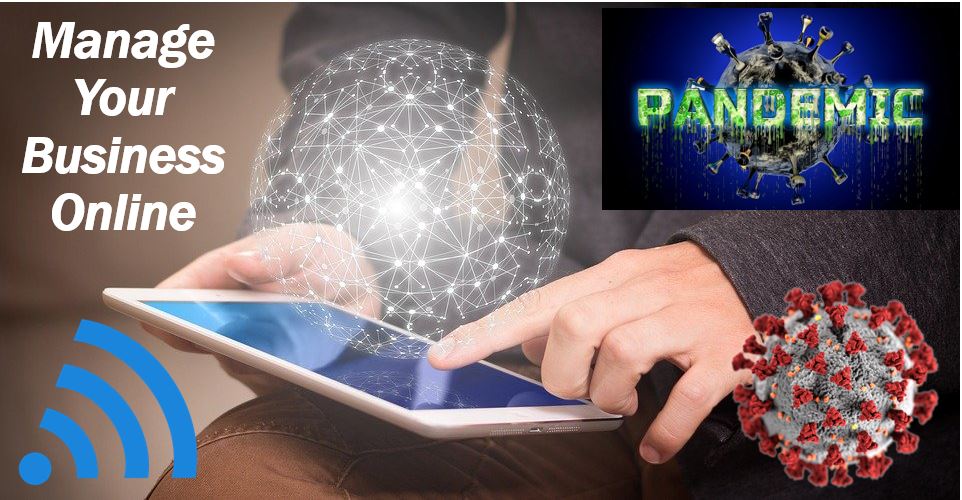 However, even in these dark times, you can manage to stay afloat by adopting suitable online strategies for your business. For example, a single conference call can solve most of the communication glitches that you may face while managing work online from your home. Here are some other useful and practical ways that will help you to manage your business online amid the coronavirus.
Even When You Are Distant, Be Present
It might be difficult for you to make adjustments in the start to manage all your business online. There is nothing to be worried about it. All you have to do is take baby steps, and you'll do just fine. Hence, the first step should be your uninterrupted online presence. It is essential for both your business and your employees. When they know that they can reach out to you whenever they have to ask something, it helps them to be more productive, and it also prevents work delays due to ineffective communication.
Reconsider Your Priorities amid the Disruption
With everything going on around the world due to the coronavirus, job and economic disruption are causing a lot of stress and anxiety among the masses. Therefore, if you need to stay afloat during this crisis and want to compensate your employees too, then you must reconsider your business strategies.
Remember, one day, this all will be over, and if you don't take care of your employees now, you can't expect them to stay loyal when this crisis is over. So, make sure that you prioritize your business goals accordingly.
Make Your Website Your Online Office
If you think that you have an excellent website for your business, then it's time that you rethink it. Your website before the global pandemic was built with a different perspective. Now that your business model is completely changed due to work from home and you are doing everything online, you need to make sure that your website gives an image of a virtual office. Make it accessible and easy to understand for your potential clients so that they don't feel the need to reach out to you every time they have any queries. In other words, incorporate AI and make it self-explanatory.
Digitize All Your Business Options
It is pretty clear that now every type of marketing and sales will be taking place online. So, it only makes sense that you digitize all your options and make sure that you are present on every possible platform. Although it is something that you should have done regardless of the current situation, still it's not too late. Make sure that you make your marketing strategies suitable for each digital marketing platform that you are planning to use amid the global lockdown.
Go Hard on Online Deals
It is a fact that you may have to forget about doing business on the ground for a while. Until the uncertainty doesn't settle down, you'll have to make peace with working online. So, it only makes sense that you offer as many online deals to your clients as you can because it is the only way to stay afloat even during this crisis. All the businesses are going flexible with their prices and showing more accommodating behavior. You need to do the same because it really is the need of the hour.
Know What Your Competitors Are Up to
If you think that just because you are working online, it means that your competitors are not a problem anymore, then you are wrong on so many levels. Now, more than any other time, you need to be aware of what they are doing. So, make sure that you make strategies by keeping your competitors in your mind. It is important because you can't afford to be left behind in times like these, where you have no other option.
Invest in a Good Internet Connection
It is perhaps the most important thing that you need to do if you don't want any glitches in your business. So, make sure that you invest in a good internet connection that meets the requirements of your business. It is important because when you shift all of your business online, a smooth and uninterrupted internet becomes a must-have. Or else, both you and your clients will suffer from it. Also, it will make communication between you and your employees extremely difficult.
Use the Right Tools
One of the most important things that you need to know to manage your business online during the COVID-19 effectively is the use of the right tools. For example, to conduct online meetings with your employees and clients, you must know how to do a conference call using the right tools. Similarly, many other such tools can make it easy for you to manage your business while you are working from home.
________________________________________________________
Interesting related article: "What is the coronavirus?"