Feeling that FOMO and curious about where all the hip kids are taking those jaw-dropping Instagram pics? Well, we've got all the tea for you. Spoiler alert, the tea is all about the amazing city of Manila! 
Manila has awesome historical spots and mind-blowing modern attractions, making it a must-visit place for tourists worldwide. So, whether you're a nerd and love history, a food lover, or maybe a social media superstar, Manila has something super cool and exciting for all of you. And luckily, cheap flights to Manila are readily available from the UK. Get ready for an unforgettable experience!
Here's Why Tourists love Manila!

Before we dive into the coolest Instagram spots in Manila, let's check out why this city is an absolute favourite among tourists. Picture yourself stepping back while exploring Intramuros, a Spanish colonial fortress. Now, let's switch gears to the thrilling modern side of Manila. Picture yourself strolling through vibrant streets filled with colourful shops and delicious street food vendors. One word: Yum! 
But hang on because we're not done yet! Manila knows how to party, so get ready to experience the best nightlife ever! You'll be dancing the night away with music full of beats and friendly vibes. And guess what? The locals are the friendliest bunch, so don't be shy to strike up a convo and learn about their fascinating culture. Whether you're a history geek or a party animal, Manila's something exciting for everyone. 
Seriously, and trust us, there's so much to adore! 
Manila's 6 Instagrammable Spots
Get pumped because we'll reveal the ultimate spots to make your feed explode with likes. So, grab your cameras, prepare those hashtags, and dive into this thrilling visual adventure through the heart of the Philippines! Get ready to slay the gram! 
1) Fort Santiago
Alrighty, let's kick off our epic list with the iconic Fort Santiago! This fortress has stood tall through the ages, packed with awesome history. Moreover, now you can walk on those cool cobblestones and enjoy the beauty of the beautiful gardens. You can also pose best while leaning against those old walls or catch a natural shot surrounded by lush greenery.
Fort Santiago is a goldmine of stunning backdrops that will keep your followers hooked! Get ready to shine on that gram! 
2) San Agustin Church
Get ready to be blown away by the majestic San Agustin Church. It will also leave you totally amazed! The detailed architecture, graceful arches, and fancy designs are a dream for photographers and history buffs.
Moreover, you can step inside, soak in the serene beauty, or pose outside to capture the flawless facade. This architectural masterpiece is a spot you absolutely can't miss! 
3) Puerta Real Gardens
Prepare for an awesome discovery in the city's heart; Puerta Real Gardens! This garden is like a place screaming at you to find it already. Imagine escaping the crazy hustle and bustle of Manila and stepping into a world of calm and peace.
You can strike your best yoga poses or chill with a refreshing coconut drink. This spot is also perfect for relaxing and capturing some incredible Instagram-worthy moments. 
4) Ayala Triangle Gardens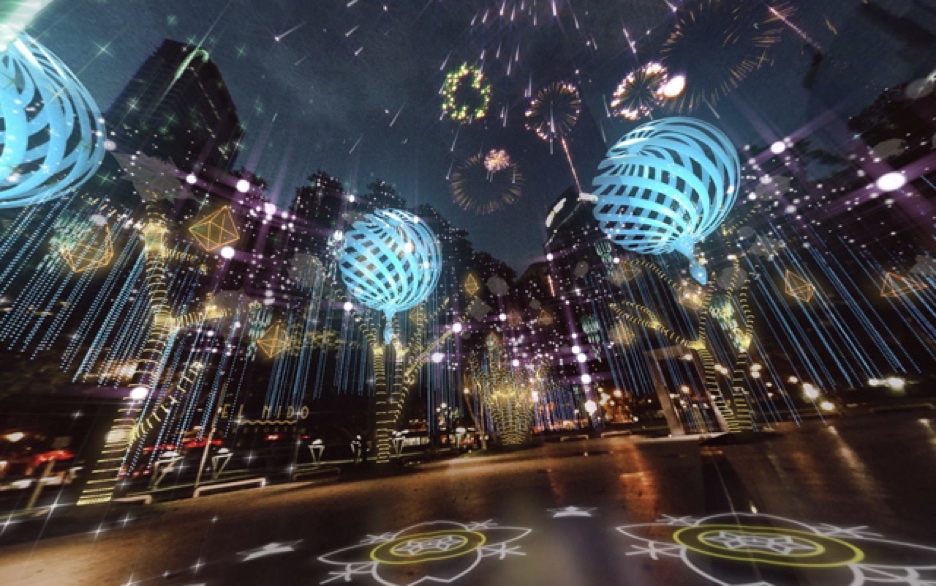 Ayala Triangle Gardens is like a magical mix of nature and modernity in the city's heart. You need to escape from the towering skyscrapers and enter this urban oasis. The lawns are so well-kept, and the flowers add a burst of vibrant colours. Also, it gets even better at night because the garden has beautiful light displays. They are amazing.
So, if you are a nature lover, you must take out your cameras. We suggest you also let your creativity flow because you're about to capture some truly unique shots. So, get ready to wow your followers with the magical beauty of this urban sanctuary. 
5) Venice Grand Canal Mall
Hold tight, guys, because we'll take you on a romantic trip to Italy without leaving Manila! Say hello to the fabulous Venice Grand Canal Mall! It's like a magical piece of Italy right in the city's heart. Picture yourself strolling along the charming canals and crossing those adorable bridges. This place is the Venetian dream come true!
And guess what? This spot will remind you of Venice. So, get your cameras ready for some amazing photos and of course, amazing memories!
6) Yuchengco Museum
Yuchengco Museum is bursting with modern art installations, mind-blowing exhibits, and fascinating galleries that'll blow your mind. Pose like a pro next to those captivating artworks, or let your inner art critic shine through in your captions. We think you'll be the coolest art guru on the gram!
So, Yuchengco Museum will turn your feed into an artistic masterpiece leaving your followers in total awe. 
Locate Cheap Flights To Manila From UK
Now it's time to turn those dreams into reality because we've shown you the most Instagram-worthy places in Manila! Get ready to find the best cheap flights to Manila. Yep, you heard it right; we're talking about unlocking the gateway to a world filled with culture, history, and many picture-perfect moments!
Whether you're all about the historical wonders, totally hooked on the modern charm, or simply love the warm vibes of Manila, your epic journey to this Instagram paradise is just a flight away. You can also content travel agents to find flights to Philippines from the UK. So, grab your suitcases, and get ready to explore the hidden gems of Manila, one fabulous double-tap at a time! 
Long Story Short
Manila is seriously the coolest city ever! It mixes its awesome history with all the modern stuff, making it a dream place for travelers and photographers. And guess what? There are also memorable moments waiting for you at every turn.
So, get pumped to create an Instagram feed that'll blow your followers' minds! 
---
Interesting Related Article: "Instagrammable Restaurants in Singapore"