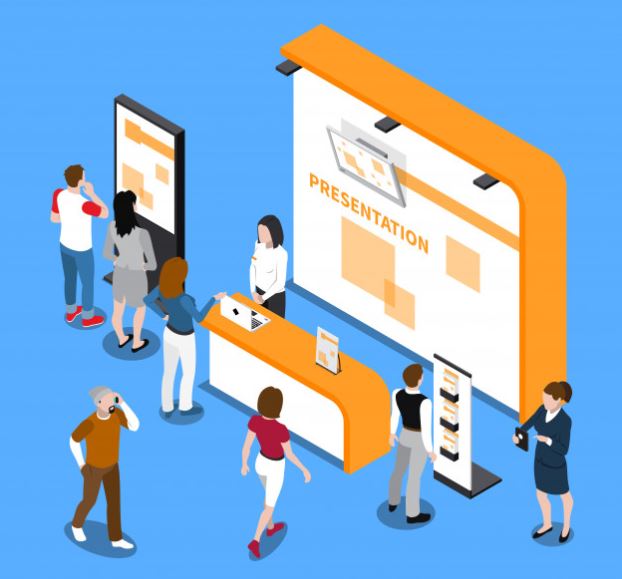 Improving your trade show presence is important for success. Here are some tips from promotion business Empire Promos on how to really succeed.
1. Grab Their Attention
One of the best ways is to entice the attendees to get into your booth with giveaways, nice banners, attention-grabbing contests, prizes, and literature. You may also want to add a few interactive elements to your booth with touch screen technology to either demonstrate your product, capture leads, or both.
The important thing to remember when doing trade shows is that your booth should capture the interest of people passing by, and one thing that you can do to make it interesting is by coming up with a unique theme. Try to keep it fun, light, yet engaging. Just think of gimmicks or different ways on how you can engage in booth traffic.
2. Do Your Research
Planning is an important part of setting up a booth during trade shows, but it is also important that you do your research. Which trade shows are right for the type of business that you're running? Which ones could help you reach your marketing goals?
Carefully compare and do an assessment on these trade shows which may include different factors such as the number of businesses participating in the exhibit, the average number of attendees, demographics of these attendees or your potential customers, and other essential data that you need to know to run a successful booth.
As much as possible, try to find businesses who've participated during the past few years and ask for their feedback. Take a look here if you are in the food industry, for a business that has got to right. Setting up a booth during these trade shows cost a lot of money, and you should do your research diligently to make sure you get your ROI.
3. Register Early
As soon as you've decided which trade shows are applicable for your business, make sure that you register as soon as possible. The majority of trade show organizers offer online registration, and if you want to avail more discounts, they usually have an early-bird promo, which could save your company money.
4. Set Objectives
What are the things that you want to accomplish from your booth? Make sure that you have a clear set of objectives, listed from the most to the least important. Discussing these things with your staff will allow you to focus on more important objectives.
Some clear objectives would be generating "x" number of leads from your survey, or make at least "x" number of sales demonstrations per day.
5. Advertise
Don't forget to announce your participation to your potential customers. Post on your Facebook, send a direct mail to participants, make a website announcement, send an e-mail blast, post a blog about it, mention this in your newsletters, or even include it in your email signature. Use all forms of internet marketing to help you.
If you'll hold a contest or other enticing promos, make sure that you include that to get people to visit your booth. Of course, it is also essential to let them know your booth's location so they can easily spot you.
6. Prize Drawing
As mentioned earlier, you can do something unique and fun to get people to visit your booth. Prize drawings or contests are proven to be an effective way of getting people to your booth. As you advertise your participation in a trade show, make sure that you also include asking the participants to visit your booth to participate in a survey or fill up some forms to qualify for the contest.
When choosing a prize, make sure that it is related to your business, products, and/or services that you offer, or a prize that is appealing to your demographics. For instance, if you're offering survey research services, you can offer a prize, giving the winner a copy of the software where they can create their own surveys.
This is one of the best and easiest ways to get interested customers coming to your booth. Once you have their information, don't forget to follow-up with your leads, at least one to two days after the trade show.
7. Prepare Accordingly
It's better to be overprepared than underprepared. Make sure that you have enough copies of literature, brochures, sample, business cards, and/or giveaways if any. Since you've already done your research, you'll see how many attendees you're expecting. From there, calculate the number of people who could potentially be your leads.
Let's be realistic – not all attendees will drop by your booth, so assess the data you have and see how many people you're expecting. It is also important that the people manning the booth are prepared and enthusiastic!
Make sure that they are equipped with knowledge and can initiate an intelligent conversation with potential leads and customers. Make sure that you train and encourage them to talk with the trade show's attendees, have them gather information, and even spend time checking out competitor booths so you know what you're dealing with.
---
You may be interested in: "Trade Shows and What They Mean for Your Business"