For those of you who don't know, the Martingale strategy is a well-known methodology used in forex trading. In layman's terms, it tries to double the trade size after a loss is experienced. Trying to trade an outcome with a 50% profitability is its classic scenario which is also known as the zero expectation scenario.
Just like other strategies, a number of forex EAs or FX robots have been developed which apply this strategy in an automated way. Here are some of the EAs that fall under this category.
Just like other strategies, a number of forex EAs or FX robots have been developed which apply this strategy in an automated way. Here are some of the EAs that fall under this category.
Happy Frequency EA
Happy Frequency EA is a semi-martingale EA that combines other strategies such as trend, grid, and hedge trading. It provides several risk profiles for its clients such as low, middle, high, and combined. All strategies are employed by using the news filter. It works on the M5 timeline with pairs such as USD/CAD, EUR/USD, EUR/GBP, EUR/JPY, EUR/CHF, GBP/USD, AUD/USD, USD/CHF, and USD/JPY.
The minimum deposit for this EA is $4000 and provides three account sizes: micro, standard, mini and ECN accounts. It supports all ECN brokers and auto-quotes detection of 4 to 5 digits. Purchasing customers get a complete tutorial, free updates, and unlimited use for the user. It also provides a 30-day money-back guarantee.
GoldenGoose EA
GoldenGoose EA is a forex robot from forexcashtools.com and is a full martingale FX robot. The EA promises a 25% to 40% ROI. The EA has performed brilliantly in the past, as evident from its myfxbook stats.
The EA is compatible with MT4 and almost any ECN broker. As a martingale EA, its drawdown rate is slightly on the higher side at more than 20%. While this EA is ideal for high-risk investors and traders, it is not suited for novice traders just about to start their EA journey.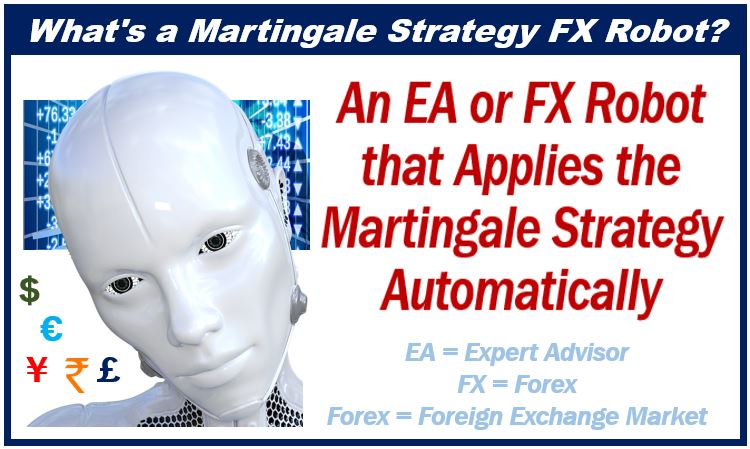 FX Math X Trader EA
FX Math X Trader bases itself on profitable mathematical models with the highest possible profit and lowest drawn downs. The EA tries to find the most likely direction for the next several days and opens orders according to it. It bases signal calculations on maths, providing a system that experiences a 90% win rate.
The EA works with MT4 accounts with leverages ranging from 1:100 to 1:1000. It only works with the USD/JPY pair. It also allows different account types such as micro account, mini account, and cent accounts. It also supports Pro and ECN markets.
Penguin Martingale EA
The Penguin Martingale EA automatically opens, manages, and closes trades using a martingale strategy. It plots the chart price in real-time to find the best entry and exit points with no lag. The EA provides optimized settings for over 20 trading pairs.
The EA also keeps shady brokers at bay by guarding client information. It provides a trading win percentage of over 62% and executes more than 8 days per trade. The average trade length is 14.2 hours.
Forex OBOS TrendBars Signal EA
Forex OBOS is an EA based on high accuracy indicators, trend following, and a martingale system. The EA works with a 4H timeframe and with the EUR/USD, GBP/USD, USD/CHF, AUD/USD, USD/CAD, NZ/USD, GBP/JPY and AUD/JPY. The four-hour trading system exclusively spots entries based on price action.
Conclusion
Martingale systems are usually high risk and are constantly compared to betting for that reason. There are many EAs that offer a simple and automated way to take advantage of this strategy. However, the risks are also massive as these strategies come with significant drawdowns. This is why it is always advised to choose less risky strategies such as grid and hedge strategies which have fewer drawdown rates and proven backgrounds.
---
Interesting related article: "What is Forex?"