The marketing sector is growing rapidly. Last year, a survey conducted by Redburn and PwC highlighted that the industry is now worth $1.7 trillion globally. This amount is said to be a lot higher than initially anticipated, and it just shows how far the industry has come since the traditional advertising days.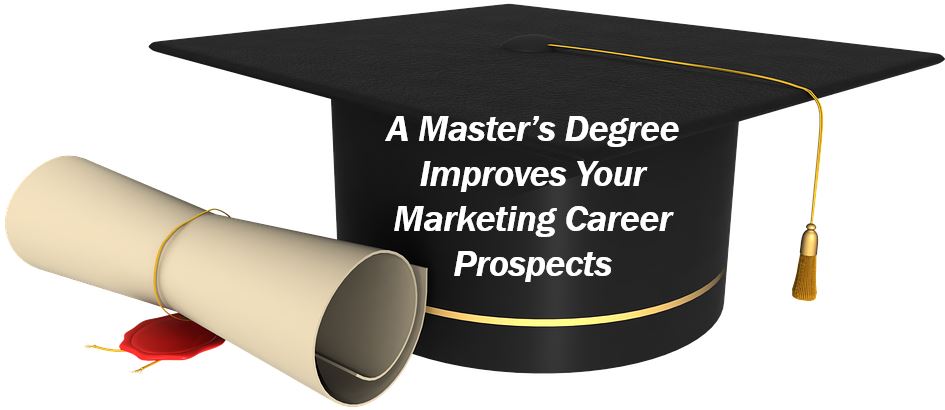 The growth in this sector is opening up a host of new jobs, plus it's innovating all the time. A few years ago, something like an Influencer Marketing Manager didn't exist. Still, now with the advances in social media taking center stage, this type of role is a prominent fixture in a company's marketing efforts.
So if you want to work in marketing, how do you stand out amongst the rest? With the broad scope of jobs available, it can be a good idea to specialize in a particular string of marketing or business strategy. By becoming an expert in your field, your role will be sought-after and valued highly on the broader market.
To get to this stage, there are a few ways to accomplish it. One such way is studying for a master's degree. This invaluable investment in your career can boost your job prospects and enables you to hone your skills to specialize in a marketing niche.
Take a look at the reasons how a master's degree like an MS in business analytics or an MBA could advance your career in the sector and help you achieve your career goals:
It enhances your specialism
Marketing covers many bases; however, in most companies, having an expert on hand is essential to maximize the return on marketing spend. Having someone that knows the ins and outs of this field is a valuable asset to any company, so studying a postgraduate degree could help you become this person.
Master's degrees are designed to help you become a specialist in the chosen field and hone your skills so you can use them in real business situations. For both personal and company benefits, your knowledge and experience can help each become a leader in the industry. Specialists with master's degrees also often enjoy higher salaries and more benefits as they progress through marketing roles.
Gives you an edge against other candidates
Figures by the US Bureau of Labor Statistics suggest that 18% of all jobs will require a master's degree by 2022. This is a staggering number if you consider that out of 16 million people in the country, only 8% hold this type of qualification. In today's job market, having this degree will help you stand out in the crowd.
Higher qualification and further study is a stepping stone to better promotions in your career and helps to show your passion and capabilities. As mentioned above, you will also be able to apply for more specialized roles within organizations as your studies will have prepared you for this.
Shows your determination and perseverance
It's natural to have a lot of commitments on top of your work life. However, if you show your willingness to undertake further study on top of this, it can show employers your determination and passion for furthering your career. This is especially true if you decide to take a post graduate degree online, as this kind of study requires commitment and organization to succeed.
Boosts your transferable skills
Alongside your determination to succeed, there are also a host of other transferable skills that come with studying a master's degree. These can be used throughout your job and general daily life, and help to improve your outlooks and time management. Take a look at some of the critical areas that benefit:
Organization skills
When you are juggling current commitments with study, this requires excellent organizational skills so that everything runs smoothly. By managing both successfully, you will show employers that you can handle more responsibility and pressured situations.
Time management
Much like organization, time management skills are another vital factor in postgraduate study. The skills you obtain while learning will help you manage workloads more efficiently in your job, which in turn makes you more productive.
Critical-thinking
Independent study allows you to make decisions on your own with little input. This forward-thinking attitude is ideal for working environments as it showcases your ability to think logically before acting. It also highlights your willingness to make decisions without having to be told how to act.
Listening
This is a skill that is invaluable in the world of work and study. By honing your listening skills, you will be taking in everything during your lessons and assimilating the information in your own way. These skills are vital for collaboration in the workplace, and listening and feeding back to colleagues can help bring everyone closer on projects, and ensure everyone is productive and valued in the environment.
Digital skills
You'll obviously know how to work a computer as you probably use one each day at work. However, when you study for a master's degree in an online setting, you'll have access to a host of systems that can improve your understanding of work-based software. Everything from content management systems, video conferencing, webinar software, and social networking forums can help to build your experience in these digital platforms.
Research skills
Research will be a natural part of your study journey. Plus, you can also use these in your everyday work life too. Honing your ability to research effectively can help you find information quicker and more accurately, and will help to save time in the long run. If research is a part of your job, these transferable skills may help you in areas such as evaluating statistics and analyzing marketing data.
Broadens your professional network
Another great way a master's degree could enhance your career is via the people you meet while you study. This could be face-to-face or online. However, it doesn't matter which is relevant as both hold essential channels to be able to broaden your network. While you study, you'll be exposed to a number of different people at all levels of the marketing and business world.
There will be a variety of industry experts that can give advice and share expertise. At the same time, faculty staff will guide you through the course and explain the details and methodologies behind the theory. On the course and during lessons, you'll also have the chance to interact with peers and mentors and ask questions on your studies.
Once you complete your master's, there will be several people you can always turn back to for advice. Plus, many universities have alumni networks so you can join and stay a part of the community even after you graduate.
Improves confidence
Qualifications and experience are just a few of the things that can take you further in your career. However, another aspect of this is confidence. By becoming an expert in marketing or specializing in a subsection of it, it helps to boost your confidence as your progress in your career.
Postgraduate qualifications are a great way to showcase your skills in this field, and it strengthens your position as an authority figure in the market. By pulling all these elements together, it can be a huge confidence booster in your career and everyday life.
These are just some of the many benefits that taking a higher qualification, such as a master's degree can have on your marketing career. So check out your options and see how each could help you push forward in your current position and plan for the future.
___________________________________________________________
Interesting related article: "What is an MBA?"