Prepping meals is one of mom's daily tasks, and also dad's. It is tedious yet fun and exciting, especially if you're making it for the one you love.
Being able to cook meals for your family gives exceptional pleasure. Nothing beats if you see your little ones devouring it.
However, preparing food every day is sometimes exhausting. You always have to consider every member of the family's likes and dislikes.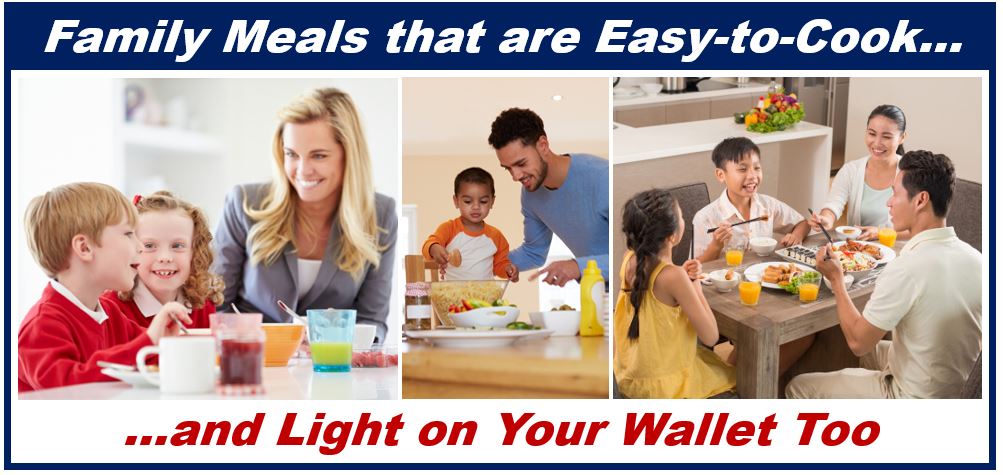 Children, typically, are the pickiest eater. Often, they prefer snacks and sweets over home-cooked meals. That's why getting your table ready for dinner is quite challenging.
Another factor is the budget. We all know how ingredients nowadays are more expensive than before. It's no surprise why serving lunch has become a stressful task.
But, hey!
There's no need to feel so down. You can still feed the whole family, the kids included, without hurting your wallet. We have listed 12 budget-friendly and easy-to-cook meals your kids will surely love.
Ham Omelette
Ham Omelette is an ideal way to use last night's leftovers. It is a light and nutritious meal, perfect to start your kid's day. Other ingredients are easy to find. For sure, it's already available in your kitchen.
Ingredients
2 eggs
½cup milk
1 green onion, finely sliced
Salt and pepper
1tsp butter
½cup chopped ham
½cup grated cheddar cheese
Method
Combine the eggs and milk. Add green onion and salt and pepper.
Heat a frying pan to medium heat. Add butter and roll it around to coat the pan.
Pour the egg mixture gently. Make sure it coats the pan.
Place the ham and cheese of half of the omelet once the egg is almost set. Flip the other half to cover it.
Cook further to melt the cheese. Then, serve.
It's that easy. You now have breakfast ready that your kids will surely love.
Spaghetti Bolognese
Spaghetti Bolognese is an excellent midweek recipe for the whole family. This meal contains tomato soup in the ingredients.
Ingredients
2tbs olive oil
1 onion
500g minced beef
1 clove garlic
1/4 cup tomato paste
1tsp oregano
1 cup red wine
1 tomato soup
2tbs sweet chili sauce
2tbs tomato sauce
1 cup chicken liquid stock
1 packet spaghetti
Salt and pepper
Method
Heat oil in a pan. Brown the onion and garlic, then the minced beef.
Add tomato paste. Cook for 2 minutes.
Pour in the tomato sauce. Next, the chicken stock, red wine, sweet chili, oregano, and tomato soup.
Boil and simmer for 30 minutes. Season with salt and pepper.
Plate over hot spaghetti.
A staple lunch that you and your kids will surely love.
Chicken Noodle Soup
Chicken soup is one of the top choices of kids during mealtime. Moms love cooking it since it has plenty of healthy-giving properties. It is a combination of vegetables, noodles, and whole chicken.
Ingredients
1 whole chicken
2 peeled and quartered onions
6 smashed garlic cloves
6 peppercorns
2 bay leaves
10-12 lemon thyme sprigs
5 parsley stalks
2 sliced button mushroom
3tsp salt
1 ½cup peeled and small diced carrots
1 cup small-diced celery
200g half-broken spaghetti noodles
Method
Place chicken into a large saucepan. Add onions, garlic, bay leaves, lemon thyme, mushroom, peppercorns, and parsley.
Fill it with cold water above the chicken. Bring it to a boil.
Remove the cooked chicken carefully. Allow it to cool down. Afterward, pull the meat off.
Add salt to the chicken stock. Boil it and simmer for 10 minutes. Then, turn it off. Let it sit for 5 minutes.
Pour the stock into a large bowl. Use a sieve.
Clean the saucepan and refill it with the strained stock. Bring it to a boil. Add the noodles, carrot, celery, and salt. Maintain the boiling point until pasta is al dente.
Top it off with shredded chicken meat. Serve.
Suitable for dinner for your kids and those who are sick.
Egg Sandwiches
An egg sandwich works like magic to your kid's tummy. It has everything you're looking for – mayonnaise, fresh herbs, and celery for crunch.
Ingredients
6 hard-boiled eggs
2tbsp whole egg mayonnaise
Salt and pepper
2 sticks of diced celery
8 slices of bread
Butter for the bread
2 cups of washed lettuce
Method
Mash the eggs in a medium-sized bowl. Mix in mayonnaise.
Season it with salt and pepper. Combine celery and chives.
Spread the butter on the bread. Then, lay lettuce leaves. Add the egg mixture onto the lettuce. Top it with a slice of bread.
Egg sandwiches are the best snack of all time. Both kids and adults will spare a moment to grab a bite.
Potato Pancakes
Potato pancake is like a mock fish. It is very old-fashioned yet still yummy. Plus, it is honestly budget-friendly.
Ingredients
4 peeled and grated potatoes
1 grated onion
2tbs flour
2 eggs
Salt and pepper
Vegetable Oil
Method
Remove excess liquid from the grated potatoes.
In a bowl, combine one egg, flour, and onion. Then, add the grated potatoes.
Season with salt and pepper. Mix all together. Add another egg, if needed.
Shallow fry in a pan. Pour the mixture into patties.
Fry until both sides are golden brown. Serve.
Potato pancakes serve best in any meal of the day. It's a quick prep for lunchbox and dinner.
These are just some of the budget-friendly and easy-to-cook meals. There are other economical meals your kids will surely love.
Butter Cake
A dessert perfect for an afternoon tea. It is a dense style of cake suitable for birthday cake recipes.
French Toast
A delicious bread recipe the whole family will love. Kids savor it, not knowing the bread is soaked with egg mixture, then fried.
Fried Rice With A Twist
Persuade kids into eating rice by adding any ingredients you can find in your pantry. Make it fancier by throwing in some prawns or chickens. Serve it either hot or cold during lunchtime.
Pizza Casserole
Pizza Casserole is an affordable alternative for kid's pizza cravings. Every age likes it, but kids love it 100%. Combining pasta and pepperoni completes a mouth-watering meal.
Buttermilk Chicken Tenders
Homemade chicken tenders are as tasty as the restaurants. Soak it in buttermilk to make it juicy and moist. It saves you from spending a lunch out.
Baked Macaroni and Cheese
A full meal that both mom and kids enjoy cooking. Pair it with a salad or steamed broccoli. It comforts your budget rather than those of boxed kind.
Baked Parmesan Fish Sticks
A fish dish is not an easy meal to prepare. Not all kids enjoy it. Charm your picky eaters with fish sticks. It's healthy, tasty, and budget-friendly. Add all flavors and make it crispy for a fun weeknight.
Cooking meals for the whole family is not easy. Especially if your kids need a special diet due to certain medical reasons. However, a special diet requires more budget allocation. If you need more cash to bridge the financial gap to keep their food needs in check, you can get an affordable loan from a legal cash mart singapore lender like toa payoh money lender.
Ease your burden by creating meal plans that suit your budget. Ask assistance from your children. Those little hands are a big help. Also, it makes them enjoy the food more since it's the fruit of their labor.
---
Interesting related article: "What is a Loan?"