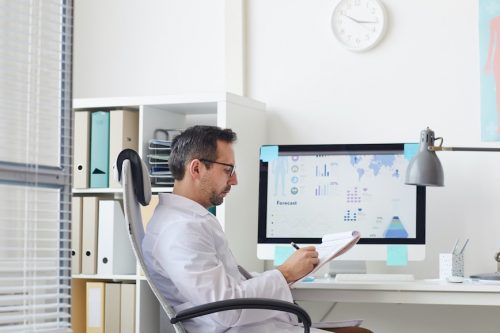 Medical practice management is no different from the everyday running of any business. All of your business processes stand to benefit from taking a more systematic approach, where you analyze your situation and apply a concrete set of rules to how you do things. Just as medicine itself takes an evidence-based approach, you can use all kinds of facts and figures to help inform your decisions. Here's how to make a good start as a practice manager and push your colleagues to the next level.
Start by Setting Ground Rules
Every team works best when each of its constituent members understands exactly what is expected of them at all times. You can ensure this is the case by being very clear about expectations and setting some ground rules that everyone must abide by. Deciding what these rules should depend on a number of factors in common with creating a certain company culture in any workplace. They can also be applied to the relationship you have with your patients in many cases.
You can promote a healthy organizational culture in your clinic that benefits colleagues and patients alike by trying to:
Encourage feedback from everyone around you and demonstrate proactive changes
Create a narrative or mission that your clinic is to foster and apply to all actions taken
Support your colleagues in their professional growth and treat it as an investment
When setting expectations of your colleagues, you should also think about:
Standardizing your approach to management so life is predictable and changes can be managed well
Looking out for certain behaviors that promote the building of trust and decision making
Allowing everyone to have a say in matters as far as is reasonable
How to Help Your Team Learn from Mistakes
Learning from mistakes is part and parcel of professional growth and development. While many people are reluctant to analyze their mistakes deeply in public, you can encourage your team to realize that it's a positive thing. Taking an analytical approach to mistakes helps you to see why goals were missed and what the next step should be.
To help your colleagues understand you are trying to get the best out of them, you can:
Show your staff how you measure success and what they should be working towards
Display how goals have been achieved or missed and why with visual dashboards
Discuss shortcomings and failures with a view to improving performance with concrete plans
Continue by Quantifying Your Success
While you can spend plenty of time talking to your colleagues about what is expected of them, the best way to track performance is to use numbers. By quantifying your clinic's successes and failures, you can learn the right lessons and make any necessary changes with evidence to support your actions. This proactive, analytical approach is what separates a good practice manager from a truly great one. The Medesk practice management software platform is geared toward optimizing your clinic's performance in this way both medically and business-wise.
Medesk is medical software that helps you to improve your colleagues' performance by:
Analyzing no-show and cancellation reasons
Matching poor performance against specific services
Showing which clinicians fail to rebook patients for follow-ups
 Medesk Analytics
Standard Performance Reports You Should Always Use
While you undoubtedly have specific key performance indicators that you would like to keep an eye on at your practice, there are some standard reports that you should run regardless of your type of clinical practice.
Medesk includes more than 40 different ready-made analytical reports at the time of writing and this number is only set to grow. Let's take a look at some of the most helpful reports that will ensure you do the best job you can as a private practice manager.
You can examine your cancellation rates in great detail with a colour-coded report that automatically lets you:
Learn how many people cancelled or did not attend their scheduled appointment
Expose which patient subgroups are most likely to cancel
Understand which services and treatment plans are least adhered to by patients
See which problems are within your control to fix
Count reasons for cancellations so you can resolve the most urgent problems first
 Medesk Analytics
You can match up all your services with different performance indicators to see whether you need to change tack. You can quickly build reports to give you insight into your services, helping you to:
See which services are most and least profitable
Learn what your patients perceive as your most valuable services
Understand the times of day that services are usually requested by patients
Find out which clinicians are helping your clinic to grow the most
All in all, achieving great success as a private practice manager boils down to how well you are able to engage your colleagues and give them a reason to support your clinic's growth. Private practice management systems like Medesk are an ideal way to start exploring how your clinic can grow and prosper. There's nothing like an evidence-based approach to decision-making supported by a strong organizational culture where everyone is pulling in the same direction.
---
Interesting Related Article: "5 ways to make your medical practice more profitable"