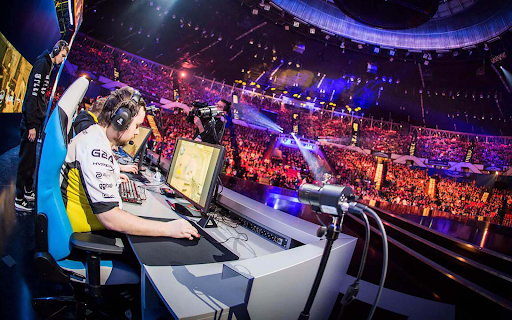 The eSports industry in the Middle East is on track to boom over the next few years, with several nations pulling out all the stops to develop their professional gaming infrastructures.
Major sponsors and broadcasters are falling over themselves to forge links with a sector that has become hugely lucrative in other jurisdictions worldwide.
With that in mind, we take a closer look at some of the latest developments in eSports in the region, starting with an exciting link-up with one of the biggest brands worldwide.
Nigma Galaxy Forge New Partnership With BMW
Top Middle East eSports organisation Nigma Galaxy have announced an exciting new partnership with one of the world's leading vehicle manufacturers.
Having already forged numerous links with eSports worldwide, BMW Group have now jumped on the bandwagon in the emerging Middle East sector.
Nigma Galaxy has six eSports teams competing across a range of different games including Dota 2, League of Legends and PUBG Mobile.
The agreement with BMW Group will see the automotive giant play an active role in developing the gaming community in the Middle East.
Nigma is at the forefront of the push to nurture local gaming talent and provide them with opportunities to become successful on the professional circuit.
Christoph Timm, co-founder of Nigma Galaxy, says BMW's similar vision and values to his own company will be a central component of the new collaboration. 
"BMW's passion for excellence and constant innovation aligns seamlessly with our commitment to pushing the boundaries of eSports," Timms said.
"Together, we aim to inspire and empower a new generation of gamers, supporting their dreams and aspirations in this exciting world of competitive gaming while creating unforgettable experiences that bridge the gap between the virtual and physical worlds."
Saudi Consultancy Companies Announce Exciting eSports Venture
Two respected consultancy companies based in Saudi Arabia have teamed up to launch an exciting eSports collaboration in the region.
Management and consultancy specialists ibMedia has joined forces with training and consulting company Bunyan on the new venture.
The newly created ibMedia Saudi Arabia will offer eSports consulting services to individuals and companies, and organise educational programmes in gaming and eSports.
With a background in business intelligence in eSports, gaming and digital entertainment, ibMedia are well-placed to innovate in the industry. 
Bunyan bring a wealth of experience in the tourism, hospitality and entertainment industry to the table, making them the ideal firm to develop that side of the new business.
The new company recently presented their vision for eSports in Saudi Arabia at the prestigious Gamescom 2023 event in Cologne, Germany.
Frank Sliwka, CEO of ibMedia Group, said: "With the meteoric rise of mobile gaming, barriers to entry have lowered and made everyone a gamer, giving rise to the explosion of the overall industry growth.
"As a consequence, we are witnessing a huge demand from both endemic and non-endemic brands seeking vast amounts of talent to join the industry.
"Our goal is to equip this talent with the requisite knowledge and skill sets to succeed in this industry."
Version1 Scoop Bumper Payout in Riyadh
Arab gaming fans recently had the chance to watch some of the best exponents of Rocket League showcase their talents at a prestigious gaming event in Saudi Arabia.
The Gamers8 2023 Rocket League tournament attracted massive interest worldwide, with the participants competing to grab a share of the $2 million prize pool.
The four-day event in Riyadh also generated a ton of traffic on www.arabswin.com/en/ as gaming fans aimed to successfully predict which team would emerge victorious.
Followers of Version1 were left with massive smiles on their faces as the United States eSports organisation scooped the $500,000 first prize.
Run by the same family that owns the Minnesota Vikings NFL franchise, Version1 booked their place in the final with a 4-2 victory over Team Falcons.
They went head-to-head with Rule One in the title decider, and looked set for a seesaw battle with the score at 1-1 in the best-of-seven match-up.
However, Version1 romped away with the final thereafter, with Landon 'BeastMode' Konerman scoring the winning goal in overtime in the fifth game.
Rule One pocketed a cool $300,000 for finishing as runners-up, while beaten semi-finalists Team BDS and Team Falcons each banked $200,000.
Prize money went all the way down to $15,000 for the teams finishing 17-24, which still represented a reasonable payout for featuring in the tournament.