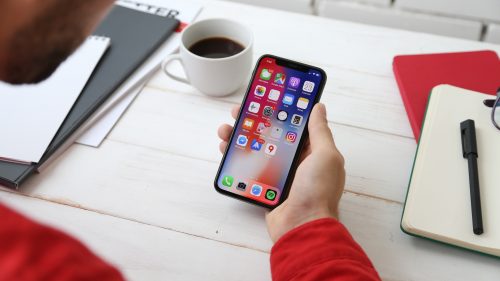 Life without mobile apps is unimaginable in 2022. From ordering your daily groceries to listening to your favorite tunes — there is a mobile app for virtually everything. Studies show that most users spend at least 90 percent of their time on mobile devices browsing through various apps.
To demand a certain level of engagement, your mobile app needs to be class apart. You can engage the top app development companies for the task and hope it becomes the most downloaded app on the store. But unless the app is designed keeping the correct design principles in mind, it is unlikely to make a mark.
So what makes a mobile app tick? How does a designer at a Los Angeles website design company create an app that gets people instantly hooked in 2022? Here's the ultimate guide spilling the secrets you need to know:
What is mobile app design?
In simple words, mobile app design refers to designing the user interface (UI) and user experience (UX) in a manner that delivers the best experience to a mobile app user.
The right UI and UX will ensure optimal engagement, deliver better conversions, and improves ROI. Designers responsible for mobile app design need to ensure that every single detail of the app, including the color palette, fonts, widgets, and buttons on the app, are designed in a way that engages and attracts the user.
Anything that looks too cluttered or delivers a poor experience will immediately turn users off, forcing them to exit the app. And that's where investing in a custom mobile app development and design can make a difference to the bottom line. Therefore, improving the graphical and non-graphical elements of a mobile app is a necessity.
How to get the most effective mobile app design?
Here's what to keep in mind to create the best mobile app design:
Have a clear idea about the scope of your app
You don't have to get started with the design right away. Invest time in doing the groundwork. Start by determining the scope of your app — what type of app do you want to design, who is your target audience, what kind of visuals do you want to include, and what key features do you want to provide.
Also, remember that designing a mobile app goes through various stages. Getting your basics in place is critical so that the rest of the journey becomes easier. Best mobile app designers will first work on developing a prototype, add animations and visuals, improve the UI, decide on the architecture and develop it, and test the app multiple times before presenting it to you.
Know what your audience wants
You have to design an app that serves its users well. That's why, your starting point should be putting in research into discovering what the target audience prefers. What are they expecting from your app, and what draws them to the apps of your competitors?
For instance, if the app is for providing short yoga tutorials, but the interface is cluttered with clunky buttons and has a dull color palette, it is unlikely to elicit the proper response from someone looking to learn yoga through the app. Similarly, it is recommended to opt for a dark-themed UI design as it emits lesser light through the screen and is currently the preferred standard of visual ergonomics in the industry. A bonus is how dark backgrounds ensure that the color palette shows up even more beautifully and enhances readability.
In short, once you know what is on the wishlist of your audience, you will find it much easier to design an app suited to their needs.
Predictability is important
Infusing predictability into your mobile app design is a crucial element. When you can cater to providing exactly what the audience would expect, it strengthens the users' confidence and makes them feel in control. Your users shouldn't need to put in a ton of guesswork to find out whether something works as expected or not — just a single click on an element should be enough to tell them what is going to happen.
Let the design speak for itself and keep the navigation straightforward. Ensure that your app makes a great impression as soon as the user opens it. Don't bombard them with information right away — instead, let them discover it at their own pace. Don't design an app that requires your audience to put in the excessive mental effort to understand what needs to be done. For instance, when creating the checkout page of your app, give them the option to provide details in a staggered manner instead of asking for everything all at once.
Supporting split-screen is not a necessity
While newer models of smartphones come with a split-screen feature, most users don't prefer using it. When designing your app, keep in mind that you need to provide all necessary information within your app. Otherwise, your user will exit the app to check the information as they don't like switching between apps and browser tabs.
For example, if you build a payment app UI that supports foreign transactions, ensure that essential information such as the current foreign exchange rate is available within the app. This will minimize the risk of users exiting your app to check the information online and then forgetting to go back to the app to finish what they started.
Think about the screen orientation your audience would prefer
Changing the screen's orientation is a feature provided on most mobile devices. Different users have different preferences for viewing anything on their phones. Some people may want only to use the vertical screen, while others may switch between vertical and horizontal orientation. Similarly, some may use their phone only with one thumb, while others may use both hands.
While designing a mobile app, keep in mind these unique preferences. Ideally, your app should be comfortably viewable in both orientations. The most important icons should be right at the bottom, and the app shouldn't glitch if a user uses the phone with both their hands.
Embrace the idea of adding voice assistants
There is a huge need for adding voice-based assistants to mobile apps. Not only does it make the app more inclusive, but it also offers more functionality to someone who is on the go.  Through voice assistants, one can interact with the app without having to look at it even once or use their hands to control the navigation. That's why this is one of the hottest trends in the market, and it is estimated that there will be a boom in digital voice assistants by 2024.
In order to ensure that voice-based assistant performs as expected, invest in designing a good voice user interface(VUIs) that supports voice commands.  Keep in mind the needs of your target audience and come up with specific requirements that the VUI should fulfill. A good starting point is delving deep into understanding what voice commands entail and how a device responds when a user provides such commands. Make sure to validate the design and conduct usability testing.
Data visualization can be helpful
For a certain type of mobile app that synthesizes a huge amount of data, data visualization can be an excellent way to present the information. It can bump up the conversion rates as users find it much easier to process data that is presented visually rather than having to go through a chunk of data without knowing what to make out of it.
Say, for instance, you are designing an app that allows your users to make investments using their mobile devices. Save them from the mental work of finding out how their stocks and bonds are performing. Instead of presenting the information in plain text, add interesting graphs, pie charts, and visuals. Such visual assets are extremely valuable as they also make it easy for users to follow key trends from the past couple of months or years, an important factor in investments.
At the same time, bear in mind that not all mobile apps may benefit from data visualization. Before you decide to add this feature, ask yourself if it helps to fulfill the original goal of your app and in what manner. Blindly following a trend because that's what all developers are now doing may end up working against you.
Minimalism is welcome
Adding too many heavy elements to your UI may make navigation a nightmare for your users. Given the global push for embracing minimalism, it is a good idea to introduce minimalist design principles in your app design. An app that's based on the idea of minimalism will require lesser maintenance and deliver better performance compared to its peers.
The cornerstone of a minimalistic design is the addition of adequate white space in the app to make it easy to read. You also need to reduce the number of distracting elements in your app so that the CTA is clearly visible. Stick to a monochromatic or analogous color palette to keep your app aesthetically pleasing. Lastly, choose your typography carefully, as it plays a crucial role in determining how easily the message sticks. Don't opt for complicated or confusing fonts — take inspiration from Apple that creates mobile app UIs using only two typefaces: San Francisco (sans serif) and New York (serif).
Consider neumorphism
Another trend that mobile app designers are considering to be a major attraction in 2022 is neumorphism. It refers to integrating flat design with skeuomorphism and flat design. Skeuomorphism refers to a design style where various UI elements are replicated to resemble their real-world counterparts. In neumorphism, the additional element is 3D graphics.
The overall idea is to use a minimal color palette. So you can expect a neutral-colored screen with a few bright pops scattered. It is a great way for designers to experiment with various colors and also score pretty high in the popularity department with the audience.
Go for round shapes
The shape of various icons on your mobile app is another area where you can bring in some changes. These days, designers prefer round shapes over rectangles and squares. While on the surface, it may seem like a superficial change that is not capable of doing much, there is a deeper connection between shapes and the message about your brand image.
According to scientists, circular shapes convey the idea that there is no beginning or end and everything is in a continuous cycle. On the other hand, rectangles with rounded edges give the message that you are a warm and trustworthy brand. Certain key CTA buttons such as Log In, Sign Up, and Buy should therefore be rounded rectangles to promote a better relationship with your users.
Checklist of design mistakes to avoid in 2022
Now that you know what design trends are hot in 2022, time to make a note of things to avoid:
The navigation of your app should be as smooth as possible. Before spending too much time devising the aesthetics of your app, come up with a clear plan of how you will ensure that your UI provides a top-notch experience to your users. Without a smooth UI, you have already lost out on potential users.
Don't spam your users with too many push notifications. That will force them to turn it off and prevent you from getting their attention when you need it the most. At the same time, very few push notifications can also put your app out of the mind of your users. So strike the right balance — send them notifications only when you are sure that the audience will find it useful.
Before you launch the app in the marketplace, ensure there is consistency in the design. Any inconsistent flow signals that you are unsure about what is needed and can project a wrong image of your business.
Keep it simple. This is easier said than done but can go a long way in improving the experience of your users. Your app should cater to the needs of your audience and not confuse them with too many options.
Looking for mobile app designers who can help design a stellar app?
Not investing enough in designing your mobile app can prove to be disastrous. Make sure you team up with the right collaborators to bring your vision into reality.
Get in touch with SPINX Digital, a web development and digital marketing agency based in Los Angeles, where a team of experienced mobile app designers can work with you to design a mobile app that includes the latest market trends.
Author Bio:
Brijesh Jakharia co-founded SPINX Digital in 2005 and takes great pride in crafting web and mobile marketing solutions for mid-market businesses to enterprises. Marketing is his passion, and the thrill to build a brand from the ground up has helped him craft successful brand stories for world-class clients. While not at work, he loves to spend his time on research and reading digital content stories.
---
Interesting Related Article: "How Important Is Email Marketing For Businesses In 2022?"