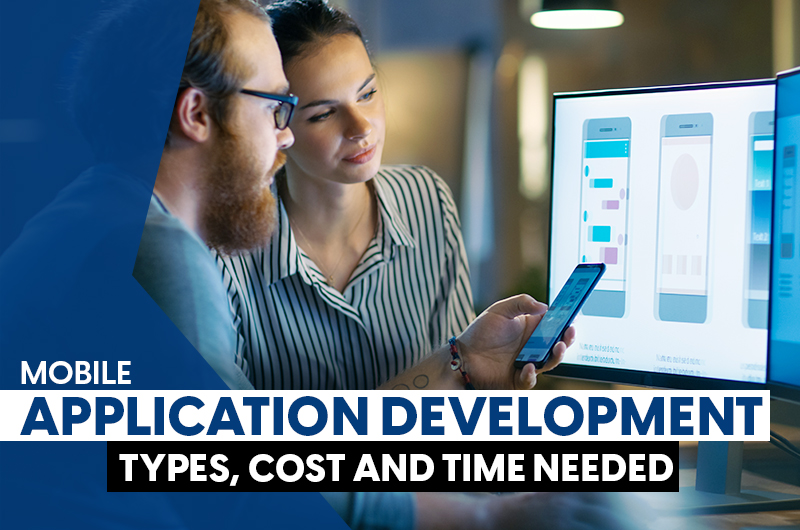 Almost every individual owns a mobile phone out there, making it your potential target market to bring you generated revenue.
Building a mobile application is the new all-around marketing tool to reach the furthest audience through meaningful interaction. 
However, to kickstart this, you must ensure thorough research is done regarding the time period required for the app development process.
In order to figure out the optimal time required to build an app for your brand, you need to configure the type of application you need to build.
This blog will briefly help you analyze the various aspects you need to consider before developing your app.
We will walk you through the types of applications, the cost and time needed to build each one, and the factors that might affect your development process.
Without holding you further, let us dive right in!
3 Essential Types Of Application Development
Before starting up on your application development you must thoroughly consider the type of application you need to get started on.
Below are the 3 basic types of application development acquired by startups and enterprises.
Simple application development refers to the apps that are integrated with the basic functionalities to make them work.
It has no added benefits that make it unique or even any necessary UI solutions.
Simple applications are basically developed as virtual prototypes with no solid collection of goals based on high user engagement.

Average application development is the apps with the potential features to help it build a brand identity in the market.
Such applications are built with a user-centric goal to provide quality navigation and help users make actionable decisions.
They are smooth to use and competitive enough to potentially make the user stay with compelling graphics and good in-app infrastructure,
Complex application development is built with an intense brainstorming of collective ideas to lead and be the only best choice for users.
These applications strictly focus on making every interaction within the app meaningful for users and bringing transactional value simultaneously.
Complex application development is highly adaptable, excellent UI/UX, responsive, fast, and robust to outrank competitors and captivate potential more. 
This is where a brief description of the three fundamental types of application development comes to an end.
Now that you have profound knowledge of how each type of development differs, we can look into the required time and cost they take.
Here is a compromise analysis of how long it will take for you to bring closure to the development phase of your desired application. 
Cost And Time Needed For Application Development
Cost And Time For Simple App Development
It goes without saying that the smaller the app is, the less time it will take compared to a more significant measure.  
Simple application development requires fewer elements to configure with and integrates fewer factors driven to bring high conversion rates.
This is why a simple application development will cost you around $40,000 to $60,000 within a time period of 2-3 months.
Cost And Time For Average App Development 
Average App Development will require comparatively an enormous amount of focus to engage the users.
This goal of high user interaction will require the developers to work on embedding the app with exciting features to make it feasible.
From creating a quality UI/UX to generating possible in-app purchases, your Average App Development will require attention to various aspects.
The cost required for developing such kinds of apps would be approximately $60,000 to $150,000 within a minimum of 3-6 months.
Cost And Time For Complex App Development 
Complex App Development requires building features that outstruck the users enough to become consistently loyal to the app.
This will require you to build a proficient team by hiring a mobile app developer that comprehends and answers your needs to attract users through the app.
To build a highly complex app with solid and robust features, you will need a flexible budget of $300,000 onwards.
Moreover, the time required to successfully build a complex application can take more than nine months.
Factors That Affect The Cost And Time Of App Development
Knowing the types of application development, the cost, and time needed makes it essential for you to know the factors that affect the process.
Allow me to pin you down with the fundamental factor you must improvise on that can affect your app development cost and time.
How well-trained and proficient your team of developers is will reflect on the final output.
If you have recruited a team of professionals who combine their intellectual abilities to the work, you will have minimal to no bugs.
An exception of bugs and errors means less time and cost will be needed to fix things, and the app is expected to run on the first go.
Dedication And Motivation
The dedication and motivation of your developer's team will bring overall productivity to the processes.
This will consequently drive optimal consistency to thrive and set up the brand's benchmark.
The more loyal your recruited staff is to enjoy the sweet success of your application being launched to excel, the more possible the desired result will be.
Wrapping up
Mobile applications undoubtedly take up a lot of your time, effort, energy, and cost.
However, it is hands-down the perfect way to get started building your brand's benchmark effortlessly.
With the empowerment of technology nowadays, everyone wants to leverage themselves with the ease of getting things done through a single touch.
Withstanding these fundamental benefits, you can hire android developers to effectively utilize mobile applications to target your potential audience.
Choosing iOS app development as a platform lets you target the premium class users who are more likely to buy into your in-app purchases.
They are highly likely to perform transactional interactions and significantly generate revenue for your business.
On the contrary, Android app development lets you target a much wider audience stretched further.
This can benefit you by marketing your brand above and beyond.
---
Interesting Related Article: "How to Build a Mobile App for your Business Needs?"