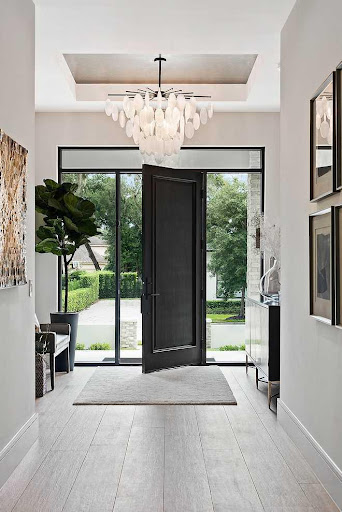 In terms of home design, the entryway is like the cover of a book, and the lighting? That's the opening line. It's the first thing your guests encounter when they step inside, and it can make or break that initial impression. 
So whether you're welcoming guests or just returning after a long day, those modern ceiling lights in your entryway play a super important role in setting the vibe and making everyone feel at home.
Types of Modern Ceiling Lights for Entryways
Chandeliers

Pendant Lights

Flush Mounts

Semi-Flush Mounts
Modern ceiling lights for entryways come in a variety of styles and types, including chandeliers, pendant lights, flush mounts, and semi-flush mounts. Each of these lighting fixtures has its unique characteristics and can create a different ambiance in your entryway. Here's an overview of each type:
Chandeliers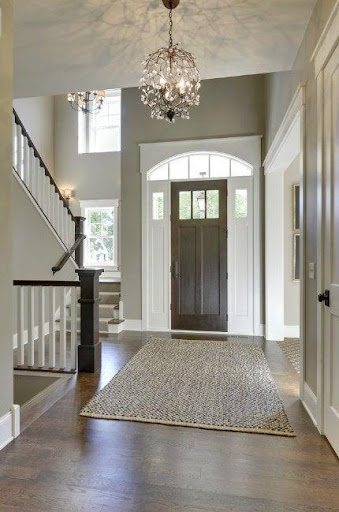 Crystal Chandeliers:
Crystal chandeliers are elegant light fixtures that add a touch of luxury to your entryway. They feature crystal or glass elements that beautifully refract and reflect light.
Modern Chandeliers:
Contemporary chandeliers are available in a variety of styles, including minimalist, geometric, and abstract designs, and are often made from materials such as metal, glass, or even wood.
Sputnik Chandeliers:
Sputnik Chandeliers are unique fixtures that have a distinctive, starburst-like design with multiple arms or spikes radiating from a central point, creating a dramatic focal point in your entryway.
Brass Chandeliers:
The use of brass in entryway chandeliers adds an elegant touch, creating a welcoming ambiance for guests. Its timeless appeal and sophistication make it the perfect statement piece to greet visitors in your foyer.
Pendant Lights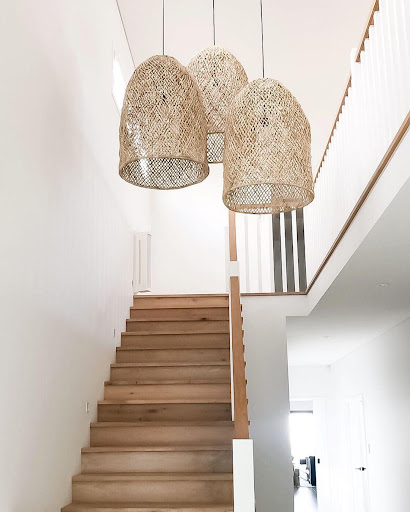 Single Pendants: A single pendant light can make a statement on its own or be grouped for a more dramatic effect. They come in various shapes and materials. 
Zest Lighting, among other retailers, offers a diverse range of pendant lights created by renowned designers based in Sydney, such as Paul Mulhearn from Viore Design. Mulhearn is a leading figure in the lighting industry, known for his trendsetting designs that incorporate innovative materials and colors.
Cluster Pendants: Clustered pendant lights consist of multiple fixtures grouped at different heights, providing a visually striking and contemporary look.
Drum Pendants: These pendant lights have a drum-shaped shade and offer a sleek and clean appearance. They are available in a wide range of colors and textures.
Flush Mounts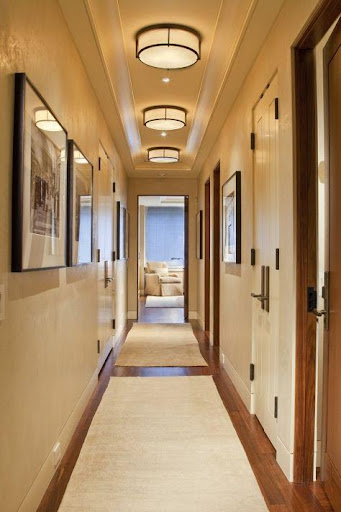 Flush mount ceiling lights are fixtures sit close to the ceiling and provide a clean, unobtrusive look. Modern flush mounts often feature minimalist or geometric designs and are ideal for lower ceilings.
Semi-Flush Mounts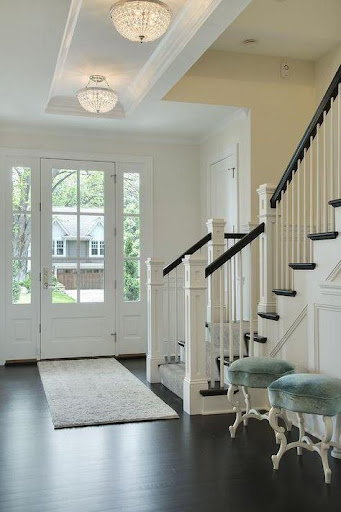 Semi-flush ceiling lights are fixtures are similar to flush mounts but they can be hung slightly lower from the ceiling, typically with a short stem or rod. They provide a balance between the sleekness of flush mounts and the elegance of chandeliers. See inspiration as shown in the photo.
Linear Suspensions
Linear suspension lights are long, horizontal fixtures often used in modern entryways. They can be linear or rectangular and provide an even illumination if you have a larger space.
Smart Lighting
You can integrate smart lighting options into modern entryways, offering control over brightness, color, and scheduling via smartphone apps or with just your voice commands.
Track Lighting
Track lighting fixtures consist of a linear track with adjustable heads that can be positioned to direct light where it's needed. They offer flexibility in illuminating different areas of your entryway.
Modern Entryway Lighting Trends
The entryway of a home is like a first impression, setting the tone for what's to come. In recent years, homeowners' tastes have evolved, resulting in a remarkable transformation in entryway lighting. Four contemporary entryway lighting trends have gained popularity: minimalist designs, geometric shapes, vintage Edison bulbs, and energy-efficient fixtures.
The lighting in your entryway can showcase your personal style and design choices. Minimalist lighting fixtures prioritize elegance and simplicity with their clean and polished designs that are both practical and visually appealing. Modern pendant lights or flush mount fixtures are great options that can seamlessly merge with your decor, creating a welcoming and uncluttered atmosphere for your visitors.
Geometric lighting fixtures are trending in contemporary entryways. They add an artistic touch with shapes like spheres, triangles, and hexagons while creating a bold contrast to traditional designs. Take Stype Black Metal Geometric Pendant Light as an example.
It features a black steel lampshade with a sleek geometric design that adds sophistication to any space and enhances the interplay between light and shadows.
Vintage Edison bulbs have made a remarkable comeback in modern entryway lighting. These bulbs, famous for their warm and nostalgic glow, are often paired with industrial-style fixtures. This combination of vintage bulbs and contemporary fixtures adds a unique charm that appeals to those who desire a touch of nostalgia in their entryways.
Energy-Efficient Fixtures
Energy-efficient lighting fixtures have become increasingly popular in the era of sustainability. LED technology has revolutionized the way we light up entryways by offering energy-efficient options that not only reduce energy consumption but also provide versatile lighting solutions. Additionally, smart lighting systems that can be controlled remotely have emerged as a popular choice for modern entryways.
In conclusion, choosing the perfect modern ceiling light for your entryway requires a keen eye for detail. And if in case you are still looking for reasons to prioritize careful planning for interior and exterior decor, it is worth considering why home interior and exterior is important for a harmonious living environment. 
Keep in mind that interior and exterior decor, along with lighting, play significant roles in transforming spaces into aesthetically pleasing areas that reflect personal style preferences.
---
Interesting Related Article: "Siding Contractor: Enhancing Your Home's Beauty and Durability"