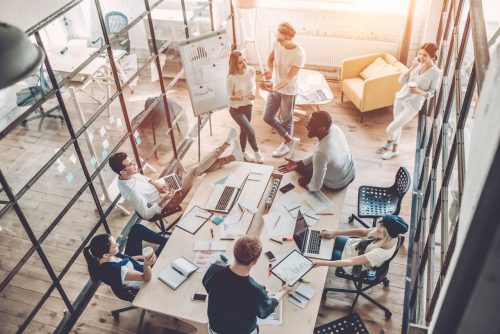 Today, professionals look not only for the incentives provided by their potential employers but also for the facilities available in their offices. A modern office is a dream workplace for many employees, and it certainly has a lot to offer.
Modern Office – Definition
A modern office is a new concept used for two crucial aspects of a company: its design and office culture. The central part of the physical side of a modern office is the workplace itself, which can be seen through the interior design aesthetics as well as from the point of view of the office employees, who also want their workplace to be ergonomic and flexible*.
Modern Office Design – Basic Rules
The key to modern office design is building a workplace that makes people feel at home, which is achieved by putting their comfort first.
The comfort of a modern office means physical and mental well-being. It reduces anxiety and stress with its ergonomic furniture, biophilic design, facilities for physical movement and power naps as well as zones to work on intellectually challenging tasks. At the same time, a modern office promotes creativity and communication between co-workers**.
Modern Office Décor – Best Practices
Modern office ideas for decorations and accessories depend on the style of the interior design in the workplace. However, the general trend is incorporating nature into the work environment.
Green plants are one of the simplest and cheapest types of modern office décor, which will add a soothing effect to the space, improve air quality, and reduce noise pollution. Paintings are also a great addition to the office, especially ones featuring natural landscapes. The preferable materials used in the furniture and accessories are wood, cotton, and linen.
Furthermore, any pieces of modern office décor with running water – such as fountains or artificial waterfalls and streams – will complement the biophilic design.
Modern Office Ideas – Inspiration
Many modern office ideas do not necessarily mean re-designing the entire workplace.
For instance, active furniture such as ergonomic models of adjustable desks, chairs, conference training tables, and stools as well as working stations incorporating bike chairs and treadmills can be used in any office.
Creating spaces for working on demanding tasks without distractions is possible even in the most congested workplaces. For instance, the hush office pod solutions contain customizable movable acoustic units perfect for employees who need to take a break from office conversations and work alone.
Modern Office Rooms – Benefits
Companies value their employees and are willing to make their work enjoyable can utilize the modern office approach to address the problem of physical inactivity in staff, reduce stress and anxiety coming with the inability to concentrate on important tasks, and help to avoid conflicts triggered by irritation and annoyance resulting from being constantly surrounded by other people.
*https://grosvenorstpauls.com/difference-between-a-modern-and-traditional-office/#:~:text=A%20modern%20office%20is%20often,furniture%20%E2%80%93%20creating%20a%20modernistic%20approach
**https://www.bondcollective.com/blog/modern-office-space/
---
Interesting Related Article: "Best Commercial Office Design Ideas in 2022"