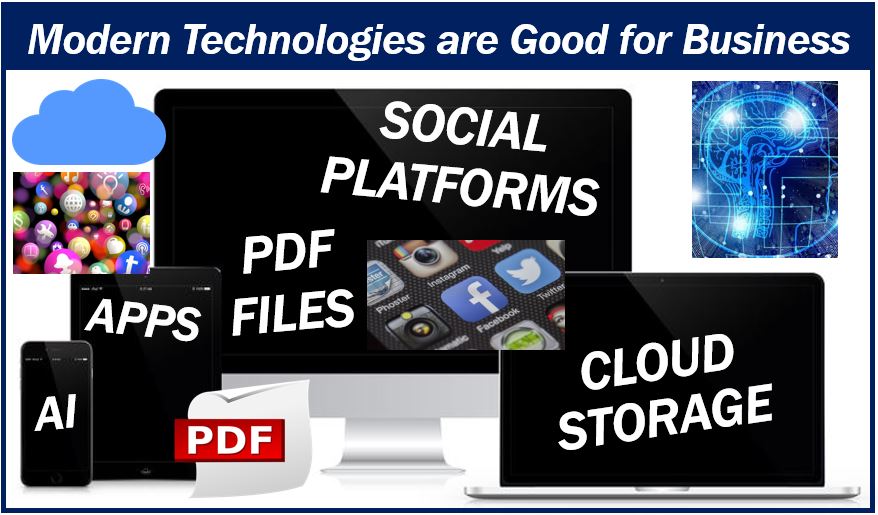 The advent of technology has opened up new paths for people to do business. In fact, there are around 30 million small businesses being operated in America and a major credit goes to newer technologies that make it easy to do business.
If you are struggling with your business in terms of profit, exposure and popularity, then it might be possible that you are dwelling on older technologies that do not work in today's business world. You need to turn to modern technologies to take your business to greater heights.
Here are five modern technologies that are good for your business:
Cloud Storage
With businesses being digitized, depending upon local servers can slow you down and pose a threat of data loss as well. Most importantly, local servers can be slower.
On the other hand, cloud storage is a whole different ball game. In act, it is predicted that by the end of 2019, 83% of the traffic will turn to cloud.
Shifting your business to cloud storage will give you powerful security and a much easier and authentic way to backup your data.
AI
AI stands for Artificial Intelligence. AI has grasped quite a lot in our lives such as smartphones, cars, doors and whatnot. Similarly, businesses have turned to AI as well.
Customer support of a business is said to be one of the most important services and a game changer. Thanks to artificial intelligence, businesses can run a complete 24/7 customer service with the help of bots. For example, Microsoft Bot Framework is a service that allows businesses to implement bot technology and interact with customers automatically.
This means that no physical person is required to address customers unless the query is demands talking to a real person.
Social Platforms
Businesses who are missing out on taking advantage of social media are at a loss. The reason is that social media platforms are catering to almost 90% of the internet users. That's right, 90% of people are believed to have at least one social media account.
The statistics say that there are 4 billion internet users, out of which more than 3 million are active.
Running campaigns, advertisements, events on platforms like Facebook, Instagram, Twitter, etc., can help interact with a vast audience. This will help you increase your business by exposing it to thousands of people.
Mobile Application Of Your Business
Successful businesses give credit to their business mobile applications for generating a large part of their revenue. The overall revenue generated by mobile applications is predicted to go to $189 billion by the end of 2020.
Therefore, all the more reason to get a mobile application made for your business.
PDF Files
PDF files have made life easier. Businesses can create, view, edit, and even documents including confidential files without any trouble as PDF tools offer exceptional features and security. Sodapdf Split feature, for example, lets you split and work on PDF files. Adobe Acrobat also features a range of tools that can be used seamlessly across desktop, mobile, and web.
The Conclusion
Implementing these five modern technologies will definitely help you boost your business.