YouTube has grown to be one of the world's most important content-sharing websites since its launch in 2006. As video continues to grow into one of the major ways people share content (just behind text), a lot more people are being encouraged to join the YouTube bandwagon.
YouTube is currently the biggest video-sharing platform in the world, with 2 billion monthly users and 500 hours of video content uploaded every hour. It allows users to not only watch and create videos, but also create channels where they can cultivate a loyal following of fanbase. People start YouTube channels for a lot of reasons. Content sharing, making new fans, driving website traffic, etc. are among the many reasons why people create YouTube channels.
Creating a channel is the easy part. Growing it into a large number of subscribers is where the work is. Having more subscribers is typically regarded as an indication of your content doing very well on YouTube, as more subscribers equal more views.
Here are a couple of tips for growing your channel:
Consistency: It's important to put out content that people will engage constantly. The video marketing industry is very competitive, and going missing for a few weeks can put you back by months.
Make your content appeal to a diverse audience: This has to do with making your content appeal to people from different races, religions, genders, and countries. As more people watch your video, the YouTube algorithm is likelier to suggest your video to an increasing number of people outside your platform.
Niche your content: While this may seem to negate the previous tip, it doesn't. When used properly, they complement each other. Niching content has to do with the scope the content covers. It's best to go with something you're already comfortable with. If you like sports, you can niche your content to a specific sport.
Promote your content on all channels: Make use of your other social media outlets to get the word out on your channel. You can also ask other creators to share your videos with people in their audience.
Insert a subscription call-to-action in all your videos: People are more likely to act if they are told to do so. Always make sure to tell people to like your videos, subscribe, and share with their friends.
Once you've grown your subscribers to a sizeable figure, the next question for most people is how to monetize their channel. Monetizing a YouTube channel is important as good content costs money to produce. Unless you find ways to earn from your channel, you may not be able to keep up with the competition.
Monetizing your YouTube content is a flexible process that requires a lot of thought put into it. There are many monetization options available to content creators. In most cases, it's advisable to be settled on how you want to monetize it before growing your channel. The reason why you should decide early on is that the kind of content you have can limit you from using some mediums.
In this article, we'll be exploring the four most common options, and whether or not they are a perfect fit for you:
YouTube Partner Program
The first thing that comes to mind when trying to monetize a YouTube channel is to allow adverts on your page. One of the reasons that make ads a great option is that you don't have to do any extra work. All you have to do is sign up with the YouTube Partner Program.
There are, however, a couple of conditions that must be met before being eligible for YouTube's Partner Program:
You must have at least 1000 channel subscribers.
Your videos must have generated over 4000 hours of watch time within a year.
Once you've achieved both figures, you can simply follow the following steps to begin monetizing your account:
Click your account's icon in the top right corner to reveal the YouTube Studio button.
Follow the link to the YouTube studio.
Inside YouTube studio, click on other features > Monetization.
Read and agree to the YouTuber Partner Program terms.
Connect an AdSense account to your channel (If you don't already have one, you have to create a new one).
Set your preferences like currency, the period of payment, etc.
Once you're done with the setup, you're ready to make money from your account.
The next logical question after activating your account for earnings is, "How much can I make?" Well, because of the way YouTube runs its video advertisements, it's difficult to tell.
The number of views you get doesn't always reflect on the revenue you can earn. YouTube only pays money on ads that viewers watch in full or click. This means the ads themselves have to be engaging, and that's the advertiser's responsibility. As you don't get to choose the kind of ads that show on your page, there's also the possibility that whatever gets shown on your page isn't related to your target audience.
Although there's a lot of uncertainty around how much you can earn from the YouTube Partner Program, it's still a great option for content creators. After all, it costs nothing to set up.
YouTube Premium
In addition to ad revenue, YouTube came up with YouTube Premium as a way to help creators earn more without relying on adverts.
YouTube Premium is a paid service that allows users to watch videos without having to see ads. Creators signed on to YouTube Premium also earn when users using the premium service watch their videos.
Signing up for YouTube premium is easy, but depending on the number of subscribers and views, it may bring in considerably less money than ads. However, the advantage of both is that you don't have to bother about much else.
It's important to note that YouTube has other regulations around content that may be used for ads. These regulations can cause issues, especially with creators whose content borders on NSFW. Also, if you cover sensitive issues like politics, war, tragedies, drug abuse, etc., YouTube may exclude you from ad revenue.
Influencer marketing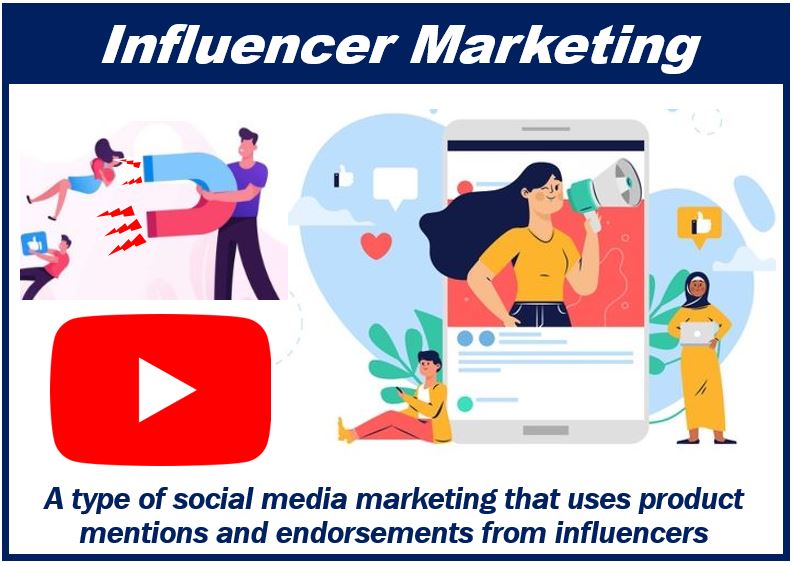 With YouTube being the second biggest search engine, producers are constantly looking for ways to reach out to potential customers organically. The search for organic ways of communicating with customers creates a revenue-making opportunity for YouTube creators.
If your videos are in a specific niche, there are likely brands in that niche looking for a way to reach a buying audience. Being able to leverage your subscribed audience to become a brand ambassador provides a way to earn money. Some influencers charge as much as $20 per 1000 subscribers for each endorsement.
There are several ways to go about influencer marketing. However, the best way is to use and endorse the product yourself. Some creators go as far as creative review videos about products they are interested in marketing to their followers. Showing your followers that you've used and trust the product is a great way to get them to try it. It is, however, important to only endorse effective products. You may lose followers if the products you endorse don't work out as you promised.
You can also benefit from influencer marketing without signing any contracts or meeting with the production company. One of the best ways to do that is through affiliate marketing. Several companies have affiliate programs that allow people to sign up and earn commissions on products bought through their personalized links. Companies like Amazon have the Amazon Associates program, which is essentially an affiliate marketing program. Affiliate programs can pay anything between 5% – 20 % of the product price to you as a referral commission.
Once you've signed up for your affiliate program, you'll receive a personalized link. This link can be placed in your video descriptions where you review or endorse the program. Although affiliate programs pay less than direct brand partnerships, you're not bound to any contract terms and can always switch products and brands. You also get the chance to endorse several helpful brands and products to your followers.
Merchandising
Depending on the nature of your content, you might be able to produce merchandise that people want to buy. It's especially advisable for content creators that want to create strong communities with their audience. If you find a lot of people identifying with your content and brand, then you should seriously consider merchandising.
Merchandising is perhaps the best way to monetize your YouTube channel as it lets you control all the aspects of your revenue. Merchandise includes brandable items that can be sold, e.g., t-shirts, caps, mugs, pens, etc.
The great thing is that there are a lot of merchandizing companies that are looking for collaborations with creators. You can work with screenprinting companies like this: https://thrivescreenprinting.com/apparel-fufillment-services/
Once you 've negotiated and agreed on a fixed price for production, you can set the selling price on your website (if you have one), or wherever you want people to purchase from. Some creators prefer to sell their merchandise on e-commerce sites like Amazon and eBay. Whatever the mark-up on the product is, you get to keep it as your profit.
In some cases, you may be able to agree for the production company to also handle shipping. That means you won't even have to hold the product stock.
Conclusion
Once you've grown a large audience, you've done most of the work you need to do on your channel. The next thing is to work on growing the numbers even further or, at least, sustaining the numbers. Monetizing your audience isn't rocket science. The challenge is to maximize value from them.
As you might have noticed, the secret to monetizing your channel is hidden in your audience. Always stay attentive to the needs of your subscribers. You may end up extending the value chain that you offer even more.
___________________________________________________________
Interesting related articles:
Video – Online Marketing