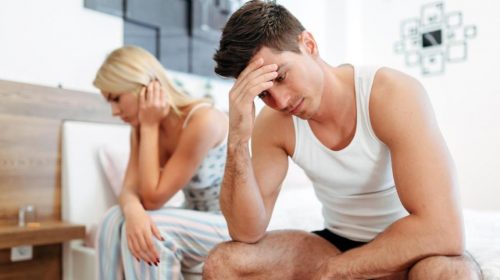 Erectile dysfunction (ED) is a common condition that affects millions of men worldwide. If left untreated, it can reduce a man's quality of life, hurt his self-esteem, and ultimately affect his relationship. Fortunately, there are several medications that can help treat it. However, with so many options on the market, determining which one is most effective can be a tad challenging. This article explores the main ED treatments and reveals the most effective ED medications for men in 2023. Whether you're looking to just start using an ED drug for the first time or are an experienced user, you'll find this guide useful.
What Is Erectile Dysfunction (ED) in Men?
Erectile dysfunction is a sexual health condition affecting about 52% of men worldwide. Although it is believed to only occur in seniors, it also affects young men. It is characterized by the inability to achieve and maintain a firm erection long enough for satisfactory sex [1].
It is worth noting that if left untreated, ED can cause a wide range of other health problems that may affect a man's relationship and quality of life. It can last anywhere from a few months to years and even throughout one's life, depending on the root cause. It is important to seek medical attention if any ED symptoms arise.
Causes and Symptoms of Erectile Dysfunction
Erectile dysfunction generally occurs when there is limited blood flow to the penis. Thus, it is caused by factors that affect blood flow or dull emotional sensation. The causes of the condition are broadly divided into 2 categories: physical and psychological causes.
The physical causes include high blood pressure, type 2 diabetes, heart disease, obesity,  and high cholesterol, as well as certain medications. On the other hand, psychological causes may include depression, anxiety, and stress. Sometimes, ED arises due to a combination of both physical and psychological issues [2].
ED is characterized by the following signs and symptoms [3]:
trouble getting an erection;

trouble maintaining an erection long enough for satisfactory sexual performance;

low sexual libido;

low self-esteem;

a feeling of guilt or embarrassment.
If you experience any of these symptoms, it is important to speak with a doctor or healthcare expert to help determine the underlying cause of your ED and start treatment.
ED Diagnosis and the Main Treatment Options
To diagnose ED, you'll need to book an appointment with a healthcare professional and visit them on the agreed date. The professional may ask a couple of questions, review your medical history, and may likely conduct a physical exam. They may also perform urine tests, blood tests, and other types of tests to rule out underlying health conditions and determine the degree of erectile dysfunction.
Once they've confirmed ED to be present and determined the degree, they may then recommend a suitable treatment. There are several effective treatment options for the condition, including prescription medications and dietary supplements.
Other available treatments beyond pills include the use of a vacuum erection device (VED), testosterone replacement, urethral suppositories, penile implants, and penile injections. These options are available for men who do not like taking pills or who simply can't because of an underlying medical condition they may be experiencing [4].
Overall, the most effective treatment will depend on the underlying cause of your ED and individual needs. Consult a doctor or healthcare provider to help you determine the best treatment plan for you.
Top Erectile Dysfunction Support Supplements for Men in 2023
ED medications are one of the most popular and effective treatment options for the condition. Sildenafil, tadalafil, vardenafil, and avanafil are the top ED drug brands on the market. While these medicines can be effective for many men, it remains important to talk to your doctor to help you decide which one is right for you. It's also worth noting that ED medications may have potential side effects, especially if they're used incorrectly. 
At this point, it is worth noting that there are also several supplements that may be helpful in treating ED. Some of them include dehydroepiandrosterone (DHEA), L-arginine, and ginkgo biloba. However, it's important to speak with a doctor or healthcare expert before taking any supplements to ensure they are safe and effective.
Now let's look at each ED drug in detail.
Sildenafil (Viagra)
Sildenafil is the active ingredient in Viagra, a popular ED medication that has been around for over 20 years. It has a success rate of over 70%, meaning that it works effectively for 7 in 10 people who use it. Upon administration, its effects kick in within 30 minutes and last for about 4 hours [5].
Tadalafil (Cialis)
Tadalafil, sold under the brand name Cialis, is yet another popular ED medication with a high success rate. It has a longer duration of action than other ED drugs. Upon administration, its effects typically kick in within 30 minutes and last for up to 36 hours. Its relatively long duration of action earned it the name, "the weekend pill," which indicates that a single pill taken on a Friday can improve the erectile function of the user throughout the weekend [6].
Vardenafil (Levitra, Staxyn)
Vardenafil is an active ingredient for ED sold under the brand names Levitra and Staxyn. Like all the ED medications listed here, it works by increasing blood flow to the penis. Upon administration, its effects kick in within 60 minutes and stay active for up to 6 hours. While Levitra is an oral tablet, Staxyn is a sublingual version that is administered by dissolving it under the tongue. While it comes in handy for people who don't like swallowing tablets, its unique mode of administration also gives it a faster onset of effects (15 minutes) [7].
Avanafil (Stendra)
Avanafil is yet another effective medication for ED sold under the brand name Stendra. It is a relatively new medication with a relatively short onset of effects of about 15 minutes. Its effects typically last for about 6 hours but may vary based on certain factors, including weight, age, and biological makeup.
Are Erectile Dysfunction Medications Safe?
Erectile dysfunction medications are generally safe, especially when taken as directed. However, like all other drugs, they have potential side effects such as headaches, nausea, dizziness, flushing, and runny nose. In some cases, people taking ED pills for the first time may experience them; however, they typically disappear without treatment once the body adjusts to the active ingredient in the medication.
Side effects such as priapism and palpitation may also result from overdosing or other forms of misuse. These sorts of side effects are typically serious and can be life-threatening if left untreated. It is important to seek urgent medical attention if any of these adverse effects arise. Be sure to consult your healthcare provider before taking any ED medication, especially if you are taking other drugs for a pre-existing medical condition.
It is also important to be cautious when purchasing ED medication online. While there are many reputable sources for buying pills online, there are also many illegitimate websites that sell counterfeit or unsafe medication. It is always a great idea to start with free Viagra samples; that way, you can get to verify the quality and effectiveness of the pills a pharmacy sells before making it your go-to for ED meds.
In Closing
Erectile dysfunction can be an embarrassing and frustrating condition. However, with the right treatment option, men can improve their erectile function, increase sexual performance, regain their self-esteem, and improve their relationships. Whether you decide to choose ED meds, dietary supplements, or any other treatment option, it is important to confirm the best course of treatment for you. Remember to always purchase medication from a legit vendor and never take more than the recommended dose. If you're interested in trying an erectile dysfunction medication like Viagra, you can visit a reputable e-pharmacy like CialisBit to order free samples and see if this medication works for you.
References
Erectile Dysfunction | Johns Hopkins Medicine. Retrieved: April 20, 2023. Hopkinsmedicine.org.

Erectile Dysfunction – Symptoms and Causes. By Mayo Clinic Staff. Retrieved: April 20, 2023. Mayoclinic.org.

What Is Erectile Dysfunction (ED)? Symptoms, Causes, Diagnosis, Treatment, and Prevention. Written by Julie Lynn Marks. Medically Reviewed by Sanjai Sinha, MD. Retrieved: April 20, 2023. Everydayhealth.com.

Treating Erectile Dysfunction: 5 Options Beyond ED Pills. Retrieved: April 20, 2023. Houstonmethodist.org.

Sildenafil (Oral Route). Proper Use. Retrieved: April 20, 2023. Mayoclinic.org.

Why Does Cialis Take at Least 12-14 Hours to Work? Medically reviewed by Drugs.com. Retrieved: April 20, 2023. Drugs.com.

Staxyn for ED: What You Need to Know. Written by Malini Ghoshal, RPh, MS. Medically reviewed by Alan Carter, Pharm.D. Retrieved: April 20, 2023. Healthline.com.




---

Interesting Related Article: "How Erectile Dysfunction Is Treated"