Since a corporate gift is a present you give to your professional contacts like employees, customers, or business partners, it gives you a chance to demonstrate how much you care about people associated with your business. And choosing the perfect gift for your employees or customers makes the gesture more impactful. The right corporate gift is something that people use regularly in day-to-day life and makes them think of their business always.
There are a variety of ways you can differentiate your brand from competitors and choosing the right corporate gifts is one of them. Below are some unique corporate gift ideas for any business to build credibility and trust while making employees or customers feel special.
You can print anything on canvas, which makes it one of the best professional gifts. Be it your brand logo, an appreciation certificate, a corporate event photo, or something else, you can create custom canvas prints as corporate gifts with CanvasChamp that you can present to your employees, customers, or other business partners. When you want to create canvas prints for employees, you can use them for milestone celebrations, event commemorations or achievement acknowledgments, etc. Hence, choosing a reliable printing company is necessary to get your printing done proficiently.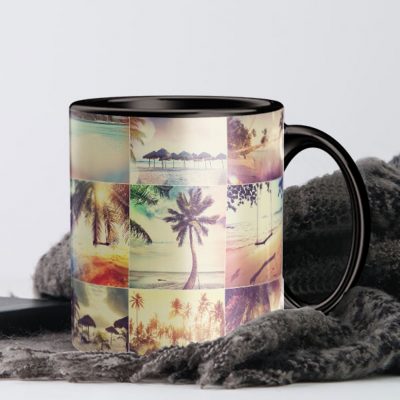 Any business can customize coffee cups with brand name, logo, or colors to convert them into corporate gifts. As people love to have a cup of coffee when they need some relaxation, a branded coffee mug can remind them of your business whenever they pick up the mug. Choose high-quality mug designs with break-resistant tempered layer to make your gifts durable and long-lasting.
Personalized Desk Supplies
Presenting people with desk supplies can make perfect and practical corporate gifts. Be it a pen, notebook, desk name plate, or desk organizer, you can use a variety of desk supplies as your corporate gifts. Personalized stationery and other supplies always keep your business in people's minds. You can present your employees or customers with custom mouse pads, desk calendars, pen holders, or note pads so they can adorn their desks with beautiful-looking and useful supplies by CanvasChamp.
A branded reusable water bottle makes a perfect corporate gift for anyone. A bottle that contains your brand logo or business branding colors can be a useful gift that people can carry while going to the office, the gym, or on a family trip. Bottles made of metal can keep water cold for hours, so choose the best quality bottles to make business gifts either for employees or for customers. Reusable bottles also help reduce carbon footprint to contribute to an eco-friendly environment.
T-shirts, Hoodies, and shirts
Any piece of branded clothing like a t-shirt, hoodie, or shirt can make a great corporate gift for any type of business. These gifts can also work as a superb marketing tool to get your brand name in front of more people. However, a business should choose high-quality clothing material and long-lasting print to feature its brand logo or business name. There are so many online retail stores that provide online printing services for shirts and hoodies.
A laptop sleeve is one of the best and most practical corporate gifts that your employees or customers can use in everyday life. So, choose durable and high-quality sleeves featuring your brand colors or logo. The sleeve must include soft padded pockets so people can keep their electronics or gadgets safe.
Pens & pencils are the other useful things we all need in day-to-day life to complete several tasks like signing a contract, writing a note, or an application. Presenting your employees and customers with the best quality branded pens can be the best way to stay on top of their minds. Choosing metal pens over plastic pens can make your gifts long-lasting and durable.
Most of us are keen to take notes on a regular basis and we use notebooks for this purpose. Giving them branded and beautiful-looking notebooks as corporate gifts makes sense. This will help them take important notes in a timely manner or write about memories and pleasant moments whenever they want. Notebooks with leather covers look more professional and appealing as well. Some printing companies also provide high-quality notebooks featuring your brand logo or name at affordable rates.
Presenting your professional contacts with gift cards and vouchers is the best way to offer them the freedom of buying anything they want. You can buy gift cards or vouchers from popular restaurants, shopping malls, or retail stores that you can present to your employees or customers so they can make purchases of their own interests. You can also customize the gift cards or vouchers with your business name or logo online.
Giving your own company products is another clever idea to make your customers or employees feel special and valued. For instance, if you are a company that makes headphones, you can present your corporate contacts with headphones. You can prepare special noise-canceling headphones that you want to give your employees or customers as corporate gifts.
---
Interesting Related Article: "7 Great Gifts Suitable For Prospective Clients"