From effective planning to skillful management, protecting your valuable assets to acquiring the right type of packing material – office relocation is definitely not an easy thing. The key to a successful office move is deciding the IT equipment you intend on moving and transporting them without incurring any damage.
This post intends to highlight some of the approaches you can adopt to safely move your IT appliances to a new office.
Planning is Key
Planning a commercial move is a big decision. Ideally, you should start planning your business relocation 3 to 4 months in advance. This way you can have enough time to understand and plan every element of the process. Procuring quotations from 3-4 commercial moving companies can help you gauge the services on offer, whilst also comparing prices – helping you reach the best decision in terms of service and cost. Preparing a checklist of all the things you need to complete can give you a better sense of organization and control over the move.
Hire a Commercial Moving Company
One of the biggest advantages of acquiring professional moving services for your office relocation is the systematic skills they offer during the moving process. When you hire commercial movers for your office relocation, they'll have a clear idea about how they'll carry out the entire process by using the best possible practices.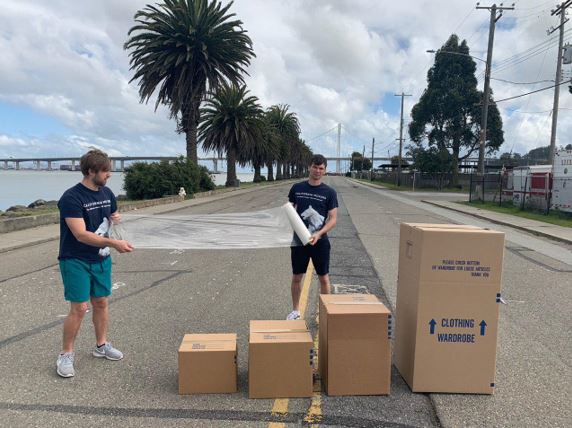 Make sure the moving company you choose has all the necessary equipment to relocate your valuable office equipment to a new place. IT equipment can contain private and confidential data, fortunately nowadays many commercial moving companies offer video surveillance services to their clients, ensuring safe and protected delivery of your assets.
"The basic requirements of tech companies in Silicon Valley and other places are to keep their data and appliances safe, as time and intellectual property protection are vital in this sector. That is why we use video surveillance during transportation and use special moving equipment," – says Anton Halushka, The C.E.O. of CaliforniaMoversUSA.
Downsize
Calling a meeting to delegate tasks within your employees can help spread the load of responsibility and work. Involving your IT personnel will help in distinguishing which IT equipment is needed and what can be recycled/scrapped.
Moving is a great opportunity to dispose of equipment that is no longer needed. It saves you time when you are unpacking items after the move. Additionally, it will save you money by reducing the number of items that will need to be moved. Business relocation is also an opportunity to upgrade. For example, you can replace your outdated computer systems with new ones.
Pack Smartly
As mentioned earlier, you should start planning 3-4 months in advance. However, after packing comes the unpacking process which can be streamlined to save time. Instructing the moving company to pack appliances in ways which it won't take long to unpack is great foresight. Before you know it, you'll be in your normal routine – just in a new location.
It's very important that you use the right packing supplies to pack your equipment. IT Equipment can be big: monitors, scanners, printers, PCs, etc. However, they can also be quite small: wires, cables, mice, etc. Packing these smaller peripheral items in respectively labelled plastic bags can aid the configuration process at your new office space. Plus, you won't be scrambling to find items at the bottom of boxes! Business relocation is not only about moving your office items, it also includes people. Agreeing an office plan with your IT staff will limit any confusion on unpacking day.
Notify Your Clients
Lastly, it's important to notify any client who frequently visited your old office space of your new location. Doing this will eliminate any potentially embarrassing mix ups with clients – Whilst promoting a professional image of your business, depicting your attention to detail and consideration.
In conclusion, planning a commercial move is difficult. However, proper planning coupled with the right moving company can help you complete your relocation successfully! Especially, when your time, and machinery, is valuable. We highly recommend that you hire professional movers for your upcoming business move.