Considered as a smart piece of furniture, a Murphy bed allows a room to function for multiple purposes.  Whether looking to free up spare spaces in the home or wanting a room to serve several purposes, a Murphy bed is a sure space-saving key. A Murphy bed, a two-in-one piece of furniture, provides extra space for occasional overnight visitors or guests and at the same time keeps the functional floor plan for daily use.
For costly living spaces such as studio apartments, a Murphy bed is a prime option. A Murphy bed also transforms underused spaces into virtually any room that serves specific functions like the children's playroom, a fitness studio, an art studio, or even a walk-in closet for some.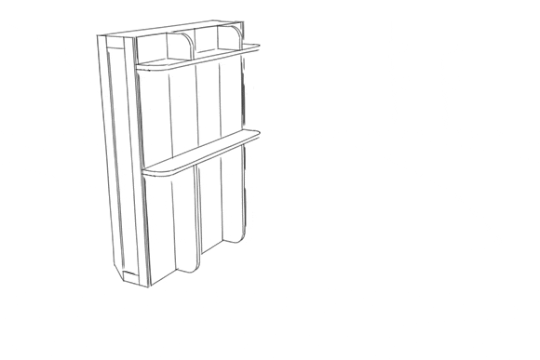 To determine if a Murphy bed is the right fit for you, this guide will answer the most asked questions to help you decide if you should buy and install one in your home.
Murphy Bed vs. Wall Bed
Often interchangeably used, a Murphy bed and a wall bed differ subtly. A Murphy bed is traditionally is wall-mounted or floor-mounted using an elaborate spring system to lower and raise the mattress. A traditional wall bed on the other hand, although uses a similar spring mechanism also includes cabinets on either side to make it look like it is built into the wall.
Some brands of Murphy beds in the market feature crafty shelving without the bulky metal spring and piston systems.
Safety Aspects of A Murphy Bed
The first introduction many people had of a Murphy bed concept was from television shows or movies.
In 1916, Charlie Chaplin's "One A.M." became one of the most famous depictions of Murphy beds as it shows a lengthy 5-minute skit of a struggle between Chaplin and a Murphy bed. It concludes with Chaplin allowing himself to sleep in the bathtub instead. Throughout decades, Murphy beds have been used by the media to appear comical, inciting laughter and often causing a certain degree of injury or annoyance.
It may not be a surprise why people associate Murphy beds with safety issues and lead them to ask if Murphy beds are dangerous to use. In reality, Murphy bed fatalities are few and isolated cases; and people are more likely to die from falling out of a common bed than be "swallowed up" by a Murphy wall bed.
As in any furniture or equipment when used incorrectly can lead to injuries and even death. In the case of Murphy beds, fatalities are extremely unlikely.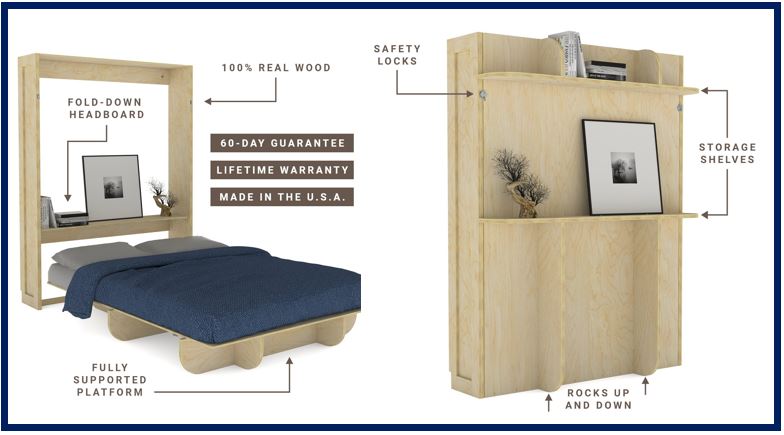 Selecting Mattresses for A Murphy Bed
Quite a common misconception about Murphy beds is that they can ruin mattresses. This is not the case though. Special mattresses are not required to fit a wall bed. Existing mattresses in the home will likely fit perfectly and the best mattress for Murphy beds is the one feels the most comfortable with.
One factor to consider still is the weight of the mattress that will be used. A lighter mattress is optimal. The lighter the mattress used, it follows that the easier will the bed be lifted or raised. Mattresses are also less likely to slump under their weight or sag when they are light-weight when the bed is in the upright position.
Murphy Bed Pre-purchase Considerations
Murphy beds available in the market differ in various ways. They might be vertical-oriented or horizontal-oriented. Vertical Murphy beds are slightly taller and horizontal-oriented beds are shorter and wider instead.
It is important to also outline where the Murphy bed will be positioned in the room with other furniture along with the room's dimensions or any corners and angles that may be unusual. Taking note of the location of the windows and electrical outlets, and even how the door swings are often overlooked.
Selecting the right Murphy bed may be a lot to keep in mind. To simplify the selection process, refer to the list below of things to check before buying a Murphy bed:
Check the ceiling height: taking note of the ceiling height helps in narrowing down the sizes and orientations that could fit the space given.
Location of the doorway
The direction where the door swings
Position of windows in the room: As most Murphy beds should be mounted on either side of the wall or the floor, choosing a wall without windows would be best for installation.
Electrical outlets: Locate outlets to ensure still having access to plugs and power cords.
Overhead lighting fixtures: This may interfere with how a Murphy bed folds out freely
Ceiling fans: This may also interfere with how a Murphy bed folds out freely
Wall Studs: Make sure to mark locations of studs to know where to mount the Murphy bed as they are generally attached to wall studs
Floors
Baseboards and molding
Wall materials: Wall anchors and tools may vary from one material to another. Referring to the wall materials for proper attachment during installation is ideal.
Low-hanging heater ventilations
Remember that measuring the space before buying a Murphy bed is the utmost important tip for a headache-free purchase. Spend time checking proportions to map out the wall bed location so that it can be installed easily.
Ways to Upscale a Murphy Bed
A Murphy bed's great space-saving ability is a given to anyone looking to recreate a multi-functional space. Having known the basics, to further convince your purchase, there are other creative ways one can upgrade their Murphy beds.
Murphy beds can be cleverly incorporated into the home design to combine high-functionality and state-of-the-art design. Owners can also add custom upgrades to add a personal touch and enhance a home in effect. Following are some of them:
Recessed LED Lighting: Nightstand lamps may be skipped and going for modern LED lights can be opted to. Comprehensive guides to install customized lighting to a Murphy bed are available in detail.
Racks and Hooks: A Murphy bed may be installed with several hooks on the exterior side. Doing so one of the easiest ways to enhance the function of Murphy beds. Choosing stylish hooks that will fit the owner's taste is a plus factor.
Shiplap: A shiplap is a series of wooden panels in an interlocking manner proving a rustic farmhouse look to walls or ceilings. Shiplap paneling can also be utilized on the underside of a Murphy wall bed.
Fold up Desks: Adding a fold-up desk to the underside of a Murphy bed is a great space saver. When looking to transform a guest room into an office by day or needing a place to earn money, installing a fold-down desk to an existing Murphy bed is a win-win.
Choose Your Paint: Murphy beds can be painted or stained to one's liking. This provides design freedom to owners making them customize their spaces the way that would go along the vibe of the entire room.
Chalkboard: The underside of the Murphy bed can be attached with a chalkboard or applied with chalkboard paint. Chalkboard paint is available in most hardware stores and is inexpensive. This design may be ideal for homeschooling or jotting down notes from home offices.
As these custom projects suggest, more than making the most of spaces and showcasing personal styles, maximizing the functionality of any room allows Murphy beds to make the difference.
Video – Murphy Wall Bed Kit