Dogs come in all shapes and sizes. Some are simply much bigger than others. This means that when it comes to big dogs, you will need to look for different products for them.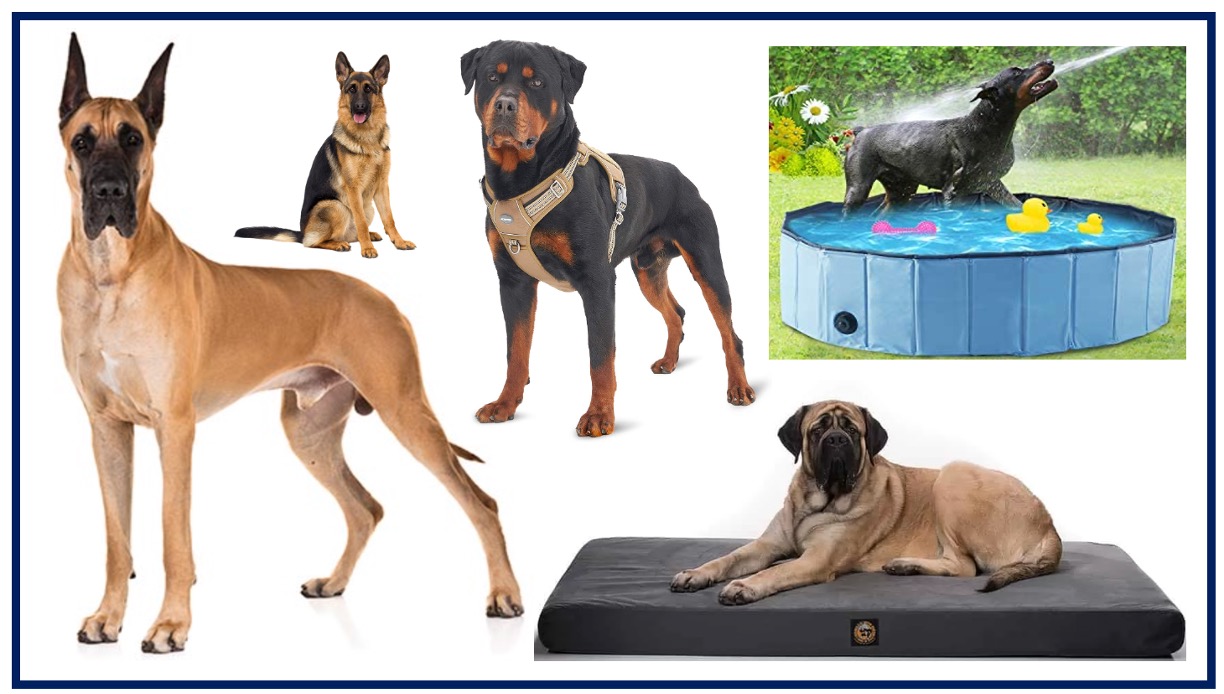 There is no way that items made for a puppy are going to work for a golden retriever. This applies to a range of products, from dog bowls to leashes.
If looking after a large dog is new to you, then not stress. There is a range of great solutions so that you can get all you need to make your large dog have the best life possible. We have rounded up all the top products to consider, and explain why they are essential to get in sizes designed specifically for big dogs.
1. A Big Harness
A big dog calls for a big harness. Just because they are bigger than little dogs does not mean they are going to listen to your commands any better. So when you are going for a walk with them, you want to ensure that you have a firm grip on them, while equally giving them enough room to roam free.
The best harnesses for big dogs are ones that are designed to be no-pull and no-choke. This means that you do not have to worry about hurting them if you need to pull on the leash firmly. Big dogs carry more weight, so the force of your pull will have more physical impact on them.
2. A Big Memory Foam Mattress
Big dogs need more space to lay out and lounge. That is why you want to get them a dog bed designed to let them sprawl out as much as they need. Larger dogs also tend to have more hip problems, so getting a dog bed that is made with memory foam will give their tender joints the support they need and deserve.
In fact, the best memory foam mattresses are designed to support dogs that weigh well over 125 pounds. Your big dog will likely want to lounge on their dog bed all day long.
3. A Big Dog Bowl
Bigger dogs mean that they have more work to do to get to a dog bowl. So do not subject your big dog to getting on the same level as a little puppy. Instead, get them a quality dog bowl that is both durable and sits higher up. That way they can eat and drink with ease. Plus, you can make it customizable too so they feel proud to call it their own. Big dogs need big dog bowls—plain and simple.
4. A Big Dog Sweater
Big dogs are not going to be able to fit into clothes designed for a puppy. In fact, big dogs need near human-sized clothing—like sweaters—to fit properly. Getting your big dog a big sweater will ensure they stay warm and cozy during the colder months. Even if your big dog looks tough, it will still want to get cozy and comfortable with you by the fire.
5. A Dog Carrier
Big dogs need carriers too. Of course, they need one that is designed to have a lot more space. So make sure you get a dog carrier that is designed to give them enough room to move around comfortably while equally ensuring it is sturdy enough they can't get out. This will come in handy when you are on the go or when you simply need to get your dog out of the way at home.
6. A Big Dog Toy
Big dogs like to play too. So you want to make sure that you get them dog toys designed to keep them entertained. With their mouths naturally being bigger, you will want to ensure that the toys you get them are sized appropriately with their mouth and that there is minimal risk of them swallowing them.
The best toys to get them are ones they can chew on all day long, but are durable enough to give them months of entertainment.
7.  A Big Pooper Scooper
Big dogs mean that they are going to be taking big poops. Likely, you won't be wanting to pick this up by hand. So a great way to ensure that you can pick up the deed without getting too grossed out is by investing in a pooper scooper designed for bigger dogs. That way your backyard stays clean and you avoid getting grossed out.
8. A Big Dog Pool
A lot of big dogs will get overheated fast. So having a PVC pool you can pop out on hot days is the perfect solution to helping them cool off. Simply fill it up and let them hop in.
Conclusion
From dog bowls to dog pools, there are so many great products to get for your big dog.