Introduction
In the present world, old marketing tactics and strategies are not working anymore to take you to the horizons of success. If you are a YouTube Creator seeking to monetize your talent, or a brand looking for a competent and quality site to promote your business, you need each other. And a platform that can make a beneficial connection between you is NoxInfluencer.
It is a completely both free YouTube analytics tool and a leading YouTube Influencer Marketing Platform. It is facilitating the collaboration if the YouTubers and the brands searching for the YouTube channels to promote their products with a large database representing millions of channels stats, comparative analysis, future projections, and competence.
At this platform, the brands get easy access to around 8M YouTube channels for their brand promotions across the world. It is compatible with both Windows and mobile phones and has supported for 10 different global languages.
Influencer Marketing Platform–NoxInfluencer
Two Way Benefits
NoxInfluencer is a place to multiply assets for both the influencers (YouTube creators) and the Brands. It has multiple options and ways to make a collaboration between the influencers and brands. Influencers get money for placing ads on their channels while brands get increased turn-out as a result of their promotion.
Simple
NoxInfluencer uses a simple interface for the brands and influencers. Their signup process and all the dashboards features are quickly understandable by even the non-technical people, who don't have any background knowledge of such platforms.
Reliable
The most distinguishing and exciting features of this site is reliability. The influencers and brands on this platform are 100% genuine and so are the data and analytics associated with them. Like various other influencer marketing platforms, not everyone can be a part of this platform. You must own an established track record of success as a brand or an influencer.
Versatility
It is always a risk to join influencer marketing. For small businesses, the budget is major concern, while large enterprises are more concerned about professionalism and efficiency. Everyone wants to interact with the resonated audience. So, at an influencer platform, you can't take it as "one size fits all". NoxInfluencer considers different kinds of businesses with different needs and offers packages accordingly.
Security of the Data
The data and information provided by the brands and influencers are completely secure with NoxInfluencer. The platform is bound to keep it secret and not to share it with any third-party entity.
Supports Ten Languages
At the given point in time, NoxInfluencer supports ten languages in addition to English. You can use the platform in Korean, Japanese, Indonesian, Thai, Vietnamese, Spanish, Portuguese, Simplified Chinese, Traditional Chinese.
Funds Security
Your foremost concern could be the security of your funds. NoxInfluencer guarantees the security of the funds allocated for the campaigns. The forum keeps the funds with it until the ads got published by the influencer.
Joining Process
Joining this fantastic website is quite easy.
Open www.noxinfluencer.com in your browser
From the top right corner choose 'I'm a Brand', and you would be directed to a different page.
Here you have to sign up by simply giving your email ID and a secure password.
The website would send you a verification email with a link, which you have to open to verify.
The login to your dashboard, update your company information and start working with at NoxInfluencer with a really easy user interface.
Big Database
NoxInfluencer is among only a few platforms where you get instant excess to 8M+ influencers from over 200 countries or precisely saying from all over the world. Following are the multiple ways you can access your desired influencers:
Customized Influencer Search
Brands can search the influencer, and NoxInfluencer offers tools to search them according to a number of followers, engagement ranking, expected exposure, Nox Score, Categories, geographical, and demographical factors.
The platform would use its smart matching features to suggest you the most suitable channel in accordance with your product niche, engagement rate, audience geography, audience age group, and the budget available for the campaign.
NoxInfluencer Recommendation
On the basis of your preferences, NoxInfluencer has the smart features to recommend to you different influencers performing best with the given criterion. The number of recommendations depends upon the membership package adopted by you.
After getting the most suitable influencer, you can add them to your favorite influencer list to save time in the future.
YouTube and Instagram Analytic Tool-NoxInfluencer
Analytical Tools
For YouTube creators and Instagram users, NoxInfluencer is the best analytical tool. You can check your channel's global rank, country rank, video views per month or week, live subscriber count, video performance, the detailed insight of followers, engagement rate and so on.
Channel Comparison
How does the same type of YouTube creators get successful? Through the channel compare tool, you can get the answer to this question. You get stats from other channels and competitors, such as video publish time, engagement rate, strategies, and keywords. This way NoxInfluencer is really helpful to make you compete with other star influencers.
Top Lists
The platform features a top list too. The list is divided to display top trending channels, countries-based top-ranked channels, best-performing videos list, and category-based ranking to make it easy for you to pick the best suit for you.
Real-time Effect Monitor
The platform continuously collects performance data of YouTube influencer s for the brands including real-time video views, interaction data audience information and more. The dashboard at NoxInfluencer facilitates you to observe the real-time effect videos. You can see a complete report on their marketing activities.
Google Chrome Extension
The influencer is now available as the Google Chrome Extension. It simultaneously presents influencers YouTube analytics while browsing and scrolling down YouTube videos.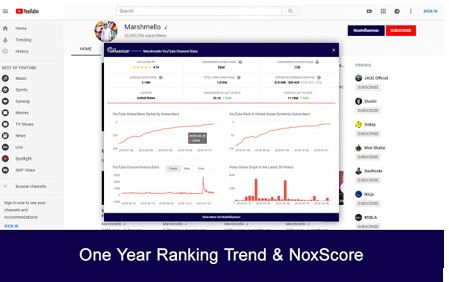 Real-Time Tracking of Channel Stats
You can have an eye on your channel stats all the time with this tool. You can see your global rank, country-wise rank, video views, subscriber change, estimated earning potentials, in-depth analysis of audience, and everything relevant to your channel independently or with comparison to others.
Content Optimization
YouTube's popular tags and the relevant keywords can play a great role to promote your channel. And this factor is really essential for the newbie. You can improve the ranking of your video by analyzing and utilizing them to let more subscribers discover you.
Increase Subscribers
Through the NoxInfluencer, you can view and analyses your subscribers' growth trends, their demographic and geographic facts, video viewing trends and timings, and understand subscribers' preferences to optimize video contents to increase the number of subscribers
Live Subscribers Count
With this feature, every influencer can see the changing number of subscribers every second. This tool helps them to check whether their new content strategy is successful or not.
Conclusion
NoxInfluencer is the most advanced, intelligent, innovative statistics manager available for YouTube. The developers have grabbed the opportunity seeking to the interests and requirements of the emerging digital society.
It has proven itself as the best platform for the people to cash their talent and for the businesses to best promote themselves. More information, please click to check: https://www.noxinfluencer.com.
__________________________________
Interesting related articles: