It's no surprise that the software industry has become massively saturated. With tech start-ups mushrooming like never before, industry leaders suggest that we'll be expecting over a million software companies worldwide within the next ten years. Nearly 50% of these companies are tightly packed into American and Western European cities. Competition is stringent than ever, operational costs are ballooning, and talent is getting scarcer by the day.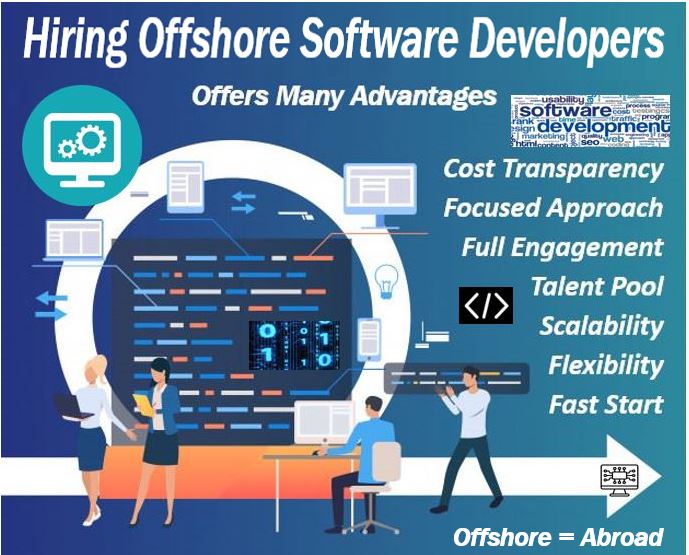 Offshore development solutions have now sprouted among western businesses who are looking to get ahead in the crowded and expensive marketplace. Our post here will break down and explain what offshore is, the tangible benefits of offshore software development, and when you should apply this model for your business.
What is offshore development anyway?
Put simply, offshore development involves transferring work to a third-party service provider. To put it in another way, an interested company entrusts implementing a part of the project (or the entire project) to an experienced software service provider or an individual.
There is a plethora of tech-related services that can be outsourced: web development, mobile development services, UI/UX design etc.
If you plan to delegate the whole project to a third party, you should rather look for a full-cycle software development business than a freelancer. That's mostly because a freelancer may have extensive experience in one or several related areas. To create, let's say, a mobile app, you need at least one skilled software developer, QA engineer, and a skilled designer.
What Are the Challenges of Developing In-House Software?
The prospect of building a new platform or developing new software projects is always thrilling. However, the reality of completing these projects within the necessary time and budget requirements can be slightly intimidating. That echoes true among companies without their own in-house teams of developers to make it happen.
For most organizations outside the technology or development world, hiring the in-house team required to handle these projects simply isn't a real option. Reason: this will require not only costly employee incomes but also factors such as recruiting and hiring costs, benefits, health coverage, as well as the hardware and software necessary to get things up and going.
Offshoring as An Alternative 
The previously noted and other factors justify why many businesses make the smart move to outsource their software development needs to offshore software development solutions. Building a software development project can be quite complicated. More often than not, it's tough to develop a useful product without qualified specialists. Now, considering the rate at which the online industry is expanding, there are many reasons why businesses of all sizes hire offshore developers.
In-house custom software development isn't just tricky but also incredibly expensive. Payroll processes are timely and necessitate a specialized and salaried HR specialist, let alone the budget-busting management it needs.
Also, modern times are witnessing a digital renaissance, and many brands and businesses can go completely remote.
These businesses can save hundreds if not millions of dollars by outsourcing their software development and IT staff augmentation needs that would otherwise rely on costly infrastructure.
Typically, a software development process requires a lot of time and resources. It also requires focus and full attention on the core objective, from the initiation phase to the completion. To maintain these, you need to have a dedicated team to handle the task and require the tools necessary for development.
These monetary obligations and time can be expensive for companies, especially for small and medium-sized companies trying to reduce liabilities and increase the efficient use of available resources.
Hiring, in general, can be a nuisance. It can take more than a month to find top talent, which makes your business vulnerable in the interim. But taking in software developers, in particular, involves additional risk.
Software development is technical know-how, and to some point, you need experts to be able to find experts. And, truth it, not everyone is an expert, and hiring software developers on your own could necessitate a lot of research.
Similarly, offshore development teams can guarantee quality. Developers are usually a part of software development outsourcing agencies with in-depth hiring practices.
Thanks to these agencies, you can recruit software developers through screening processes such as coding processes and intensive vetting.
Businesses of all sizes, as well as tech start-ups that want to grow, can make use of offshore software development.
Reduced costs joined with objectively skilled talent is not a bad deal at all. Start-ups and small to medium businesses, almost by definition, work with more limiting budgets.
Outsourcing development to Western cities or Latin America is a financially conscious move that will also result in business progress down the line.
Advantage of the Most Current & Trusted Technologies
As we've previously mentioned, outsourcing for software development is expected to be trustworthy and thus must have the tools for development that are most efficient. But now, with offshore software development, you can easily take advantage of this tooling.
Businesses that rely massively on offshore development solutions have the innate advantage of additional flexibility in their workforce.
When it comes to flexibility, whether you want short-term or long-term, you need a full team of developers for a certain project or for a few stray specialists to integrate seamlessly with your in-house software development team.
When should you consider offshore solutions?
When you're looking to add permanent teams to the company
When the project is just a one-time thing
When the project demands expertise and niche skills
When the project needs more than just developers
When the deadline is closer than you think
In this modern world, to stand out, businesses have a consistent need to develop software and keep it updated. Hiring offshore IT experts for your tech business is really the most efficient and financially aware way to get this done.
BIO
Dariia Herasymova is a Recruitment Team Lead at Devox Software. She hires software development teams for startups, small businesses, and enterprises. She carries out a full cycle of recruitment; creates job descriptions based on talks with clients, searches and interviews candidates, and onboards the newcomers. Dariia knows how to build HR and recruitment processes from scratch. She strives to find a person with appropriate technical and soft skills who will share the company's values. When she has free time, she writes articles on various outsourcing models for our blog.
---
Interesting related article: "What does Offshore mean?"