Streaming services have become the go-to platforms for music consumption, but listeners often want a tool that offers them more autonomy over their music. Here is where NoteBurner Music One emerges, allowing users to download and convert their favorite tunes from a variety of streaming services. With a plethora of features, this tool grants users the ability to enjoy their music offline and on any device.
Key Features and Benefits:
Comprehensive Streaming Music Converter:
In this case I used the tool to download Spotify music. 
NoteBurner Music One is an all-in-one solution, enabling users to download songs from a wide range of streaming platforms including Spotify, Apple Music, Amazon Music, Tidal, YouTube Music, Deezer, Pandora Music, and Line Music. The software stands out by allowing conversion of streaming music songs to MP3, AAC, FLAC, WAV, AIFF, or ALAC, catering to a multitude of user preferences.
High-Speed Downloading:
The tool instantly began downloading the music, at quite a high speed.
With the capability to download streaming music at 10X faster speed, NoteBurner ensures users can swiftly and efficiently build their offline music collection, all while retaining high audio quality. This feature is particularly advantageous for users looking to download extensive playlists in minimal time.
Once converted, the songs appear in Noteburner for easy access. 
Save Streaming Music Original Quality
NoteBurner is a top-notch solution for preserving the unparalleled sound quality of high-bitrate streams, including popular platforms like Spotify (320kbps), Apple Music (Hi-Res) Lossless, Amazon Music (Ultra) HD, Tidal HiFi & Master, and many others. With NoteBurner, you can enjoy your favorite music in all its glory, without any compromise on audio fidelity.
2 Advanced Recording Modes:
NoteBurner provides users with two core recording modes, App Mode and Web Mode, each designed to capture audio content efficiently and flexibly. App Mode is used to download songs from a specific music desktop app, which offers superior audio quality, like Spotify. 
Web Mode, on the other hand, is ideal for users preferring to download directly from music web players, particularly beneficial to Mac users by offering a 10X faster download speed.
Preserving ID3 Tags, And More:
NoteBurner prioritizes the preservation of ID3 tags including Title, Artist, Album, and Artwork after conversion, allowing users to maintain a well-organized music library. This tool also provides advanced functions, such as a free built-in toolbox for CD burning, ID3 tag editing, and converting local audio files.
Compatibility and Language Support:
The software is highly compatible with the latest Windows 11 & macOS 13. When you check its tech spec page, you will find that NoteBurner always upgrades its program to meet users' requirements. You can email them to get timely customer support.
Plus, it currently supports up to 25 languages, making it a versatile and user-friendly option for a diverse user base.
How to Use NoteBurner Streaming Music Recorder
In case someone may be still unclear on how to use this NoteBurner software. Here're the detailed steps: 
Step 1. Open NoteBurner, and choose the download port. Choose "Spotify App" for example.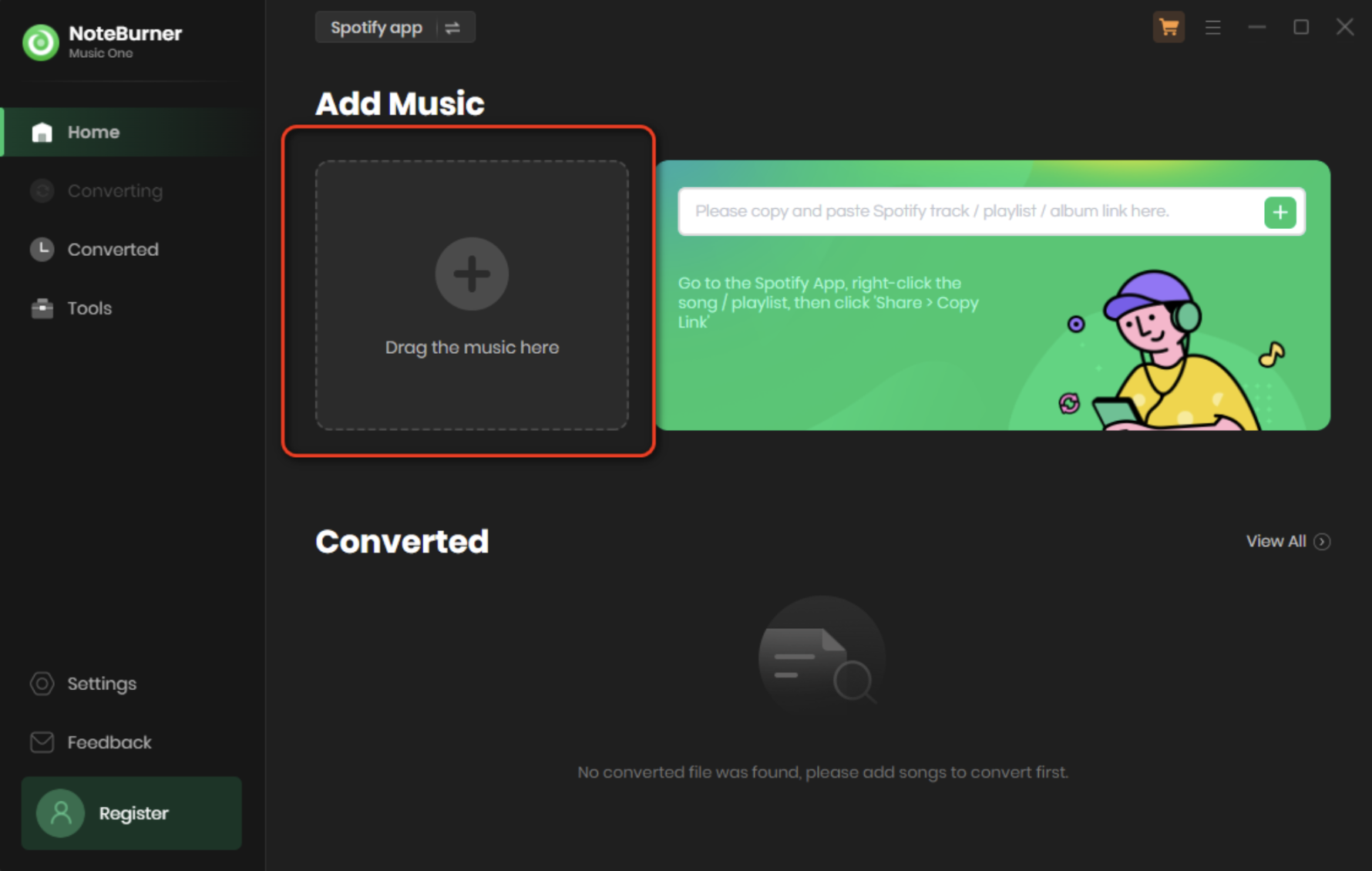 Step 2. Go to the settings window, and choose the output format, output quality, etc.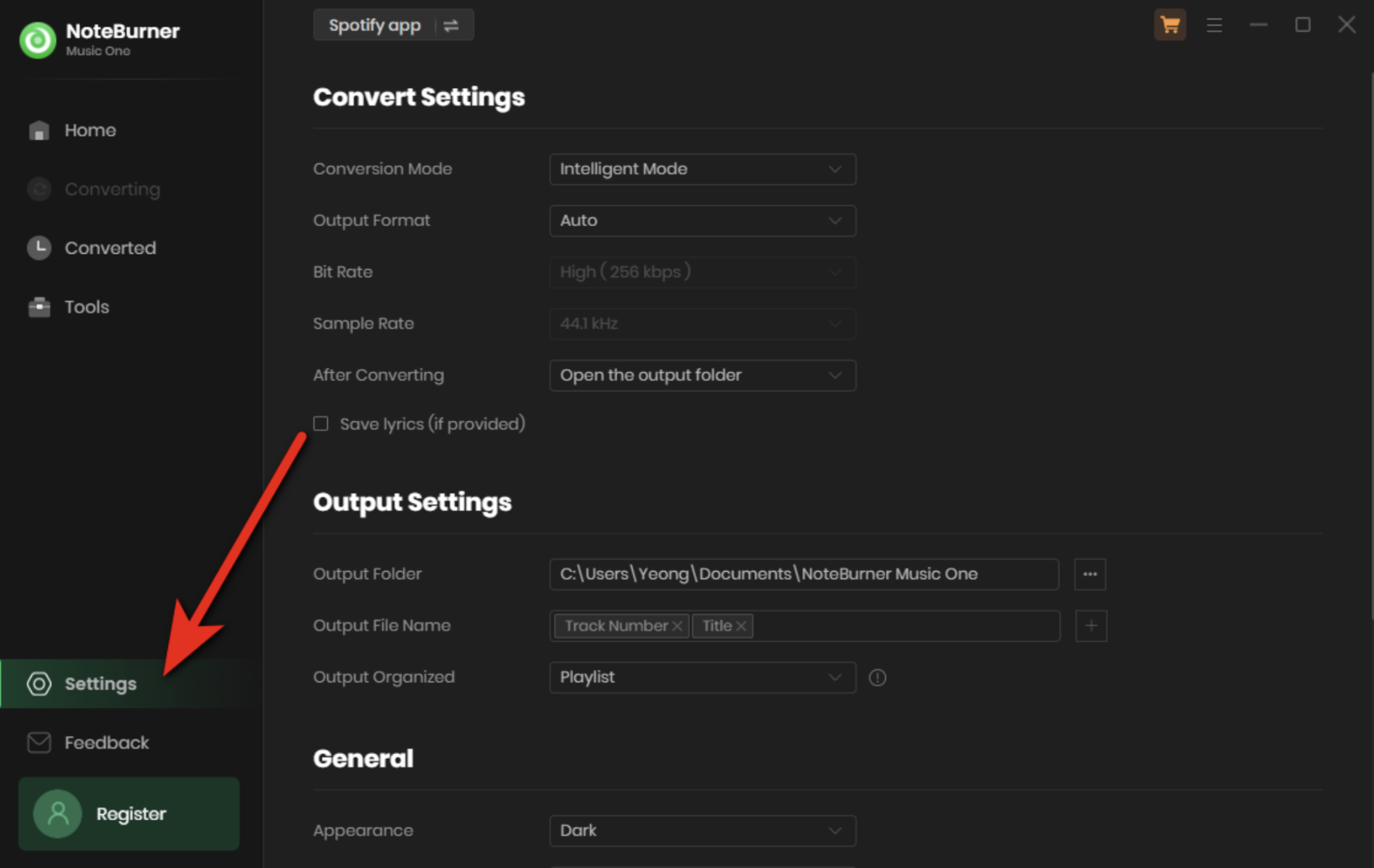 Step 3. Just drag and drop a playlist from the Spotify app to the NoteBurner software. It will load your music tracks quickly.
Step 4. Press the "Convert" button and start downloading songs.
Use Cases:
Whether you're a professional DJ looking to mix tunes from different streaming services or a casual listener wanting unrestricted access to your favorite songs, NoteBurner Music One is the tool that meets various needs. It is especially useful for users looking to enjoy their streaming music offline and wish to transfer their music across different devices without any limitations.
Price:
NoteBurner Music One is priced at $29.95/month according to the information found on its store. 5-day to 30-day money-back guarantee also provided. Based on the information gathered from its reviewers, NoteBurner Music One is regarded as a reliable and efficient software. It's one of the best streaming audio recorders worth having a try. 
Conclusion:
NoteBurner Music One stands out as the best streaming music recorder in the market, offering a seamless experience to users looking to download and convert music from various streaming platforms. Its versatility, user-friendly interface, high-speed downloading, advanced recording modes, and capability to retain essential song details make it an indispensable tool for music enthusiasts and professionals alike. Experience musical freedom and enhance your audio journey significantly with NoteBurner Music One.