Everyone is aware of the global economic condition during this coronavirus pandemic. Many national and international companies are facing financial crises in their businesses. While many big companies are in pain, many small online businesses are seeing a good hike in sales from new as well as returning customers. This pandemic has done a little good in a few selected industries.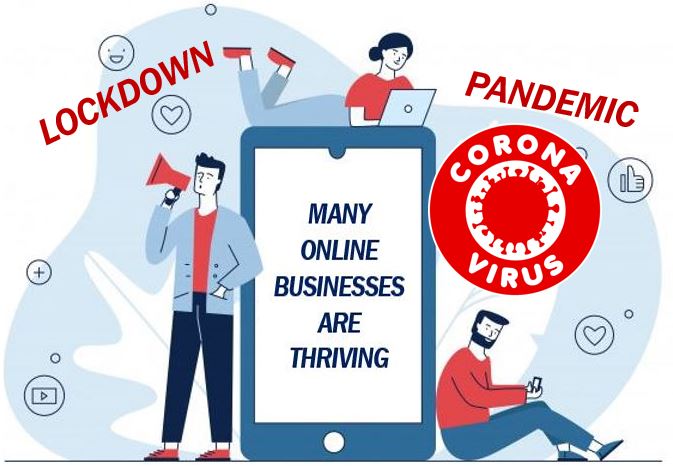 Let's explore which online businesses are seeing growth during COVID-19
Online Home Improvement Companies
With most people spending time at home, they have been more concerned and conscious of the cleanliness and visual appearance of their places. That is the reason many home improvement companies are accepting orders more than ever before.
According to a representative of Wholesalecabinets.us, they have seen a decent rise in the sales of RTA kitchen cabinets. The kitchen is one of the most used rooms of a home, it also requires renovation. Most people have understood the importance of keeping the kitchen clean and well-maintained. Hence, they are investing more in it and buying RTA Cabinets rather than fixing the old ones.
Online Cleaning and Sanitization Services
The cleaning and home improvement industry has been in high demand since the coronavirus outbreak in the US. The professional cleaning services are being hired at an impressive rate to sanitize homes, offices, restaurants, and outdoors. The representative of a renowned Ohio-based cleaning company has revealed that they are experiencing high demand, like never before. The hiring rate is especially increasing for medical facilities and commercial buildings.
The citizens are now more concerned about sanitization and deep cleaning and therefore hire these services frequently, which led a cleaning company in Manchester to hire additional workers to meet the customer's requirements.
Grocery Store 
Both online, as well as offline grocery stores, are witnessing a huge surge in the business. Since the pandemic led to the closing down of restaurants, everyone is stocking up on edible items at home in larger quantities and there's been a shortage in the availability of various commodities. According to the president of the National Grocers Association in the US, independent grocers are giving great help to the larger chains to fulfill the demand during this hard time, and also the grocery stores are being restocked at an unmatched speed.
Groceries, being the essential goods, the spike in the industry is expected, which can stay up even after this global crisis is over.
Coffee Subscription Companies
Now when most of the supermarket stores are closed, and people preferring confined to their homes, there has been a great penetration in the companies that offer home delivery services. There is a great increase in demand in the coffee subscription companies that offer pre-packed cold brew, freshly roasted beans, and other variants. Most of the attention is stolen by the companies delivering coffee weekly and monthly, and one such company in the US is Mistobox.
Online Gardening Suppliers
Since most of people are at home, and the weather is getting warmer, gardening has emerged as a new trend in the US. Most people scared to step out of their homes have started to grow vegetables, fruits, and other plants in their own gardens. Also, apart from the hesitation of stepping out and constrained supply at stores, people have more time to try hands-on gardening, which led to huge demand in seeds and brought a spike in gardening company's businesses.
With people taking food security into their own hands, the industry is observing an impressive spike. The sales manager of a leading New York-based gardening company said that they usually receive high demands in vegetables and flowers, but at this time, they are seeing high interest in vegetable seeds.
Mask Making Industry
Mask making industry was not really a highly booming industry at the beginning of 2020. Within a few months, the usage and demand for masks rose to an unmatched extent. It became a popular choice amongst new entrepreneurs because all Americans want to have high-quality masks to protect themselves from the virus.
A Seattle-based gift wrap company routed all of its inventory to the production of masks and since then the company has been in high demand in the US. Besides this, more than 20,000 shops in the eCommerce marketplace have gained benefits amid the outbreak.
Telehealth Services
Needless to say, during the outbreak of COVID-19, when people already are hesitant to step out of their homes, they do not prefer to visit clinics and other medical offices, as the chances of contracting the virus at these places are very high. Thus, amid this outbreak, most telehealth companies caught the attention of the citizens who can consult the doctors and therapists from the comfort of their homes, via their computer or mobile. A Boston-based company telehealth service provider said that it has witnessed more than 5x of the volume than it sees during the peak flu season.
Game Developers and Sellers
Now that many people are confined to their homes during this outbreak, most youngsters, even adults are spending hours playing online games, which ultimately brought a rise in game development and selling companies.
The companies releasing many online puzzles and board games are becoming seeing high demand, which keeps the families entertained. Besides, with kids unable to attend school, many video game companies that create creative titles for kids are experiencing high demands. The effect is equivalent when it comes to land-based stores and game-providers. A store manager of a Chicago-based games seller confirmed that their games are selling well during this pandemic.
Online Delivery of Essential Goods
With many people afraid to go outside, they prefer online delivery of goods to their doorsteps. Considering the scenario, professional delivery services took responsibility to make sure the citizens are receiving the delivery of essential goods at the right time. These services are experiencing a surge throughout the nation.
Also, meal prep delivery services are savoring financial advantages due to high demand in the industry. Many top brands, as well as small businesses offering Meal Preparation and Delivery services in the US, have been receiving orders from new and returning customers at an impressive rate.
There have been many major pandemics throughout history. There will probably be many, many more. What we learn from this one, will hopefully help us fare better in the next one.
---
Interesting related article: "What is eCommerce?"