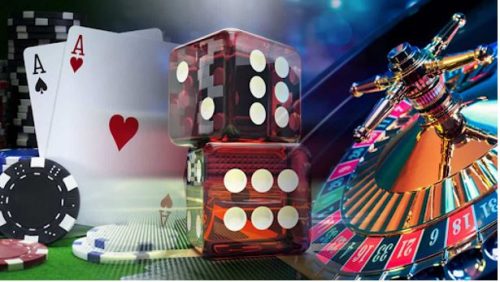 With the roll-out of international vaccines finally offering a path back to normality, we are approaching what we all hope will be the end of COVID-induced lockdowns. As such, we are left to weigh the old things we've been missing against some of the newer trends and more novel ways of entertaining ourselves that may well endure into the future.
Multichannel grocers, for example, expect the convenience of online deliveries to remain part of the norm in the post-pandemic world. Indeed, the impact of COVID is already seeing a long-term decline in the volume of people physically visiting supermarkets.
The world of casinos also offers an interesting dilemma in this respect. To be sure, there will be some among us who long to return to the green felt tables of physical casinos – to experience the buzz and bright lights of being 'in the room.' But online gaming offers lots of comparative benefits and might just be another 'stay at home' alternative advanced by COVID for the long haul.
We've taken the opportunity to review online casinos against their land-based counterparts and to consider the benefits of logging on to a poker match, slot machine, or live table from the comfort of your home. Read on as we explore further.
Online gambling offers more choice and convenience
The 'ether' that is the internet has one big advantage over physical buildings – it's not constrained by space. This means that online casinos can actually offer a larger and more diverse selection of games for customers to try their hand at.
Then there's the whole element of convenience with an online offer. You don't have to waste time queueing up for the games, you don't have to fork out loads of dollars on new clothes on gas, parking, or a bus fare to get there and back again.
Ever been frustrated by the premium you pay for alcohol at a casino bar or felt disappointed by that overpriced portion of lukewarm nachos you ordered? The beauty of betting in your own home is that you can order in food and beverages that are just as tasty, but half the price, or simply walk to your kitchen and cook something up that is home-cooked.
Some online casinos even offer customers the chance to play games free of charge or to control the pace of the sessions they're in. With online casinos, you are free to test the games on offer and to learn the rules in your own time and without pressure. This final point alone would be extremely difficult to achieve in a physical casino.
Online casinos also offer great apps – meaning you can finish a game on the train, not just from your home. This makes for a more flexible experience that allows you to play in any location, dependent on the provider's T&Cs and state regulations, of course.
More promotional offers
Perhaps the biggest difference between the online space and the physical casino is that the latter is considerably more expensive to run. Just think about the overheads like keeping the lights on, rent and staff costs that a physical casino has to recoup from its paying customers before it can even think about making a profit. As online casinos have lower overheads, they can invest more in their customer offers, such as better returns, promotional deals and welcome bonuses. Some online casinos also offer loyalty schemes to reward their repeat customers.
There's a wide range of casinos online, each with a host of games, ranging from slots to live tables, blackjack, baccarat and poker. The range of online alternatives available, the various bonuses they each offer and the convenient deposit and withdrawal methods are aspects that certainly give online casinos an advantage over their physical counterparts.
Land-based casinos still offer their sparkle
For anyone who watches the new James Bond movie this summer, which will undoubtedly feature a black-tie casino scene, there will endure an element of romance and glamour attached to the physical incarnation. This is one characteristic that cannot be replicated by the convenience of an online offer.
Then there is the broader appeal of the mini-cities and leisure complexes in which so many casinos are situated nowadays. The hotels, restaurants, live shows, and spa and bar packages of locations such as Las Vegas and Atlantic City make for a pleasure-filled long weekend.
But for these gamers, the prospect of a combined or hybrid approach – some online gaming alongside some land-based tournaments – may hold a certain appeal. They can still experience the occasional monthly flutter at a physical casino but top up their hobby with some low maintenance fun from the comfort of their own sofa.
The pandemic has forced many of us into different habits, some of which we're desperate to shake off. But it has also helped us to see the world differently, placing emphasis on the convenience of digital pursuits and helping us re-evaluate our finances by stripping out unnecessary costs. For these reasons, alongside the superior customer offer available to online players, the world of digital gambling is set to continue on its path and gain further prominence amongst the gaming community.
In just the same way as Netflix has challenged incumbents such as cinemas, so too will online casinos. The online space allows these casinos to be more nimble and commercially flexible to their customers' needs, challenging the established physical estates, which remain burdened by a period of enforced closure.
---
Interesting Related Article: "Advantages of casino gambling"