Contact an online dentist in just a few minutes, whether online or by phone, to discuss your dental needs and you will surely be able to obtain high-quality dental treatment whenever or wherever you may be needing it.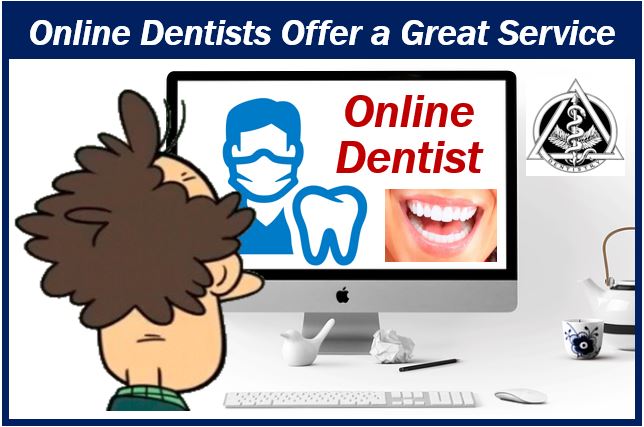 How Online Dental Services Work
Using the services of an online dentist, you can remain in the comfort of your own home while receiving the treatment you require for your teeth as well as general oral health requirements. Our dental treatment is easy and quick, allowing you to receive the services and high-quality consultation you require so that you can go back to your busy life as soon as possible.
Meeting with a board-certified dentist is as simple as filling out our quick registration form and informing us of your reason for needing to talk with a dentist right away. Within minutes, we will pair you with a dentist who will be the greatest match for your needs and who will assist you in receiving care.
If you have a dental emergency, you may use your computer, tablet, or smartphone to communicate with your dentist and receive care. You can also obtain answers to concerns about pain management at home or prescriptions, or even seek a referral to a nearby in-person expert.
Tips When Preparing For Your Online Dental Appointment
Just like you'd prepare for a dental visit in person, there are some items you'll need to get ready for your dental appointment online as well. These include the following:
It will be necessary to know about your last dental appointment, as well as your dental and medical history, any medicines that you are taking, and any allergies you may be experiencing.
If possible, schedule your video consultation in a location with enough illumination in case you have to show your dentist the interior of your mouth during the video session.
Compile a list of questions to ask an online dentist ahead of time to ensure that you obtain all of the information you want from the dentist.
How Online Dental Consultation is Conducted
An online dental consultation is a pretty straightforward process, so it should not be able to take a lot of time when it comes to schedule your appointment. Below are some of the things that you should do along with some expectations from the findings that you will get.
Step One: Take a picture of your teeth
In the case of pictures of your teeth along with close-ups of the area in concern, our dental professionals can provide more precise recommendations. We will want at least two photographs from you, but ideally three photographs from the following perspectives:
The frontal and closeup view of your smile
The side view of your smile
A closeup of the area of your problem
If you have the ability to provide clear pictures that are from the angles mentioned above, it can help the online dentist provide you with better quality services and information.
Step Two: See to it that you have accomplished the online form
You will be provided with a form for the dental online consultation; filling it out will offer you the opportunity to describe your problem or ask any questions you may have. The more information you can supply, the easier it will be for us to provide you with the most appropriate advice.
Step Three: The online dentist should provide you with a response
As soon as the dentist is already able to review your form and pictures, they will get back to you as soon as possible, either by phone or email, to give advice, answer your concerns, and recommend any required treatments.
Please complete and submit the form below, together with photographs of your smile, in order to receive the dental advice you require.
Advantages that You Can Get With Online Dental Consultation
You will be able to achieve the smile that you always wanted
Are you embarrassed by your teeth? Contacting an online dentist for virtual dental treatment can assist you in achieving the stunning, healthy smile you've always desired.
You may obtain prescriptions for teeth whitening, professional advice from a dentist on dental X-rays, cavity diagnosis and protection, and pain treatment without ever entering a dental office. When you obtain dental treatment online, you may achieve a beautiful smile.
Say goodbye to dental anxiety
Many people experience unneeded worry and tension when they visit a dentist in person. With virtual dental treatment, you may remain calm and comfortable without the fear of being poked or prodded. With virtual dental appointments, it's simple to enjoy a peaceful, outstanding experience receiving care. Not to mention the lack of concern associated with a big cost for the services rendered.
You can definitely save a lot of time
Are you in the market for a new dentist to care for your or your family's oral health? Trying to locate one might consume hours of your time while you search online. Additionally, the dentist you wind up seeing may give substandard service with lengthy wait periods.
With LiveDentist's online dental care, we've done the legwork for you by locating the top dentists to assist you. Our board-certified dentists will address any concerns you may have about your teeth as well as oral health and, most essential, will provide pain relief if you are in discomfort.
You will be able to save some money
Visiting a dentist in person might cost hundreds of dollars for a consultation alone. Not to mention the hundreds of dollars in dental procedures like cavities, root canals, crowns, or surgery. However, when you visit a dentist online with t, you spend just $59 – that's all!
The money you spend to speak with an online dentist is only for your treatment and consultation, as opposed to when you visit a local dental clinic and receive a bill that effectively covers the cost of their nice waiting room furnishings.
Additionally, with a virtual dentist, there is no need to visit an emergency room or urgent care facility, where you will be presented with an exorbitant bill that you cannot pay. Online dental care is certain to save you money on any dental procedure.
---
Interesting related article: "What is eCommerce?"