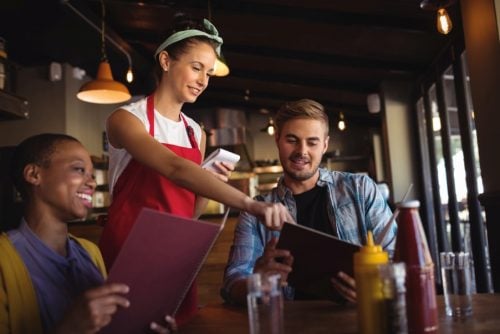 An increase in revenue is not just the helpful benefit of introducing online ordering for restaurants. Enhancement of customer service, experience, and satisfaction is also one that you should work out in your restaurant business. The market behavior has changed, and customers don't just base their loyalty on the quality and price of products and services. Modern consumers are now more focused on how they are being treated and what's their overall experience while interacting with a brand.
This should not come as a surprise for you, after all the business you're running is a service-oriented business where customers should be treated as the center. Your restaurant's success will not be measured just by the quality of your food, or your restaurant's interior design, but by how your customers see you as a business. Do you know that out of 1920 businesses, almost forty-six percent of them see that customer experience and satisfaction should be their priority for the next five years? Just imagine how it will affect the competition if half of them already started to create a customer-centric business plan.
That's why this article was written to help you see how you can improve customer satisfaction through your online ordering system. Taking care of your customers is just the same as taking care of your restaurant business. Discover the different ways how this type of solution positively impacts your service.
Offering an online ordering service allows you to strengthen your online visibility without making too much of an effort. Keep in mind that most of the consumers are staying online due to their increased dependency on the internet. This goes with customer service as well.
Through your online ordering system, you create an interactive platform where you give your customers the freedom to express their honest opinions and suggestions about your restaurant, and at the same time, you're also able to monitor and respond to them timely.
Online reviews, ratings, and feedback are important for your branding efforts as it creates the impression that you treat your customer with care and respect that they deserve. It also shows that you're transparent as a business, and it helps you establish a good relationship with your customers.
Lastly, it boosts customer engagement as you can connect your system with multiple social media platforms and review sites. This will make it easier for both you and your customers to provide updates, promotions, and respond to questions and inquiries.
Increase staff productivity
Your online ordering system holds great potential in improving your current workflow. With all the automation it offers, accuracy in every procedure is expected. While customers demand everything to be easy and convenient for them, remember that whatever you offer will be taken for granted once they find something missing.
You're taking care of your customers' satisfaction by not spoiling their experience with a single error or missing service. And since everything is almost automated and can be done with a single click, your staff can allocate more time to other tasks that they have to do with the increase in productivity and efficiency.
Provide personalized service
Wondering how a restaurant with online ordering can offer a personalized customer experience? It is easy, just ensure that you'll provide a simple process for every transaction that they need to complete and include a bit of touch of your brand now and then.
First, program your system to mention the name provided by the customers. It's simple but it gives enough personal touch to keep your customers engaged. Second, make it easier for your customers to place and update their orders. If they have a special request or additional note, provide them an option to do so. Third, allows your customers to save their favorites. Through this, your customers will have a trouble-free transaction should they transact with your restaurant again.
All of this, plus personalized promotion and follow-up all leads to increased customer satisfaction, brand retention, customer engagement, and repeat business for your restaurant.
Almost everything, if not everything, will be working smoothly once you have an online ordering system. This means the waiting time for your customers for their orders will be reduced dramatically. One of the main reasons why customers are starting to hate a restaurant brand is because of the time being wasted just waiting for their food orders and deliveries. No one wants to wait for soggy fish and chips.
An automated process allows your entire staff to work faster effortlessly. They already have tools that will update them in real-time about their inventory, order tickets, reservations, online takeaways, and food deliveries. Everything is set up for them, the only thing that they need to do is to deliver every service. And since you made their workload lighter, they can now focus on their tasks and this will make them more effective on their workstations.
An effective staff leads to an efficient restaurant process that produces happy and satisfied customers. Losing a sale just because your customers have to wait for some time will soon no longer be your problem.
Improves marketing campaigns
Now that you have a strong online presence through your social media platforms and website, it is now time to make use of the data that your system has gathered for you. These data are the ones that your customers have agreed to share with you and use according to their preferred service. It is important to let them know first how you intend to use their data before capturing and using it.
With your online ordering system, you can create a customer database with ease and start making proper market analyses. Check out the average spending habits, frequency of visits, most popular food item, and even the area from which most of your customers are coming. Once you have analyzed the data that you have, you can now procure targeted marketing online and offline campaigns. This has increased effectiveness as you already formulated it the way how they preferred it to be delivered. How? Using their data that they voluntarily provided.
These are just simple ways, but it creates huge impacts on your entire restaurant management.
---