The world is moving ultimately towards digital technology; therefore, businesses must have an online presence. No matter which industry you are in, online presence has become a necessity. To stay on top of industry trends, it's better to track and monitor your competitors as well as your audience. By following your audience, you can see what they are engaging in, and you can quickly improve your business objectives. Eventually, this would lead to growth and increased sales.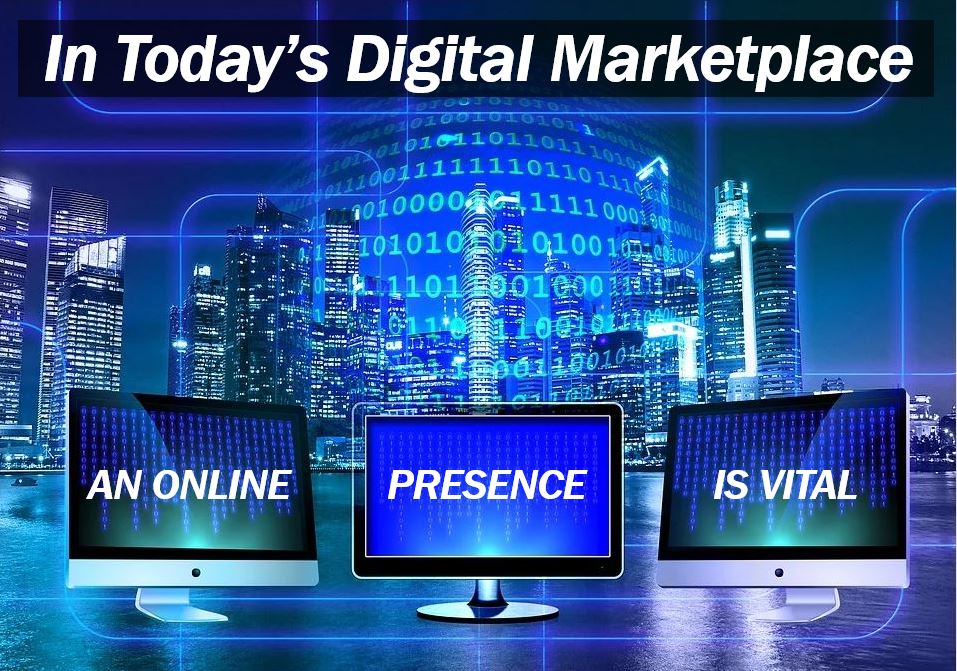 If you are a small business or start-up, you may think that online presence won't matter to you. However, it will! Online presence is essential for companies whether they are small or multi-national. Online presence is one thing which will help your business to take off. More than half of the audience prefers to search for a company online, and it's the best way to make your business look trustworthy. People would consider you to be genuine and secure. That's why you'll find all leading companies listed in a top B2C or global B2B marketplace.
What Is Online Presence?
When we talk about online presence, it doesn't online mean a website or social media account. There are many other things which fall under the category of an online presence. There are multiple platforms which will help to declare your online presence.
Online presence refers to any information regarding the business on the internet, which includes its assets, accounts, products and other pieces of information. Just by creating a Facebook account, a small business cannot take off and interact with their audience. To keep them engaged and to connect with them, you must follow all strategies. This would help you to gain control over the market within a short period.
You can't just generate your online presence you will have to earn it from others as well. It seems complicated, but it isn't. Earning online presence refers to the comments people make on your videos, reviews on your page or even tweets others might make regarding your business.
You can never have complete control over your online presence. It's necessary to monitor all your activities and your audience as well sharply.
Why Is Online Presence Necessary?
If we think practically we also purchase things after going through the reviews of that product online and on Google. This clearly shows essential your online presence is. If a business doesn't monitor it well, this can cause a terrible impact on your business reputation.
People will only try out your products if they feel you are presentable on the internet. Some people think that if they are running an offline business, it won't require an online presence. However, for them, also an online presence is essential. No matter whatever type of business you are running, online presence would be needed to draw the attention of viewers towards your business.
Online Presence Causes More Accessibility
As mentioned above, Even if you are running an offline business, your presence online would help increase your sales. If your audience doesn't see you online and active, they would prefer to buy products from your competitors. For a small business, this would be a considerable drawback.
Help To Market Your Business
Most of the audience you would want to attract can be found online. If you start becoming more active online, this would be the best way to market your business. Your audience would also believe in your identity, thus causing trust and recognition.
Better Knowledge Of Your Audience
Online you can find many tools and activities which can help you figure out what your audience is or interested in. For example, through a Facebook poll, you can ask which product they like the most. By monitoring their activities, you can also understand where they are engaged more. In this way, you can also improve where you lack.
As now you are aware of how significant online presence is for small businesses, you should follow these three steps to track and improve your online presence in 2020.
Monitor Where Your Business Is Being Mentioned
Monitoring on the web would help you control what people are saying. If you see any terrible comments, you can instantly control that and take steps to improve the condition. Tools are available which can help you in the monitoring process such as Google Alerts. It would show you whenever your business name has been mentioned on the web. Also, to enhance your brand's presence online in Asia, you can get your products listed on a leading Hong Kong B2B directory.
Tracking Website Traffic
If you increase or improve your online presence, you'll get to know where your traffic is coming from. In case if your traffic is low, you'll instantly get to know that you will have to make improvements in your online presence. Google Analytics is one way to analyse your online website traffic.
Social Media Assessment
Social media presence is also significant for your business. It plays an essential role in improvising your reputation. When you interact on your social media with your audience, you can establish credibility and trust. It also helps to grow your identity and recognition.
Quick Review
Let's take a quick look at the advantages of an online presence. By staying active on the web, you can:
Have a look at the crucial SEO keywords used by others
Be aware of which social media platform is working the best
Get an idea of how to develop a creative content
Understand the interests of your target audience
Learn how to interact with customers in a better way
Get aware of new marketing trends
Conclusion
As now you are aware of how much online presence matters to a small business, you should keep in mind all of the strategies and start working on them. Online presence would not cost you a lot; it just requires a bit more efforts and time. However, this one thing would cause a significant impact on your business, and you can take off within a minimal period. Online presence would help to improve your business image for a longer run.
____________________________________________________
Interesting related articles:
Video – What is Online Marketing?