We're living in a digital age. High-quality and unique stock images are in high demand. The image stock market is crowded. This is where 123RF stands out.
It's not just the 100 million+ stock photos, 2D vectors, and 3D illustrations. It's the AI tools that make the difference. These tools namely include its AI Search, AI Image Generator, and AI Image Variation tools. 
Innovating Image Discovery and Creation with AI
AI-powered search
Simplicity is the essence of 123RF's AI Image Search tool. Bridging the gap between imagination and creation, this tool breaks down the complexities associated with looking for images. Its ease of use is one of its most striking features, setting it apart from other offerings in the market.
I used the tool and found it incredibly intuitive and easy to use. I simply went on the AI search page and asked the tool to search for a flowery garden. Note, there were plenty of free options to also choose from!
AI Image Generator
Using this tool is as simple as typing in a prompt describing what you want the image to look like. Say you need an image of a serene beach at sunset, or a bustling city street in the heart of New York, or maybe an image depicting a team brainstorming in a vibrant workspace – all you need to do is type your description into the search bar. 
All you need to do is enter the prompt of what you want the image to look like.
The AI, trained on millions of images, uses this prompt to understand your requirements and proceeds to generate an image that matches your description. It's like having a professional digital artist at your fingertips, ready to bring your vision to life.
The AI generation tool created these amazing, photo-realistic images matching the prompt I had input. This easily meets the needs of businesses, designers, and marketers who want want high-quality, original visuals.
This seamless process is a radical departure from the cumbersome and time-consuming process of manually creating visuals or endlessly scrolling through stock images to find the right fit. With 123RF's AI Image Generation tool, you're not just choosing an image; you're creating one that fits your specific needs.
The accessibility and simplicity of this tool make it an invaluable resource for businesses, designers, and marketers. No longer do you need advanced graphic design skills to create custom visuals. With the AI Image Generation tool, the power to create is in your hands, literally.
In a world where visuals are integral to communication and branding, the AI Image Generation tool offers a solution that is not only innovative but also user-friendly. It's an example of how 123RF continues to redefine the stock image market by placing the power of AI and the ease of creativity into the user's hands.
AI Image Variation
The AI Image Variation tool allows users to create multiple versions of an image. All it takes is an original 123RF image and AI. No user prompting or text is required. This level of convenience is unmatched.
I picked an image of a garden of flowers and then simply clicked the "Generate variations" button and the tool did it seconds.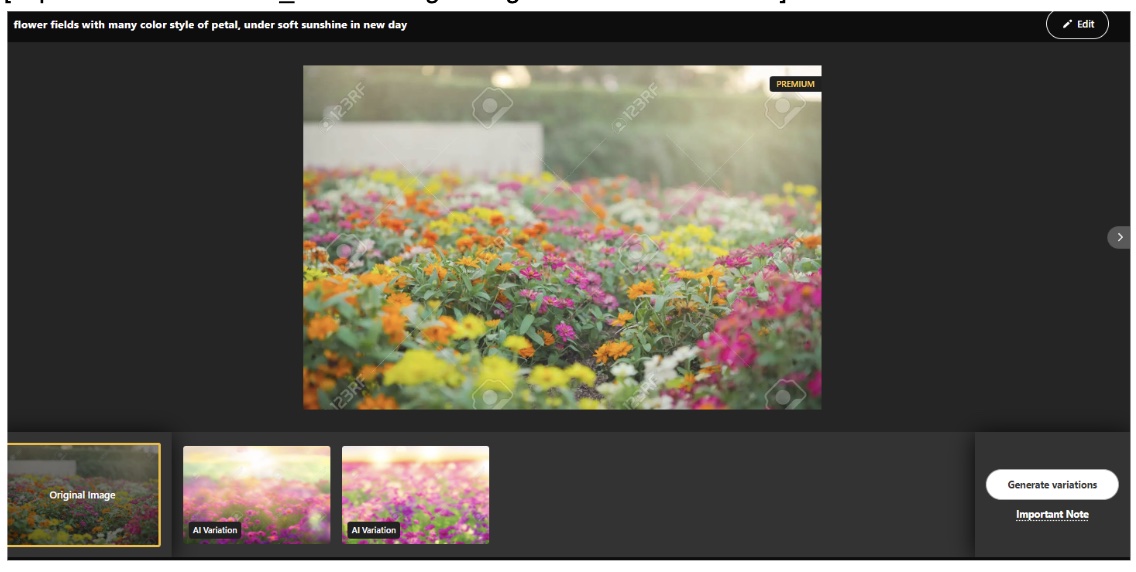 Empowering Users through Revolutionary AI Tools
123RF's AI tools were designed for the user. They make finding, creating, and modifying images easier. AI Search offers a superior search experience. AI Image Generation and AI Image Variation offer unmatched creativity.
Traditional platforms fall short. Shutterstock, Getty Images, and Adobe Stock have millions of images. But their search and creation processes are manual. 123RF's AI tools offer better engagement, customization, and convenience.
123RF PLUS and 123RF FREE
Delivering Unlimited Creative Freedom with 123RF PLUS
123RF PLUS is more than just access to millions of photos and vectors. It's about creative freedom. It allows for unlimited downloads. You can use what you need, when you need it.
Plus, 123RF PLUS offers flexible exporting options. You can create videos in landscape, portrait, and square formats. This aligns perfectly with your brand's needs.
Offering Extensive, Versatile Free Resources with 123RF FREE
123RF FREE offers plenty of resources too. Free photos, vectors, and 3D illustrations are available for personal and commercial use. Licensing rules apply.
The FREE platform has a variety of stock content. You can export resources in different dimensions. Videos can be landscape, portrait, or square. This makes creating brand content even easier.
Growing demand for AI tools
123RF's new set of tools comes amid growing demand for AI tools. There is a growing demand for AI tools because businesses are rapidly digitalizing and need to handle vast amounts of data. AI tools simplify this data management and increase operational efficiency. The introduction of AI can reduce human errors and make many tasks faster. AI also provides vital insights for decision making, enhancing the overall customer experience.
AI tools play a crucial role in personalizing user experiences, responding to the growing demand for automation, and assisting in predictive analysis. In terms of security, AI provides advanced systems that traditional methods cannot match.
From a financial perspective, AI helps in cost reduction and allows companies to stay competitive in an increasingly digital market. The promise of AI promotes innovation, aligns with future trends, and supports further integration of technology into daily operations. Finally, as AI literacy rises, so does the acceptance and demand for AI tools.
Conclusion
Why pick something plain when you can go for something special with 123RF? With 123RF's smart tools, you get to see how cool AI can be. It's no surprise that lots of people see 123RF as their go-to for stock images. Ready to level up your creative work with AI? Don't hold back. Kick-start your creative adventure with 123RF today. It's the place where fresh ideas meet cool tech.
---
You may be interested in: What is artificial intelligence? Definition and examples