Business is a different game than it was 20 years ago. Since then, the internet has allowed businesses to outsource certain functions.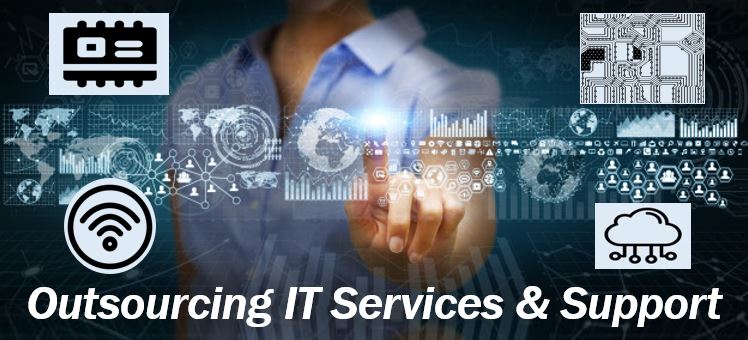 The process began with manufacturing in the 1990s. However, in the early 2000s, the increasing availability of broadband allowed companies to outsource their managed IT services in Columbia. Today, even the smallest firms can bring world-class contractors on-board for less than hiring an employee in-house.
However, we realize smaller firms and startups have limited funds to work with. In this article, we'll show you why it makes sense to outsource IT services rather than doing them in-house.
It Costs Less
In any company that wishes to prosper, it's all about the bottom line. Founders are hesitant to throw money around carelessly, as a sudden loss of cash flow could sink their business. As a result, any investment in labor or infrastructure needs to have a tangible return on investment.
In western countries like America, full-time IT employees don't come cheap. According to a survey commissioned by Indeed, IT support staff salaries average around $54,500 per year.
If you outsource these roles you'll be paying a reasonable monthly fee for the support you need. Chances are you don't need an employee doing this full-time. If you don't hire someone to handle it though, your more skilled workers will be getting distracted whenever anyone has an issue. The cost of outsourcing for most companies is far less and makes more sense than handling it in-house.
Sure, there will be some costs associated with outsourcing, not all financial. Of course the outsourced workers won't have insights as intimate as your full-time employee. That said, as your business grows the task of scaling-up will be much easier and you don't risk overwhelming your employees.
It Gives You Access To Experts
Outsourced talent won't just save money on rank-and-file staff – it also makes experts far easier to afford. To fill a full-time Windows Server Administrator in the USA the average salary is over $65,000 a year. By outsourcing this task and others you'll have access to a host of IT professionals for a fraction of the cost.
That's right – for less than the cost of one full-time employee, you'll have access to an entire team when you need them.  Not only will outsourcing professionally managed IT services save money, but it can also bankroll the rapid development of your business.
It's More Efficient
With more skilled professionals on your team, work gets done, faster and better. With in-house employees, expertise, due to higher costs, is generally less than you would get with a distributed team.
Your less knowledgeable and skilled employees may spend hours patching together a solution. Meanwhile, your outsourced team, which has more know-how per dollar spent, will get tasks done much quicker. They've also probably handled similar situations before.
And even if your outsourced workforce needs more briefing before they begin with a solution, it's fine. You're spending far less than you otherwise would, so it's still a more efficient use of capital.
It Allows Your Business To Operate 24/7
We increasingly live in an internationalized world. Unless you own something hyperlocal like a plumbing company, everyone on the planet is a potential customer. Unfortunately, you won't be able to reach them if you adopt a business-as-usual attitude towards operating hours.
However, it can be hard to run around-the-clock at home. Hiring for overnight shifts can be extraordinarily expensive, as most people enjoy spending time with family/sleeping. When you outsource IT roles, you can have talented people adding value to your organization while you sleep.
You Can Focus On Your Core Competencies
Every dollar that you spend on an inefficient process takes a dollar away from one that's more efficient. When you are in a competitive industry, you need to focus in-house talent on your core strengths. If you run a design firm, for instance, you'll want to spend the majority of your labor budget on graphic designers.
However, as your business grows, so will your need for IT. Instead of spending more than one hundred thousand dollars on an IT manager and a network administrator, choose outsourcing. By choosing an outsourced tech team, you'll free up the capital needed to hire core staff.
Unlock The True Potential Of Your Business
Right now, your competition is harnessing the immense cost savings that outsourcing makes possible. If you don't get with the program, you'll fall behind them eventually. By outsourcing your IT team,  you won't just keep pace – your business will have a chance at realizing its full potential.
---
Interesting related article: "What is Information Technology?"