There's a lot to think about when it comes to learning to paint. For instance, you'll need to think about what kind of equipment to buy from looking at websites such as www.thatpainter.com, or you'll need to learn different techniques to ensure that you get the job done correctly.
So, where do you even start when it comes to learning about the basics of painting? Read on for our guide to find out more!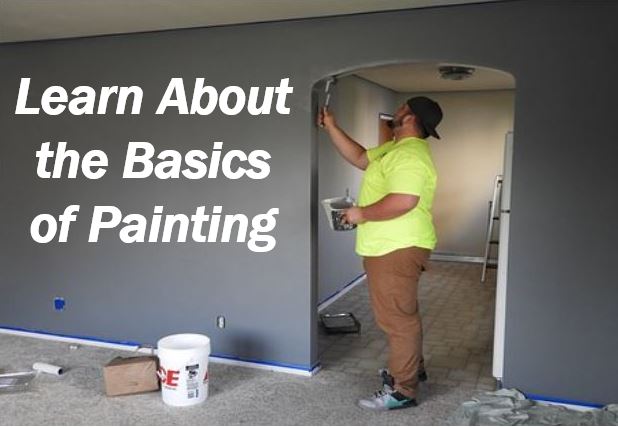 Choose Your Paint Color
Painting is all about the colors, so you will want to make sure that you make the right choice for the room in question. Don't just choose any color willy nilly, since you're going to be the person that has to look at your luminous orange walls if that's what you end up choosing.
You want to choose something that's going to look good later down the line that you're going to be happy with. For inspiration on colors, you can look online on websites such as Pinterest for inspiration on color schemes, or you can ask for advice from your local paint store. You can also get paint testers and try them out in different lighting conditions to see what you like.
Get Your Supplies Ready
The very first thing to do when it comes to getting into painting is to get some very basic painting supplies. This consists of things like a paint roller, angled brushes for cutting into the corners of walls and tight spaces, roller trays and of course, your paint!
Think about the brush sizes and bristles that you need too, as that can have a big impact on the results of your paint job. You may also need to invest in things such as roller extension poles if you're planning on painting ceilings.
Protect Your Furniture

Before you start painting, you'll want to make sure that all of your furniture is well protected. Ideally this would consist of simply getting the furniture out of the room, but this isn't always an option with larger items.
In this case, you can get material drop cloths to drape over the top of your furniture to protect it. They cost barely any money at all, and are worth it since it means that you won't need to replace your very expensive furniture.
Prep the Walls
Painting isn't just about the paint. Sure, it's a big part of it, but if you want stellar results then you're going to need to make sure that you prep your walls in advance. This consists of a few different things, for instance you'll need to fill the holes that may be in the wall.
You'll also need to scrape away any paint that's peeling off, and sand down any areas on the wall that are particularly glossy before you paint. Finally, you'll also need to wash the walls down to make sure that they're clean before you apply the paint, and then put some paint primer on the wall to make sure that the paint adheres well to it.
Mix and Apply Your Paint
Now for the fun part – it's time to paint! For starters, you should make sure that you mix the paints together in just one container before you start applying. This will mean that the color stays consistent throughout the whole painting process.
Once all of your paint is prepared, you will then need to cut in the paint. This essentially means that you grab your paintbrush and paint around the edges of the wall and in the corners, since a roller can't reach these areas very well.
With your roller, you can paint from top to bottom on the wall after you've cut in the paint around the edges. In essence, if you're also planning on painting your ceiling then you are going to need to paint there first before heading onto your walls. It can also help to paint the walls in a W formation, filling in any gaps as you go.
Try not to lift the roller off the wall, since the paint will go on the walls more smoothly this way. You don't want to get tide marks which can make the paint look uneven once it's dried.
Painting can take quite a long time to do, and it's perfectly normal for it to take more than a day. With this in mind, you need to make sure that you protect your paint brushes and rollers overnight by wrapping them up in some cling film and putting them in your refrigerator. If you do it this way, you won't need to wash them again the next morning.
Conclusion
Painting can be pretty simple once you get the hang of it! All you need to do is follow the tips above and have a little patience, and you can get fantastic looking rooms each and every time!
---
Interesting related article: "How does house decoration affect mood?"