Users of the leading cryptocurrency exchange Paybis can now sell Bitcoin and receive funds directly on their credit or debit card, thanks to OCT (Original Credit Transfers) transactions. This new functionality makes Paybis one of the very few platforms to offer such an option.
Timing is the most important factor when it comes to crypto trading. We have seen, time and time again that the market's uncertain direction requires quick decision making and money at a hand's reach.
Paybis has been at the forefront, helping new investors buy and sell cryptocurrencies through many different payment methods. From traditional money transfers, all the way to digital payment systems, the exchange is always looking to innovate when it comes to their offering.
Their latest feature – Direct Bitcoin to credit/debit card payouts.
Paybis introduces direct Bitcoin to Credit/Debit Card transfers
Selling Bitcoin has been a rather difficult process for most crypto investors. From complex "withdrawal" processes and long waiting times all the way to problems with banks, it is safe to say that most exchanges need to find easier solutions.
Paybis is well aware of this issue and is constantly looking for new ways to improve the selling process. By offering multiple payment methods and a multilingual support team, each transaction is completed within seconds, even for total beginners. 
And now, you also have the option to sell Bitcoin and receive your funds directly in your credit or debit card.
That's right! You can completely bypass a bank account transfer by simply choosing the money to be sent to your card. In most cases, the funds will become visible in your card within 24 hours.
This new functionality is possible thanks to OCT transfers, a payment option that is more commonly known as Original Credit Transfer. This system allows users to wire funds directly to Mastercard, Maestro, and Visa cardholders all around the world.
At this moment, Paybis accepts cards from many countries, but some are restricted due to bank/regulatory requirements. This list is expected to change very soon with more countries being allowed for such transactions.
How does it work?
Here are the steps you need to follow in order to sell Bitcoin on Paybis and receive the funds in your credit or debit card.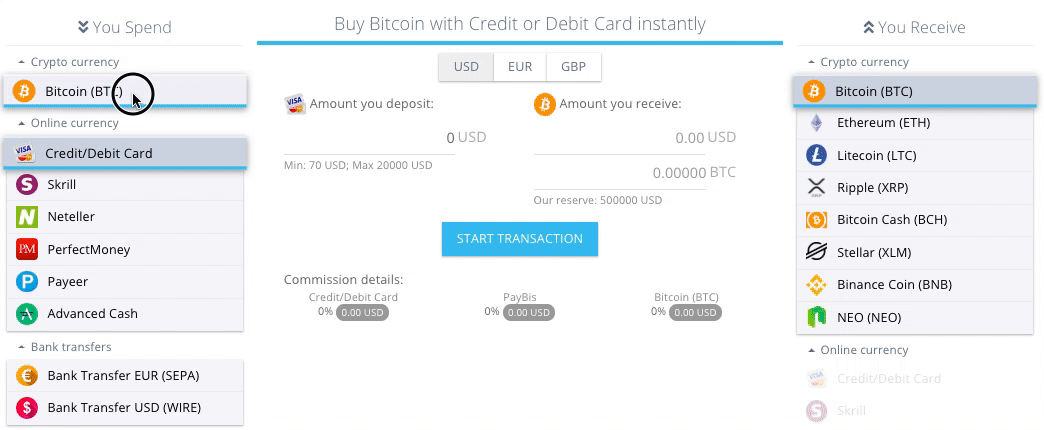 Step 1: Select 'Bitcoin' on the left-handed column.
Step 2: Select 'Credit/Debit Card' from the column on the right.
Step 3: Enter the amount of Bitcoin you want to spend under 'Amount you deposit' and click on 'START TRANSACTION'.
Step 4: Read and agree with Paybis's terms of service. Check both boxes, as seen in the image below, and click on 'CONTINUE'.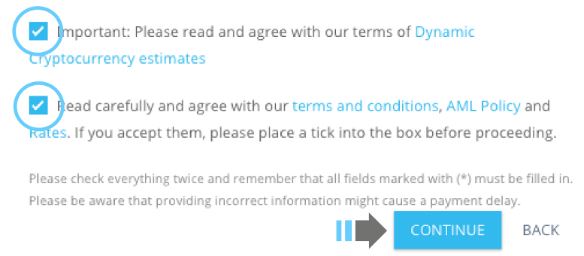 Step 5: You will now be transferred to the payment page. At this point, you will have to authorize your card. Please check the list on the lower part of the page to ensure that your card is eligible for this transaction. Then, click on 'CONTINUE TO AUTHORIZATION'.
Step 6: Enter your card's details and click on 'Authorize'.
Step 7: You will need to make a quick $0.01 transfer to confirm the ownership of your card (you will receive this back immediately).
Once the transfer is made, the card authorization process is complete. You can now complete your payment. All you need to do is send your Bitcoin to the wallet address of Paybis, which can be found on the left side of the payment page (both in text and QR form).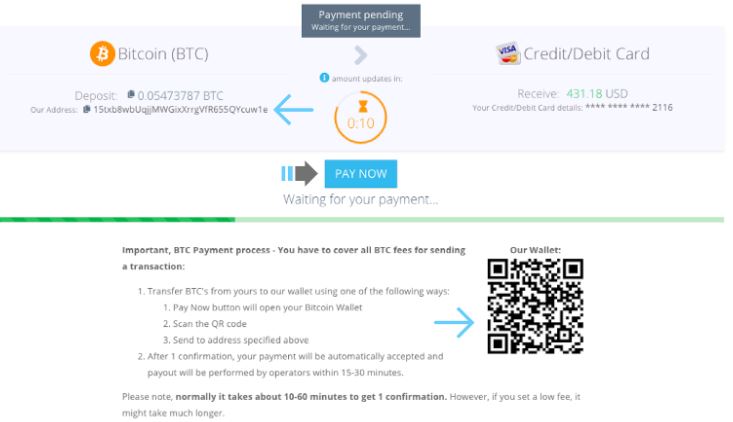 Step 8: When your payment is made, the transaction is completed. From that moment onwards, you will have to be patient. 
In most cases, you should see the funds in your card within 24 hours. However, depending on the bank you are using, this process might take longer to complete (up to 5 days).
And that's it. The whole transaction should take less than 5 minutes to complete. 
Make sure you visit Paybis to discover all the different payment options we support and see how easy it is to buy and sell your favorite cryptocurrency.
Video – Cryptocurrencies
---
Interesting related articles: