Petticoats are the undergarments which mainly add shape to a woman's dress or skirt. They are nothing new in the world of underwear. The history of petticoats goes back almost 500 years. Some people view them as obsolete as far as fashinable apparel is concerned. Others, however, believe that the petticoat is still an important addition to an elegant lady's wardrobe.
Collins Dictionary has the following meaning of the term:
"A petticoat is a piece of clothing like a thin skirt, which is worn under a skirt or dress."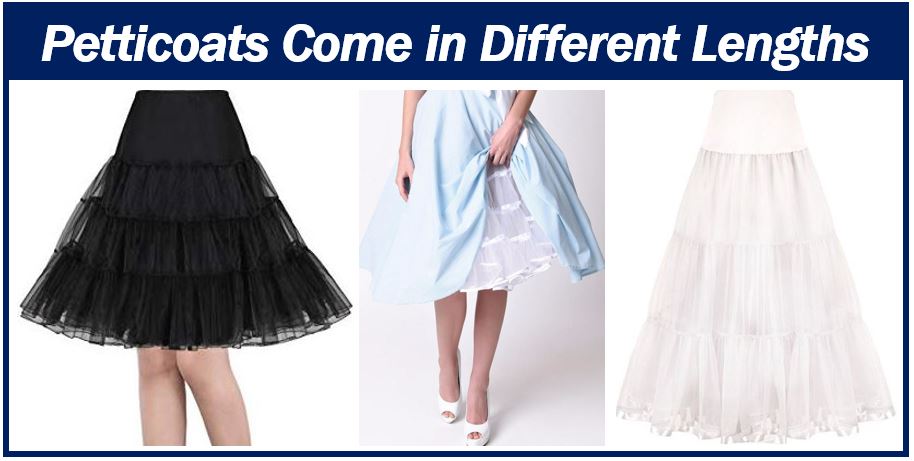 Here are some major reasons why women should add the petticoat to their regular wardrobes:
It is said that petticoats convey modesty and class. One can easily wear them under a thin skirt just like one wears a thin vest under a transparent or semi-transparent top. Petticoats are great for keeping a skirt or dress in place, even when conditions are windy.
Petticoats have been in the fashion market for a long time. It was a mainstream item during the 1960s. However, they are timeless garments which can be worn through the ages. People wore them in the past, they wear them today, and they will continue being popular tomorrow.
The best part of wearing a petticoat is that they are flattering. They always make the waist portion of the wearer look trim. Even when they are worn under casual clothing, they give the wearer a thoughtful and elegant air.
They are good value for money. Just one petticoat can be worn with a wide range of clothing for virtually  every type of occasion. A woman can wear a petticoat under a short dress or a long skirt.
They make it more comfortable and pleasant to wear skirts and dresses made of materials that would otherwise irritate the skin or cause itching.
Check out your wardrobe first
Before you decide to put on a petticoat, you need to take a close look at your wardrobe. Look at all the dresses and skirts that you have, and see how many of them would go well with a petticoat. If you don't have one, checking out your wardrobe will also help you buy the right one. You need to make sure they match the colours of the skirts and dresses you own.
According to JJ's House, a leading online fashion store, length is also important. They need to match the length of your clothes. Petticoats, like skirts and dresses, come in different lengths. They may go down to your ankles, calves, or knees.
It is always a good idea to stick with natural material when it comes to petticoats because they are in direct contact with your skin. If your skin is sensitive, you need to be extra careful. Go for a basic cotton fabric for summer dresses and skirts. For your more elegant and expensive outfits, you could choose flannel or silk fabrics.
Thinner materials are better if comfort is a top priority for you. You will find that there are petticoats for most budgets.
The word Pettycoat in the English language
At the beginning of the 15th century, the term pety coote appeared in the English language, with the meaning 'a small coat.' It was a padded coat that men wore under their armour.
By the middle of the 15th century, the term also meant a garment worn by young children and women.
By the 1590s, it meant a female undergarment. Over time, the spelling and pronunciation of 'pety coote' gradually changed to 'petticoat.'