A Peugeot Dongfeng French government rescue deal worth €3 billion ($4.12 billion) has been agreed, in which the founding Peugeot family will give up control of the company.
The deal involves €1.4 billion from Peugeot investors, and €800 million ($1.099 billion) each from the French Government and Dongfeng Motors, China, in return for 14% stakes each.
French automobile maker, PSA Peugeot Citroën, desperately needed a cash injection to keep the company going after government guarantees expire.
The deal will be put forward to a shareholder vote, which is expected to be approved.
Peugeot Dongfeng deal means Peugeot family loses control
On shareholder approval the Peugeot family will have its 25% stake (and 38% voting rights) reduced to 14%, the same as Dongfeng's and the French government's, none of the three largest stakeholders will have enough votes to veto decisions.
Today marks the end of a nearly 120-year-old era in which the Peugeot family controlled the second largest carmaker in Europe after Volkswagen.
The family will have its Board seats reduced from four to two, while Dongfeng and the French government gain two each. The board will also have six independent directors.
Chairman Thierry Peugeot tried desperately to resist the deal, saying that Peugeot could raise the money without Dongeng's investment. However, head of the family holding company, Robert Peugeot, backed today's deal.
Peugeot warns of losses into 2016
Peugeot announced its latest financial results today and warned that there will probably be losses for the next two years. The company's net loss shrank to €2.32 billion ($3.19 billion) in 2013, compared to a massive €5 billion ($6.87 billion) the year before.
According to French media, the deal will be formally signed in March 2014.
Philippe Varin, Chairman of the Managing Board at PSA Peugeot Citroën, said that with their existing partnership with Dongkeng and the €3 billion investment, the company will be able to make considerable inroads into the Southeast Asian market as well as gaining significant advancements in research and development.
None of the major shareholders will be able to veto decisions.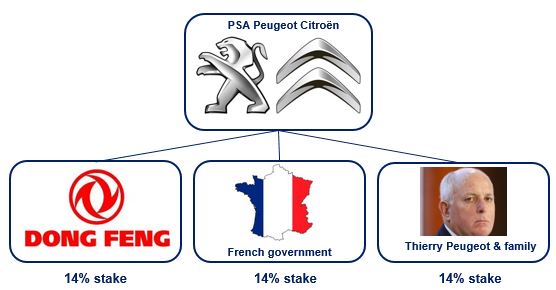 Regarding Europe, Varin said:
"In our plans we are reducing our costs, we are going to have full utilization of our capacities in…two years, also more products in our bands. They are now stronger and more different; look at the new Peugeot 308, look at the DS, and also the Citroën C4 Cactus."
"And beyond that, because of our partnership with Santander, we are going to offer for our customers even better solutions for financing."
According to Dongfeng, the deal will "expand and deepen our current cooperation with Peugeot. [It will) strengthen overseas cooperation to achieve the objective of selling 1.5 million vehicles under the Dongfeng, Peugeot SA and Citroën brands per year starting from 2020."
Dongfeng and Peugeut currently have a joint venture; a newer car brand which is being sold in the Chinese market.
Industry experts wonder whether this Peugeot Dongfeng French government rescue deal is a wise move for the company. If Peugeot wanted cash, it could have sold off other parts of its business, such as its controlling stake in Faurecia, the 6th largest international automotive parts manufacturer globally.
However, closer ties with Dongfeng make sense if the French automobile maker wants to produce more vehicles in Asia.