Playboy might not be the most family-friendly name or brand in the business world, but it's a very recognizable one. Hugh Hefner's adult entertainment company has been a mainstay in American society for more than seventy years, and from its initial success in its home country, it grew to take over the world.
Even though the emergence of the internet dealt a hammer blow to the company's prospects of continuing to sell glossy magazines full of naked or semi-naked models – and 21st-century feminism put a further nail in that coffin – the brand has found a way to hang on and carry on making money. Now, after seven years away, it's about to become a brand that could also make money for investors.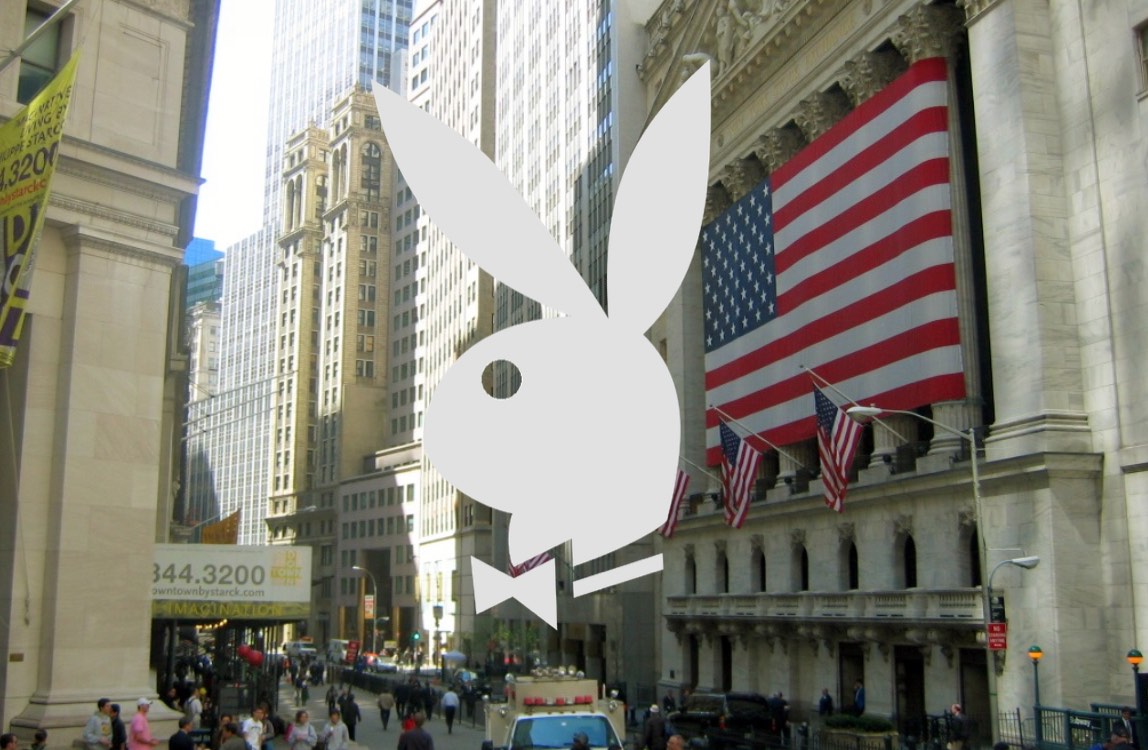 Nine years ago, Hefner decided to de-list Playboy Enterprises and take it off the market and into private ownership – namely, his own private ownership. That's how it remained until the day that Hefner passed away in 2017.
Since then, the company has stopped printing magazines altogether and tried to find new ways to survive and thrive in the digital age. You may no longer be able to buy Playboy magazines, but you can buy Playboy toys (including adult ones), Playboy health products, Playboy-branded clothing, and Playboy games. It's no longer a publishing company; it's a magazine company.
While the decision to shut down the magazine was only taken at the beginning of 2020, Playboy's divergence into the digital realm began long before that. The first signs of the company trying to reach a new audience included the launch of the official Playboy online slots game in 2018, which is still online with many of the larger online slots websites such as Dove Slots Casino.
It's since been joined by a second game called 'Playboy Gold Jackpots,' and a third one called 'Playboy Fortunes' that launched in June this year. If you're an investor who keeps track of such things, you may already know that the global market for online slots and casinos has swelled to move than fifty billion dollars a year. The company appears to have made the correct decision in getting involved in it, and that may go some way to explain why it's now re-appearing on the markets.
The move comes as part of a merger with Mountain Crest, the terms of which place the value of Playboy Enterprises at $381, and notes that the company is currently carrying debts of $140m. That seems at odds with the company's claim that it turns over three billion dollars of customer money each year, with those customers making their purchases in 180 different countries.
The company's balance sheet says that it 'only' had $22m of liquid cash on hand by the end of the second quarter of the year, and was in need of a cash injection to continue trading. Mountain Crest is understood to have acquired a 34% holding in the business, with the existing owners of the Playboy Enterprises company holding on to the remaining 66%. It should be noted that those owners do not include members of the Hefner family. They sold their stake in the business for $35m shortly after Hugh's death.
Mountain Crest is a 'special purpose acquisition company' (SPAC), also known as a blank-cheque company – a business that exists only to merge with or acquire others on what's generally deemed a speculative basis.
Ben Kohn, the chief executive of Playboy Enterprises, says that he specifically chose this route to bring his brand back to the markets because he believes it's a more efficient path than making an initial public offering. His company gets its money faster, the company returns to the markets faster, and if everything goes as intended, everybody starts to make money faster than they would by using any other available route.
There are also risks that come with using an instrument of this kind, but Kohn is confident that the deal will be a success. To that end, he's already planning to make new acquisitions using some of the $100m in liquid cash that's just been pumped into the business via the merger.
The first thing the new partnership will need to do is arrest the sharp slide in the company's profits. By the time the magazine was canceled, it was practically dead. Print media accounted for barely over five percent of company revenue last year and played a factor in overall revenue figures slipping by over six-and-a-half percent.
In 2018, the business reported a small profit of $1.7m by the year's end. By the end of 2019, that was only $265,000. There the three billion dollar figure that the company is so proud of promoting comes from is unknown.
While this project to save, stabilize, and revive the Playboy brand is an ambitious one, it's also a sign of where the markets have been headed in the past twelve months. Special purpose acquisition companies have raised more than forty billion dollars so far in 2020. That's four times more than they raised in the whole of last year.
They've also agreed double that amount in deals, which is also far above the 2019 figure. As more and more businesses turn to this method of bringing money in quickly and taking the short route to the market, we may see those numbers rise even higher in the twelve months to come.
If you're a potentially interested investor and you'd like to get your hands on some Playboy stock, your best bet is to keep your eyes on Nasdaq in early 2021, which is the target timeframe for the completion of the merger.
For everybody else, expect to start seeing the Playboy logo in even more places than you see it at the moment. The investors will want to make a big return on their cash, and that means exploiting the brand's iconography to its maximum potential.
More online slots games are likely because that's an easy way of making money. Playboy cars? Playboy virtual reality experiences? Entire ranges of Playboy designer wear? Some – and perhaps even all – of these ideas might seem absurd right now, but none of them are out of the question.
The headline news here is that Playboy is back, it's here to make money, and it'll be trying to win some of yours in the very near future.
You may be interested in: