If you are an entrepreneur or new business owner, you need to look into the best project management strategies so you can stay organized, keep yourself in check, meet your goals, and monitor your progress.
How entrepreneurs can stay organized at work by using PMO
If you're new to opening a business, you have just opened a small company, or you are an entrepreneur in the brainstorming phase of your new business idea, you need to come up with the best ideas to stay organized and efficient in your daily workload. By using project management office, also known as PMO, you can stay organized at work and make sure each project runs as efficiently and seamlessly as possible.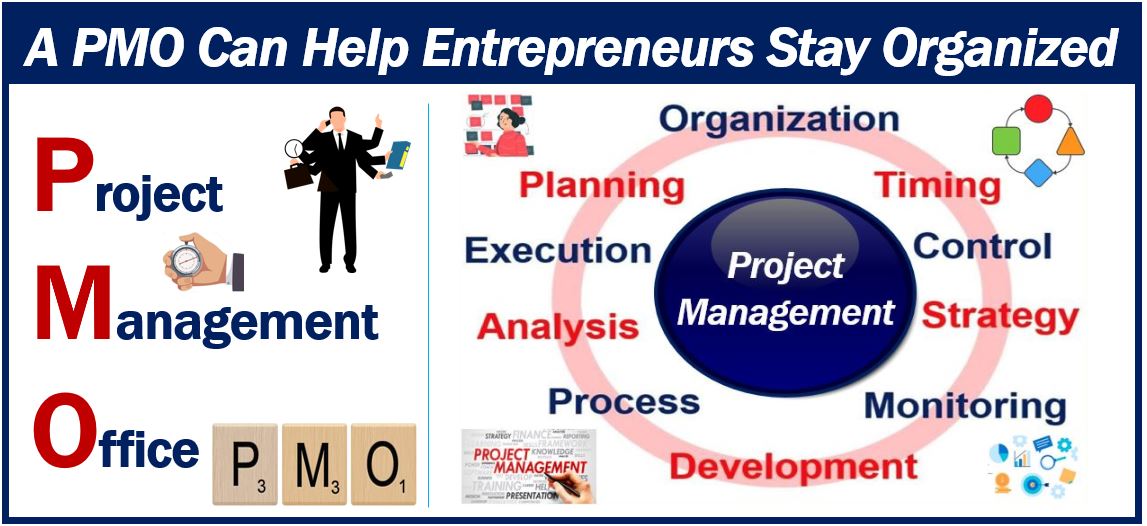 Whether you have a lot of experience in the business world or you are just starting out in the business industry, there is still a lot to take on your plate when you are producing services or products. Even if you feel like you have the process nailed down, there are still little changes you can make to be more organized and streamlined in your business endeavors.
Since you have a lot to juggle at one time, such as clients who have questions, customers who are concerned about your products, bosses who are worried about your performance, and employees who are trying to collaborate with you, you need to figure out how to balance all of these relationships to ensure you can stay productive at your job. But how can you do this with limited time and resources?
You need to make sure that you stay focused on being organized – staying organized, delegating your time, and allocating resources are some of the most important aspects to ensuring you eliminate any challenges when it comes to using PMO as an entrepreneur.
Use PMO software
One of the main ways that you can stay organized at work as an entrepreneur is to use project management software. By using PMO software, you can better streamline and optimize your daily tasks so you do not have to worry about the things that are obsolete and ineffective for growing your business! Instead of focusing on the wrong aspects, use PMO software to figure out how and where to direct your energy.
There have been surveys in the past that take into account what businesses use the correct project management software for their company – unfortunately, only just over 15% is the amount of businesses that use the correct PMO software for efficiency. Make sure you are using PMO software so you can drive efficient communication, increase sales, and better your relationships with others in your company. Using the right project management software lets you stay connected in real-time!
Create a project plan
The second way that you can use PMO software to benefit your entrepreneurial adventure is by using a project plan. After all, being organized is key – that means that coming up with a plan ahead of the item is essential being in the right space at the right time.
Although it can seem daunting and it can seem like you're moving too slow or too fast, staying on schedule and according to plan is key to being organized in the long run. Make sure you stay on track with how to carry out the project, how to finish the project and how to monitor your progress.
Create a schedule
This way that using a PMO software plan can help you is by creating a project schedule that helps tell you if you are on schedule, running behind or completely derailed. A schedule lets you stay up to date with your current project plan to see if you are failing and why you're falling – this way, you can monitor your progress and see where you need to improve.
Make sure you take into account the project timeline, the workload of each team member, the progress towards your goals and objectives, and the final date of the project schedule.
Since there is a direct correlation between the plan and schedule that you will be working with, you need otm make sure that you meet your goals to adhere to the plan and schedule. Once you have figured out what you are trying to achieve and when you are trying to achieve these tasks, you can then visualize your daily tasks to see what needs to be done and when.
Meet your business deadlines
The next way that you can use PMO to help with your entrepreneurial plan is to make sure you are working with the deadlines you set forth at the beginning of your project creation. Since you set forth a project plan and schedule, ensure you are staying on schedule and you are meeting your deadlines. Although you may miss one or two, hold yourself accountable by meeting deadlines that give you an idea of how much you are progressing and what you need to change.
Mark sure you set deadlines that are slightly hard to attain, but are realistic – you do not want to set easy deadlines, as this can cause laziness and complacency. In addition, you don't want to set deadlines that are too hard to reach, and this can harm compliance and motivation. Instead, find a balance between hard and easy to meet deadlines that are standard for business.
Figure out your priorities
The last way that you can use PMO to help with your entrepreneurial business is to define the priorities of your company. Figure out what you need to do, what is most important for you to accomplish, what each team needs to accomplish, and the most important tasks that need to be done ASAP.
Conclusion
If you are an entrepreneur who is opening a new business, then you need to begin looking at a project management office. By looking into the best PMO strategies, you can determine what needs to be done – and when it needs to be done. By identifying your goals and objectives, you can figure out how your business will improve over the years and how you can reach your end goals.
---
Interesting related article: "What is Software?"