Unlike such games of chance as roulette or slots, poker does not depend on luck. Poker is a sophisticated game, where players use analytical thinking and complicated gaming strategies to win. When playing poker, players need to make educated guesses about the cards held by their opponents. They also have to do quick and exact calculations, while keeping a poker face. Misleading people playing against you is a crucial part of the game.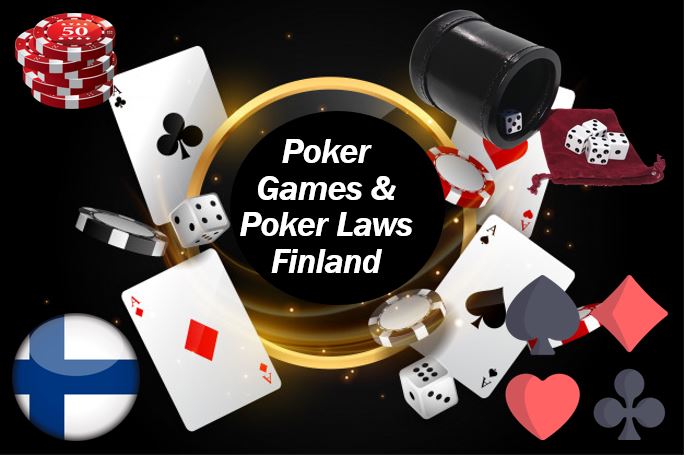 Bluffing and counter-bluffing are players' primary maneuvers, and knowing how to read their intentions behind an impassive facial expression is often the key to winning.
Poker – popular worldwide
Due to its sophistication, poker is enjoyed around the world. This game steadily gains in popularity, attracting more than 100 million people to poker tables and bringing billions in revenue.
There is no casino, from the most beautiful and famous to the least visited, that would not deal poker cards. Whatever brick-and-mortar casino you enter, you will certainly find there a dealer who will lay your cards on the poker table for you.
Commerce Casino in Los Angeles contains 160 poker tables and boasts the largest poker rooms in America. No wonder, then, that about 10,000 people visit it on any given day. But even if a casino is middle-sized and, like PAF Casino in Mariehamn, Finland, contains only several poker tables, it will still attract people willing to play this game.
Online poker rooms have even more widespread appeal than land-based casinos. Lovers of poker often play online, because poker websites offer a richer arsenal of poker games. In brick-and-mortar casinos, Texas Hold'em reigns supreme. You would never play there such poker games as 5-Card Stud, 7-Card Stud, 3-Card Brag, or Razz, but you can easily try your hand at them online.
Online poker games in Finland
Competing against thousands of virtual casinos, online poker websites also try to outdo each other in bonuses, promotions, and fast withdrawals, or as they are called in Finnish, pikakasinot bonus, that they offer to their clients. Their bonuses are indeed impressively large. No land-based casino is so generous to poker players.
None of them would ever even think of giving players back a portion of the raked pot, for example. In online casinos, however, the rakeback is a regular gift. On average, people playing poker online can expect to receive from 30 percent to 50 percent of their monthly rake deposited back to their online poker account.
Sixty percent of Finns gamble
Virtual poker rooms are even more in demand in such countries as Finland, where almost 80 percent of the population gambles but where live poker rooms are scarce. Poker players can indulge themselves only in Casino Helsinki, when they are in Finland.  The casino in Helsinki has poker cash tables and arranges cash games every evening.
The major games played there are No Limit Hold'em and Pot Limit Omaha. Both run on €2.5/2.5 and €5/€5 stakes. Casino Helsinki also schedules 3-4 poker tournaments per week, inviting people to play Hold'em, Omaha, and Dealer's Choice. The buy-ins are from €35 to €220.
For the country where most people gamble and whose poker players have gained national and international renown, such a meager choice of poker games is, obviously, not enough. Hence the quick proliferation of online poker rooms.
Legislation in Finland
According to the Finnish gambling laws, Finns can register either with local licensed websites or with unlicensed foreign platforms. Licensed Finnish websites on Mainland Finland are maintained by RAY. Finland's Slot Machines Association (RAY) controls poker in the country and runs an online poker site, which it promotes with the assistance of Finland's most successful poker professional, Juha Helppi. This website is regulated by the Finnish government that takes all required measures to protect players' data.
As Aland Islands are not subjects to the government's regulations, land-based and online casinos are supervised there by another organization, called Ålands Penningautomatförening or PAF. Whereas RAY invites only Finnish gamblers, PAF accepts poker players from other countries. PAF's poker website hosts two separate poker rooms, which belong to separate poker networks. Therefore, it does not experience a ring-fence, as does RAY.
Poker games at EU-licensed websites
Because Finland is a member of the European Union, Finns are welcome to play poker at all poker websites licensed in the EU. There are several of such online casinos, but Finnish poker players seem to prefer PokerStars. This website caters to the interests of Finnish players and holds Finnish poker championship. It also offers a 100% match welcome bonus up to $600.
That is, if players deposit $50, they get another $50 free in addition to the amount added to their bankroll. Other European websites that have the EU license are 888Poker, TigerGaming, Ladbrokers, GreySnow, and PartyPoker, to name only few of them.
Like PokerStars, these websites give lucrative welcome bonuses and reload bonuses. There is also a possibility in Finland to register with unlicensed poker websites, but at them, Finnish players can gamble only on their responsibility and at their own risk.
The shape of the Finnish online gambling industry is likely to change in the near future. The revisions that the Finnish Act on Lotteries is now undergoing might affect poker websites. It is only hoped that whatever modifications the Finnish government makes in its gambling law, it will direct them at benefitting Finnish poker players and the online poker industry at large.
_________________________________________________________________
Interesting related article: "What is Betting?"