Your business reputation is something that can take years to build but can be lost in an instant over something as simple as one bad review. That's why it's so important that you do everything in your power to build and maintain a strong business reputation. Why? Because a good reputation leads to revenue.
That's not saying that you're all about business and not about making meaningful connections with your customers through your brand, but business is business, and there is money to be made.
According to Business Wire, the Reputation Institute conducted a study that revealed the largest key drivers of building a strong business reputation was heavily influenced by strengthening the perception of a company's corporate social responsibility practices.
We are in the era of the informed shoppers, and these shoppers look up a company's reputation before investing in their products or services. If they see more bad information on your company than good, they're more than likely not going to invest in your products and services. That's why it's so important to do everything you can to build and maintain a good business reputation.
These shoppers will even go the distance to take a look at the CEO's reputation to see if they want to invest in a company. You may not realize it but a CEO's reputation can impact a business' reputation as well. Just look at how Papa John's founder received backlash for his racial slurs during a conference call, causing Papa John's stock to fall 11% within hours, Forbes reported.
So, when every little thing impacts the perception of a business, how do you build and maintain a good business reputation? Well, it's not as hard as you may think. The best thing to do is to leverage your daily experiences and encounters to proactively build the business reputation you want consumers to see. Consistency is key.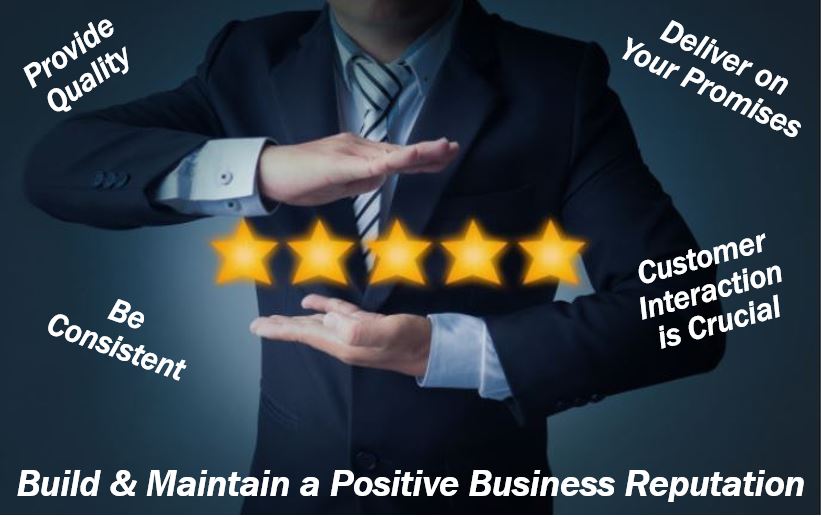 Simple Tips to Building and Maintaining a Good Business Reputation
Always Deliver on Your Promises
How many times has a business told you that they would send you something or call you back when they know more about a certain issue, but didn't actually do what they said they would do? Probably more often than it should happen.
Instead of businesses delivering on what they said they would do, customers are left to call back on their own to follow-up. Not delivering on your promises is one of the quickest ways to get a bad reputation.
When you deliver, it builds trust, establishes credibility, and labels you as a trusted and dependable business. This will then lead to referrals and recommendations. It basically boils down to "say what you mean and mean what you say."
Interact With Your Customers
People respond to people, and that's something you have to remember when you interact with your customers. Of course, you're interacting with them through your brand, but the more your brand interacts with your customers, the more humanized your brand will become.
Maybe you have a business that sells baby products and one of your new product launches is a teething pacifier to help wean babies off of pacifiers… Some of your interactions with your customers might be through social media, asking your followers to participate in a poll on how many parents had a hard time weaning their baby off the pacifier and who didn't.
Have them post pictures to your page with certain hashtags and respond to comments. Interacting with your customers lets them know that their opinion matters and you value what they have to say, good or bad.
If you do happen to have a bad review or comment, don't shy away from it… responding to bad reviews is one of the best ways to not only defend your business reputation online but it also allows you to work on how that issue can be improved and prevent it from happening again in the future.
Provide Quality Products and/or Services
Part of establishing a good business reputation is in the products and services itself. If you have a clothing boutique, are your clothes made to withstand daily wear and tear? Does it fall apart in the washing machine? What is the clothing tag made of?
The retail industry is one that has to work extra hard in maintaining a good reputation, especially for clothes. You don't want your business to be looked at as a company that has bad or cheap clothes. Invest in quality materials that will make your clothes last.
For example, Wunderlabel is a great company to invest in for quality clothing tags and Denim Hunters might be your source for quality denim suppliers… The point is that you have to invest in your business if you want it to succeed. Higher quality materials may be more expensive but customers are willing to pay more when they know they're getting a quality product or service.
Provide Consistency
Every positive quality you have, you want to show that to every single customer. Consistency can be something as simple as a company-specific thank you message at the end of every phone call or a thank you message included in every package to show appreciation to your customers.
Ultimately, the things you want your business to be known for, you need to consistently implement those actions with every single customer. Consistency establishes familiarity in your brand, helping it to become a household name.