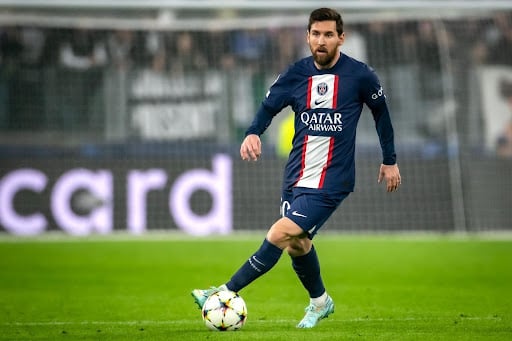 As expected, Lionel Messi's time in Paris will likely come to an end this summer. The little magician was the most prominent signing of Paris Saint-Germain's major haul two summers ago, which also included the free transfers of Sergio Ramos and Gianluigi Donnarumma, as the club's chiefs finally appeared to have nailed the solution to winning that maiden Champions League title. 
However, fast forward to the current day and PSG are still yet to get their hands on the famous European Cup. It's back to the drawing board for the Qatari investors now though as their cunning plan involving Messi is ripped to shreds — and it looked set to end sourly as the Argentina World Cup hero was hit with a two-week suspension for traveling to Saudi Arabia without the club's permission before publicly apologizing.
Messi might be due to turn 36 this summer, but he will still have a long list of suitors lining up for his signature in the offseason. With that in mind, read on as we take a look at some of the possible destinations for the sought-after attacker. 
Barcelona
It may come as no surprise that a return to Barcelona is the likeliest outcome, according to the online football odds — with some bookmakers pricing a return to the Catalonia region of Spain as short as odds on. 
Messi famously spent 16 years at the Nou Camp before Barca's brewing financial situation meant they couldn't afford to keep hold of him for any longer following the end of his contract in 2021 — which led to a teary exit. 
The club's president Joan Laporta is eager to see Messi back in a Barca jersey this summer and it's believed the Argentine is equally as keen to return to the Nou Camp. However, with the financial struggles still intact, it seems one can merely dream. But we'll see.
Saudi Arabia
We have witnessed the financial pull of a move to China in the past, with several big names switching to the Chinese Super League in early 2010s, and it appears as though the Saudi Pro League might be the next destination for aging players looking for a last big pay cheque — with nonother than Cristiano Ronaldo already making the switch to Al-Nassr in January.
Messi is one of the league's next targets alongside the likes of Luka Modric, Neymar and Roberto Firmino and there are reports that the 35-year-old could bag up to £320 million a year to ply his trade in Saudi Arabia — with Al-Hilal the side tipped to land the attacker. 
There is, of course, the small matter of his sponsorship deal to promote tourism to the Middle East country, which could play a big part in whether or not he plays his football there next season. That isn't a guarantee, however, and it's worth noting Messi's recent visit with his family was just the second time he's gone to Saudi since he signed the deal.   
Manchester City
While we are all well aware of Inter Miami's and owner David Beckham's long-time interest in Messi and how much they would love to bring the Argentine to MLS, which is believed to be a real possibility to happen at some point before the attacker hangs up his boots, it's interesting to see Manchester City as the third favourites with the bookies. 
The reigning Premier League champions were linked with Messi before but lost out to PSG in the race to sign him in 2021. Two years on and we're sure Pep Guardiola would still love to rekindle his special relationship with Messi at the Etihad and it's scary to think just how dominant the Sky Blues could be if they were to add the Argentine to their roster. 
If Barca can't get together the finances together and Messi still feels like he has a lot to offer in Europe before going somewhere like Saudi or America, then it wouldn't be unrealistic to suggest a move to Man City as a possibility. 
---
Interesting Related Article: "Is Messi Now the Undisputed GOAT?"