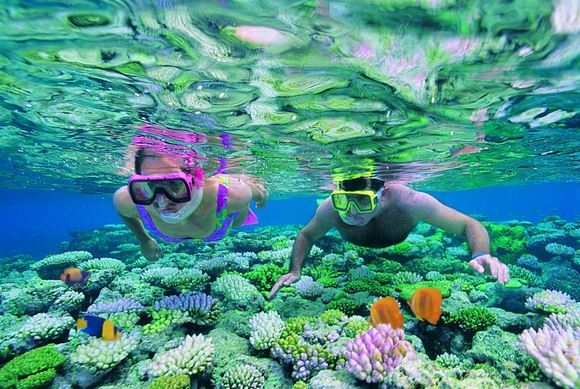 The tourism industry is one of the sectors that has been affected hardest by the COVID-19 issue. Even after more than a year, the figures are astounding since the outbreak began: There were one billion fewer foreign visitors in tourism locations in 2020 than there were in 2019. International travel, vacation rentals, and hotels has suffered a significant decrease, resulting in approximately USD 1.3 trillion in total exports, which is more than Eleven times the loss experienced during the previous economic crisis in 2009. About 100 to 120 million tourism-related jobs were jeopardized, with the majority of them concentrated in small and medium-sized businesses.
This is a major source of worry for emerging economies as they plan a path toward recovery. Not only is the travel industry a vital contributor to the economy, but it also can facilitate as a development "tool" by strengthening supply chains, increasing local firm productivity, creating one out of every ten jobs, and providing income for youth and women. Tourism is driven by both the public and private sectors, and it is growing rapidly. Having served as a previous tourism minister, I have seen firsthand the benefits that tourism brings to local communities and how sustainable tourism generates economic value while conserving culture and natural resources.
Future of Tourism
We addressed the future of tourism in light of the present difficulties at a recent discussion on tourist resilience and building forward better, which took place at the World Trade Organization's Aid for Trade Stocktaking event last month. Tourist industry leaders from Costa Rica, Jordan, Kenya, and Sri Lanka discussed their respective country's experiences in reacting to and learning from crises and their perspectives on how they view the future of the tourism industry.
Of course, COVID-19 began as a health crisis and enhancing health safety and increasing traveler trust are the most pressing issues that nations must address right now, according to the WHO. Ms. Kimarli Fernando, Chairperson of Sri Lanka Tourism, talked about the Sri Lankan government's efforts to put health standards in place and engage with the people regularly to build trust and ensure that they grasp the rules. The World Bank Group is also assisting in creating standard operating procedures for hotels and travel operators and promoting public-private discussions on recovery plans. The necessity for robust health and sanitation standards continues to be recognized by governments as they strive to safeguard visitors and locals alike.
Best Resorts & Chalets
Travel in the future will certainly be different when looking forward, making data and market intelligence essential. We are currently working on business pulse surveys, aviation and policy dashboards, and consumer market research – all of which indicate that in the near term, travel will shift from a fly-to-destination trip to domestic and proximate travel. We also expect strong growth in nature and adventure tourism, demonstrating the growing importance that consumers are placing on sustainability. Stimulus recovery initiatives for tourism may be focused on rehabilitating tourist destinations to make them more sustainable, which might generate employment throughout the redevelopment process while also increasing the destination's appeal.
While it is doubtful that travel will revert to its pre-coronavirus state in the near future, Aman Resorts and Anantara Hotels, Resorts & Spas are adjusting to the new normal in the meantime.
Unfortunately, a mixture of Brexit and COVID-19 has permanently altered the catered chalet market's competitive landscape. In order to avoid repeating the mistakes of last year, ski vacation providers are no longer committing to renting chalets for the whole season and are instead focusing their efforts on hotels and self-catering flats. Because of the changes in labor regulations resulting from Brexit, it has become very difficult to hire British seasonal employees to work in chalets. Unfortunately, as a consequence of this, there are fewer chalet vacations available for the next ski season and beyond.
So, what is the new normal going to be? This is an excellent issue, one that does not have an instant solution and will undoubtedly develop over the next several years. Catered chalet vacations will still be available in the future, as we now know. They haven't disappeared completely. You will note that fewer options are accessible in the marketplace and fewer options that include a flight. Those available may be at a premium fee and may not be staffed by the typical UK chalet personnel. If you are searching for a catered chalet package, the best advice we can give you is to book as soon as possible to prevent disappointment.
Backpacking Tips
A guy pulling out a pack of wet wipes and meticulously cleaning off his table and seat before setting in for take-off was recently featured on TikTok. You may be able to see anything in person sooner or later. Even if it isn't quite to that comical an amount, we are being instructed to wash our hands, and the only method to do so while on the go is with hand sanitizer on our person. As passengers increasingly desire to bring more than 100ml of liquid on board, particularly on long-haul flights, liquid carry-on limits may be relaxed.
Along with hand sanitizer travel packs, airlines are requiring passengers to bring face masks on their journeys. Similar to how businesses such as away have created luxurious, stylish travel luggage, we are likely to see "desirable" travel masks used by Instagram influencers in the future. But don't forget to double-check the recommendations and backpacking tips provided by your airline or local health authorities on which masks to use while flying!
---
Author Bio:
John Robert is a technical writer and a blogging freak for OffersNReviews. As a passionate writer, who is predominantly interested in technology, gadgets, health, and many more. He loves helping analytic users reach their goals. Loves to travel and surf over the internet.