Pay-per-click (PPC) ads can help business owners boost revenue and acquire new customers. PPC is a digital advertising model where an advertiser pays each time a user has clicked on a few of their advertisements, resulting in visitors to their site. Advertising agencies put an offer to determine the highest consumers are willing to pay for just a click on their ad.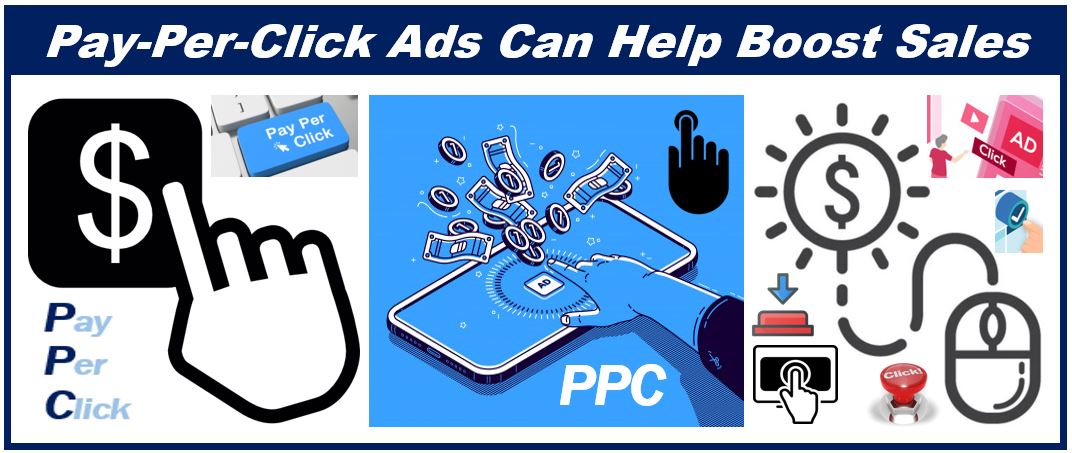 It's a kind of search engine optimization (SEM). For small companies, PPC can be competitive and so costly; however, with the best PPC ad approach, you can attract customers and increase your profits. It is especially advantageous for small companies, which typically have much smaller advertising costs. That's where PPC ads shine as a cost-effective advertising tool for keeping the budget in check while also can web traffic.
What Is PPC?
PPC stands for pay-per-click in advertising, and it refers to a common online ad billing model in which the account holder is only paid whenever someone clicks on the link.
This strategic model reflects a change in how businesses pay for online ads compared to what has long-established standards in other advertising forms such as magazines and television commercials
Rather than paying a one-time fee to reach a significant proportion of individuals and hoping that any of them will be interested in your post, PPC marketing is that it allows businesses to pay only when customers take a specific action. You will not be paying for a million users to see your ad; you pay only for the users who are interested sufficient in it to take action.
If the CPC (cost-per-click) is tiny, this can be a good business move that still gives you a decent return on investment (ROI). That being said, in some sectors, it can be highly competitive, and it needs maintenance costs to ensure a consistent CPC and a consistent volume of conversions.
PPC is constantly changing, from AdWords rules to businesses becoming even more competitive in as little as a week, so you must evolve your PPC plan on a weekly basis.
How Does the PPC Work?
An advertiser sets bids on where and how big in the ad section, including its search results the ad will appear after setting up their ads in a search engine advertisement network (such as Google AdWords or Bing Ads) and adding targeted keywords they want their ads to cause for.
For instance, if the bidding for the highest level across the front page of search engines in the construction industry is £3.40, but you bid £3.00, you would not get the top spot. But don't worry; your average location will be visible in the statistical column on the advertising website where your advertisements are running.
PPC, on the other hand, can be highly competitive, as previously mentioned. What occurs if you bid high a higher amount equivalent first position, but your rival also bids high sufficiently? The advertisement platform would then weigh a number of other variables to decide which ad is ideal for the position.
Types Of PPC
 Listed below are some types of PPC which you can use. Let's take a look at them:
Google Ads & Google Local Ads
PPC ads come in a range of shapes and sizes. Google Advertising and Google Local Ads are the two forms. These two ad techniques will help you and your business by can website traffic and conversions. You're looking for conversions.
You're spending on Google to position your company above the competition on the search engine result page list (SERP). Paying more for a better place gives you more clout. There's no guesswork when it comes to creating your advertisements. You then battle for a top spot in the SERPs by 'bidding' on keywords. Conversions result in revenue for the company. Google Ads can also help the company's brand recognition.
Social Ads
Social networking would be the other key PPC advertising choice. Plenty of the major social media sites offer advertising solutions based on a PPC model close to those of search results. Youtube, Facebook, Twitter, Reddit, and Instagram all allow for PPC social ads.
With a media network having over a million monthly active users (in the case of Facebook, it is even more than a billion), many of whom visit several times per day, social PPC advertising is a viable choice for gaining more customers.
The benefit of PPC for Your Business
Audience targeting
Conventional advertising is much more akin to casting a wide net over such a vast area. With PPC, advertisements are only displayed to interested potential customers who have already checked for relevant keywords. If anyone clicks about such an ad, you may be assured that it was not an unintended mis-click and that they would be participating in your post. With the help of a reliable and experienced PPC company, you will be able to reach your targeted audience and acquire maximum conversion. Make sure you approach only the best digital marketing company, such as Digital Assets Factory, to help your business with PPC management.
Complete control over the budget
You can set a budget depending on the business needs with PPC ads, and you won't be shocked by hidden expenses or a campaign that exceeds your budget. When your full budget is hit, your Google Ads PPC campaign will be paused. To limit how long your campaign operates, you could set regular or monthly thresholds.
Targeted Ads
The ability to set up in-depth filtering with pay-per-click is a huge advantage. That's not as precise as Facebook ad marketing, but it gets the job done. Device targeting, position trying to target, ad planning, and keyword targeting are just some of the most important elements to hit. If you really want to get in front of your ideal consumers' attention at the right moment, you must do all of this stuff.
Here we will be sharing some of the useful PPC management tips that you can use to get the maximum result.
3 Google Adwords Management Tips For a High Conversion Rate
You can get a good amount of market share by just accomplishing what you are supposed to do when it is all about running Google Adwords and managing the PPC ads in general. Having said that, if you are already aware of a few more advanced tips, then the sky is your limit. For some time, we have seen a new targeting ability of the system. Here are some highly useful tips to give you the most out of Google AdWords and when you are hiring a PPC management company.
Begin by disqualifying leads
Hearing the above line, you might be wondering what is that supposed to mean? Yes, we mean exactly what we told you; it has to be the first and foremost thing to remember when you plan to gain a high conversion rate. Always remember the Pareto Principle — 80 percent of your business is going to come from 20 percent of the leads.
You must be able to utilize Google AdWords to the full potential and find that 20 percent and disqualify the other 80 percent with a PPC advertising company's help. Since your money gets deducted when people click your AdWords ad, it can be a great way to maximize your ROI when you disqualify the leads.
Save money by running ads on LinkedIn
Are you operating a B2B service? If your answer is yes, then LinkedIn can be your best buddy. The good news is that you can run Google Display Network ads over LinkedIn. Many of the PPC campaign management services are not fully aware of this.
You can save a considerable amount of money by running those ads with Google rather than making use of LinkedIn. Hitting LinkedIn by making use of Google Display ads is hassle-free; all you have to do is make a Placement Targeted Ad Group. Here, state LinkedIn as your primary target. Do not utilize the homepage as the landing page.
Make use of Geotargeting
If you are in a business where your niche does not appeal to a majority of the folks, geotargeting can be really handy for you to refine your pay-per-click ads. This will guarantee that you attract more quality leads. For instance, if you are promoting saltwater fishing tackle online, there is probably very little chance that there will be customers for that in South Dakota.
That is why you must target your ad to get displayed to only those who live in states close to an ocean or the Gulf of Mexico. How do you deal with that? There is a simple hack for that — Bid for the negative quantities for particular regions. By doing that, you don't have to fear about ads appearing in irrelevant regions.
Consider this article and the use of PPC agency services for your company. Now, you must be aware of the concept of PPC and how it can help your business to get the required boost without wasting any time.
---
Interesting related article: "What is Digital Marketing?"