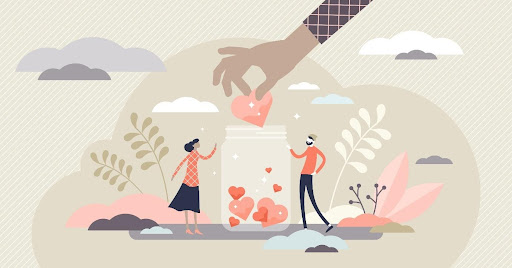 Who doesn't love love? Even those of us that have been burned before cannot help but be intrigued when we hear of a new dating show or rumoured romance – it's just human nature. And this is why tapping into that nature is a great move for any PR team, as consumers will be sucked in by a tumultuous storyline and want to stick with it, even after they realise that they're being marketed to. 
With all of this in mind, let's take a look at some of the standout love-inspired campaigns that have graced the press over the years.
Virgin Trains – The Love Carriage
In 2016, Virgin Trains decided to help hopeful singletons look for love in their Valentine's Day PR campaign. The Virgin team took on the role of Cupid, and invited twenty-four competition winners to take a "singles-only" trip in their aptly named Love Carriage. 
The carriage was located on a specially chartered train going from London King's Cross to York. Once on board, the romantic roamers were showered with red roses, prosecco and a delicious three-course dinner. And who was at the helm of this unique experience? First Dates' very own Fred Sirieix of course!
The grandiose PR stunt continued, with ice-breaker games and speed dating being conducted throughout the journey. As you would imagine, the Love Carriage received a huge amount of press coverage, generating a whole host of follow-up stories and brand attention. All of this was geared toward promoting Virgin's £42 million investment in its pre-existing East Coast Trains service, and it certainly got the message out there, as well as connecting people. 
Paddy Power – Paddy's Island
Whilst only a small number of people are lucky enough to get their five minutes of fame at Casa Amor, this year there was a Paddy Power Bingo campaign that allowed gaming fans to boost their bankroll to the tune of £1,000. All they had to do was watch a short episode of Paddy's Island – see what they did there – and count up how many of a specified item was present on the screen as the clip concluded.
Entering their answers on the Paddy Power website, there were a total of six episodes in this digital series, therefore the same number of chances to bag the grand! Each instalment encapsulated the nuances of Love Island that keep us coming back for more: cringy catchphrases, muggy meetings and even the vicious voiceovers. Entrants could find all of this and a competition element, which understandably would keep them coming back for more.
Tapping into the cultural, and social media, phenomenon that is Love Island is never going to be a bad idea. After all, with an average of 4.2 million viewers gathering to watch the show per episode, across all devices – why not borrow some of those drama lovers over to your latest Bingo PR campaign?
Citroën – Lady and the Tail Pipe
Taking inspiration from Lady and the Tramp, Citroën looked to a pair of pups to advertise their latest model, in 2013. A classic love story, the two dogs are sat in adjacent cars, gazing longingly at each other through their respective windows. Viewers find themselves on the edge of heartbreak when it appears that the hopeful pair are going to be separated, when the dog in the new Citroën fills up quicker at the petrol station. 
Thankfully, the two cars realign, and we're shown the romantic Lady and the Tramp style meal that both dogs are fantasising about, including their own little wedding. Ultimately, our love story is cut short when the "rival" car has to stop at another petrol station to fill up again, whilst the trusty Citroën C3 is able to carry on driving. 
Whilst the message is obviously to do with the new design of vehicle being able to utilise a full tank more efficiently than an older model, using a recognisable and romantic storyline allows viewers to become invested in the advertisement, before they can even realise that they're being marketed too. A campaign that holds its worth with or without the final push of the product at hand will always strike a chord with any audience, and become a much more memorable piece. 
–
So, are you feeling the love?