Finally, as you are all set to roll out your Shopify store, it's the right time, when your hard work will pay you back. Well, it would be quite exciting, but it may become overwhelming also.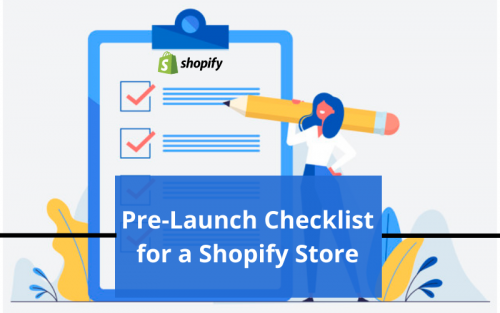 Obviously, right now, your mind would be experiencing a major thought-shuffle. You would be in confusion whether you have attained every necessary aspect to witness a seamless launch day or not. Moreover, you would be thinking, are your products loaded perfectly as required?, are you ready with the best marketing plan for promoting your store? or does your site look trustworthy?, and more. 
Well, regardless of just running aimlessly all around while initiating your business, thinking deeply about every second thought, you need to conduct a methodical approach to your rollout. Just ease your mind and be well-organized with the following handy checklist of Shopify store launches. 
Why Is The Checklist So Necessary?
Well, at the last moment, your store is looking amazing, products are also perfectly loaded, and all set to go, and you have done with setting all your social accounts. Still, are you missing something?
With loads of moving and scattering parts, it's not hard to miss a critical or even a simple step in launching a successful business. 
Here, you might need something that may lead everything to go well, so a checklist would help you in lowering the ambiguity and smoothing the work that needs to be performed well. 
Your Shopify Store Launch Checklist
So, let's start with a Pre-Launch Checklist for your Shopify Store. 
Add Any Available Sales Channels
Do you want to enjoy all the benefits of multi-channel retailing for your Shopify store? For that, you would be required to know how to pick the sales channels that may prove to be best for your online store, and next, add the available sales channels to your eStore. 
Following Are Some Examples Of Sales Channels That You Can Append To Your Shopify Store
Amazon

Google Shopping

Social channels
All sales channels link with the core of your online business to allow you to keep track of your products, orders, and customers easily across all the platforms. 
Well, mostly this is the first step we should perform when opening an online store, but relying on how we perform, it may be the last task in our mind. Appending a custom domain for your site will offer you brand recognition and make it simpler for users to remember the URL. 
You will also need to first carry a domain name search to check if your business name is available. If you find it available, also check if that name is not a trademark already, which may be in use by another online business in your industry. If it's so, you can buy your custom domain name through Shopify directly. 
Double-Check Your Payment Gateway
Before attracting any traffic to your eStore, you would like to make sure that people can complete a purchase. So, you can place a test order on your website with a live payment gateway to ensure everything is performing as expected. Even, you can refund your order afterward immediately. 
Prepare Your Standard Pages
Next, your website should hold a few static pages for your visitors to explore and know more about your company. 
Following Are A Few Pages That Most Online Stores Incorporate In Their Sitemaps
Obviously, your homepage is an important page on your website. Mostly, it's the first page people land on, and if not, can be the second one also

If your potential customers are found unable to contact you with their questions, then it's sure that you are missing on various sales opportunities. On your contact page, you may offer details that can find a way for your shoppers to connect with you.

This is the page where the shoppers get to know more about your company and your brand. Mostly the store owners overlook this page, but let you know that it can prove to be an effective sales tool if targeted with an approach.

Frequently Asked Questions (FAQs)
At rollout, you may not hold lots of information around which your customers would ask you the questions the most.

Various ecommerce websites have a separate store and homepage. Usually, this page is known as "store" or "shop" in the site navigation and menu. 
Review Your Email Notification Settings
A robust tool for online store owners, emails, on your Shopify store are available in numbers as automated emails that you may customize before rollout. You may also edit your email templates and craft sequences that may strengthen your list and drive sales ultimately. 
To Set Up Your Email Marketing App, You May Follow The Below Emails: 
Welcome series

Abandoned cart notifications

E-receipts

Shipping notifications

Order confirmation

Conduct A Content Audit
Sometimes,  you might be close to your tasks, you may fail to notice your small mistakes, like broken links, grammar, or spelling. So, reviewing from the starting and finding your way ahead would help you in locating the errors that you might have missed earlier. 
Optimize All Images On Your Website
Well, slow-loading images may harm your website's user experience along with the performance in search engines, specifically when you are running a flash sale at launch for your eStore. It's important to ensure that all your images are well-optimized for the web that may lead to fast loading times. 
You may optimize your web images as below:
When naming your images, be descriptive.

Carefully optimize your 'Alt' attributes.

Make your images' file size reduced. 

Pick the right file type.

Optimize your thumbnails.

Also, test your images. 

Install An Analytics Tool
From day one, it's important to set up analytics. This data will provide you valuable insight into your customers and visitors. 
Your Shopify store will hold its set of analytics reporting in-built, but you may also need to install a 3rd-party tool. 
Have A Pre-Launch Marketing Plan
After you roll out your website, you will also need to ensure people should know about it. Well, a marketing plan would assist you perfectly in this. 
Also, you should document your marketing plan, so that post-launch you would be required to just follow your outlined steps. 
Adjust Your Tax And Shipping Settings
Furthermore, you will need to check that the shipping rates and tax settings are perfect for your products that you are selling. Or, you would eat up your profits unknowingly by not charging sufficiently. So, double-check your shipping and tax setting before rolling out your eStore. 
Relying on the location of your business and customers, you may need to append sales tax. If you find it confusing, you may seek help from your consultant holding the required knowledge. 
Make It Easy For Shoppers To Contact You
Well, we have already informed you about the necessity of a contact page. Apart from that, should include your contact details on various pages of your site if possible.
Install Only The Essential Apps
However, there exist tons of applications on the Shopify App Store, but not all are essential for your online store as some would even not make any sense for your Shopify store. 
When you are about to launch your store, you need to install just the most required app, and that will totally depend on your industry and business. 
Set Up Your Billing Information
If your 14-day free trial is about to end, you are required to craft the billing information of your store to make sure that there exists no interference when your store finally becomes live. 
Wrapping Up
Now, as you know the checklist for your Shopify store that is important for a perfect launch of your eStore, launch your ecommerce store by taking assistance from the leading ecommerce development company. who have expert Shopify developers and can excel at building ecommerce stores. it's the right time to move ahead and start selling.
---
Interesting Related Article: "Top Shopify Apps That Will Make Your Online Business More Efficient And Easy"