Road trips are an exciting part of travel. Some prefer the ease and luxury of airplanes and trains, but those who are slightly more inclined to adventures go for a road trip. Road trips are specially meant for those who wish to not only cherish the destination but also enjoy the journey.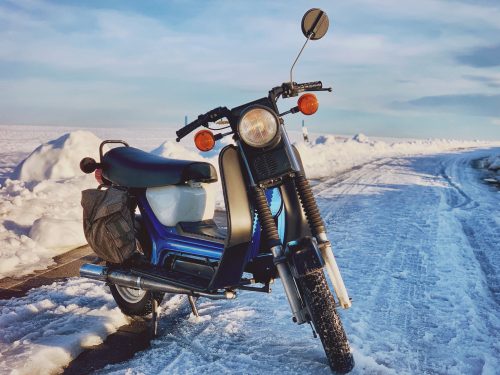 If you are an adventure enthusiast and love the road, winter is the perfect time for a bike road trip. So collect your gang of friends and set on for a winter adventure this season. Let us look at some essential tips to note for your vehicle, travels & bike insurance while planning a road journey on a bike this winter.
#1 Scrupulous planning
Road trips are not an easy adventure for first-timers. It requires meticulous planning while considering the location of your visit. Moreover, you also need to plan the route you're going to take. Further, any geographic, economic, and political concerns need to be addressed beforehand. Also, the pillion needs to be comfortable sitting in the saddle for long hours to cover more distance during daylight.
#2 Bike maintenance
Next, ensure your bike is fully prepared for this long travel. Getting it appropriately inspected at a service station will be beneficial. These service stations have mechanized tools and skilled technicians that can carry out necessary repairs. Moreover, for a long road journey, it is advisable to tune your vehicle and check whether the engine is operating efficiently. Also, do not forget to carry essential spares and fluids like brake callipers, brake liners, extra headlamp bulbs, engine oil, coolant, and more.
#3 Protective gear and Self-care
Long road trips mean long hours in the saddle. Thus, make sure you have proper protective gear. These gears include jackets, boots, helmets, and more. These safety wear helps to prevent any injuries in case of an accident or mishap keeping your life safe at all times. When cruising at high speeds, even a small piece of gravel off the road may injure you. So be safe and opt for adequate safety protection during your road trip.
#4 Navigate cautiously
Physical maps are a thing of the past. Relying on navigation technology is the new trend. But sometimes relying solely on tools like Google Maps can be counterproductive. Instead, enquire among the locals for shorter and better roads to your destination. Since different states have different traffic norms, do your research before starting your journey. Further, try to avoid riding at night. Since your visibility is drastically reduced during the night, you should avoid night travels.
#5 Appropriate documentation
One of the crucial points in your road trip preparation is carrying the right documentation. This includes your bike's registration certificate, pollution certificate, and your bike insurance policy. Further, when preparing for a long road journey, make sure you include necessary add-ons at bike insurance renewal. These add-ons alleviate the financial burden in case of breakdown or an accident.
Availing online general insurance provides a quick, hassle-free & straightforward mode to secure your bike. It ensures not only financial safety but also mental peace when you are on your mile-munching winter road trip.
These are some of the ways you can ensure you have a memorable bike adventure spanning the length and breadth of the country and beyond.
---
Interesting Related Article: "Tips To Prepare Your Bike For Monsoon"