If your company owns a factory, it is an important investment for your business. You will spend a lot of money to care for all the building components, but one of the most important is the factory floor. Most business owners want a solution that can be easily applied and is low maintenance. Epoxy floor coatings involve an application of two liquids – a resin and a curative agent, which bond together chemically. This chemical reaction creates a strong bond and an extremely hard surface. Once the two compounds are combined, there is a limited amount of time to apply the coating before it begins to harden. Epoxy is being used in more situations than ever before because it is versatile and looks very professional when it is correctly applied.
Preparation of Factory Floors for Application of Protective Coatings
Epoxy is a good solution that offers protection for many different flooring types including metal, tile and vinyl, but is most often used as a coating for concrete floors. The floor must be prepared to receive the epoxy coating, and this is just as important as the installation of the concrete floor. There are several key steps to the preparation of the concrete floor and those include:
Making necessary repairs to the concrete surface by patching or repairing any major chips and cracks.
If old coatings exist, the removal of those coatings.
If concrete is polished or sealed, epoxy may not adhere to it.
Testing the concrete surface of the floor for any grease, oil deposits, dangerous chemicals, and moisture
If the floor is not fully prepared before an epoxy coating is added, then the coating will not last. During installation, the temperature and humidity must be maintained at a consistent level so that the floor coating can properly cure once it has been installed. The installation of epoxy flooring can help to extend the life of concrete flooring and provide a safe and clean workspace. Epoxy flooring also helps to maintain a safe space for inventory, equipment, and workers. The installation surface for the epoxy flooring needs to be clean and porous so that it will adhere to the floor. It is always worthwhile to prepare the floor before you add the epoxy to the surface of your floor.
Remove any Existing Coatings
Test the existing surface of the concrete to see how many layers of epoxy or other coatings exist. If you are looking to see if a sealant is in place, you can pour water on the floor. If the water sits on the surface but does not soak in, then the floor has been sealed and may not take an epoxy coating.
It does not matter what the existing coating is on your floor, including urethane or epoxy, it needs to be removed before a new coating can be applied. Any remaining traces of a coating can prevent the new flooring from adhering properly. Remove the coating with whatever removal product you choose or sand the floor to chip the coating away. Search for a Boca Raton tile removal company if it is tile flooring. The floor will need to be swept and washed before a new coating can be applied. Preparing the existing surface is the most crucial step in preparing the surface of the concrete for epoxy. If the floor is washed, it should be left to thoroughly dry before any products are added to its surface.
Primer Formula for Epoxy
When you want to apply a new product to your factory floor, then you may want to use the double protection system of epoxy which includes a primer and a finishing coat. You will apply the primer like you would with paint. Once applied this primer should be left to set for many hours before applying the epoxy coat. When applying primer, cover your floor with a thin layer of water and then cover the floor with the primer using a roller and spreading it thinly across the surface of the floor. Once that has dried, it should be covered with a finishing coating which is applied like the primer with no water layer required.
What are the Advantages of Epoxy Floor Coatings?
There are many advantages to using epoxy floor coatings as compared to other types of concrete coatings, including:
Long lasting coverage and protection, makes floor easy to clean
Ideal material for use in warehouses and industrial settings.
Provides a durable surface that stands up to continual and heavy traffic.
Once epoxy has been applied, it creates a high gloss surface which will increase the interior brightness.
Epoxy is simple to install with no layout or special tools required.
Offers resistance to water and grease or oil stains.
Able to be combined with paint to cover up cracks and chips in concrete.
Offers protection against wear and tear on concrete floors already in place.
Able to be applied in a variety of patterns so that visible driveways and walkways are created.
Does not require a great deal of maintenance.
Can be used in combination with products that self-level and then applied over old concrete.
The difference between a coating and epoxy flooring is about 2 mm of thickness. Epoxy is thinner, but it adds a structural support where a coating will just create a protective layer to the floor. Epoxy can be applied to any hard surface, not just concrete. Epoxy coating can be applied to plywood or wood flooring if the floor is properly prepared. For wood surfaces, light sanding may be required to open the wood's pores and allow the epoxy to adhere to the wood. The more preparation that is done, the better.
If you choose flexible-grade epoxy for your flooring it can provide a stronger surface than the rigid flooring option. It resists abrasions and hardens the surface. Epoxy can be used with many other products. Layers can be added to floors and sealed with epoxy, creating a durable commercial grade surface that lasts for years and withstands heavy traffic.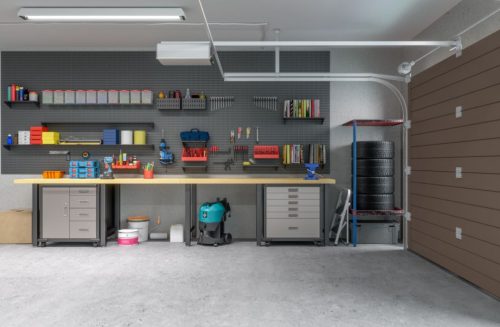 Curing Requires Time
Epoxy sets rapidly and may appear hard but is not necessarily ready at that point. The curing process takes between 18 and 24 hours before the surface can be walked over. A total curing with the ultimate hardness that is achieved with epoxy can take up to 30 days to achieve. If temperatures are cool the process can take longer. If the coating is applied in conditions under 60 degrees F, then the curing process will take an extraordinary length of time and problems can occur in the meantime.
If you Want Quality, Pay for it
Low-cost epoxies are not something that we recommended because they have fewer solids by volume and that means that when the product dries that it will be less thick than a more expensive product. When you choose a professional product, it has a higher concentration of solids and that will ensure that the finished product is far superior to a low cost one.
If you want the job done correctly, it may be a good idea to avoid the DIY approach when it comes to your industrial flooring. You should consider hiring a professional crew to apply your epoxy flooring so that there will be no costly mistakes with a finished product that looks inferior to the expected result. In this case, you truly get what you pay for, and it is a good idea to spend that little bit extra to get a superior result.
Important Facts About Epoxy Coatings
Epoxy is a durable coating. If you have been considering recoating your industrial floor, painting it is not a good option. Paint is not durable; it will chip and leave your floor looking run down in a short amount of time.
Epoxy is not slippery. It does go on smooth and takes some time to cure. Once it has completely cured, it can appear glossy, but that glossy appearance does not translate to a slippery surface. If you know that your flooring will be getting wet often, you may want to consider using additives to ensure that the surface is slip-resistant.
These coatings are suitable for a wide range of applications and can be applied in a wide range of colours. This type of coating is for more than just industrial applications so if you want colourful flooring in your home, you can choose to apply it in a wide range of colours and textures, making it perfect for your home or outdoor area.
One of the common thoughts about epoxy is that because it looks so great, it must be expensive. Nothing could be further from the truth. Epoxy is affordable and can last for as long as 15 years as a coating.
Epoxy needs to cure properly, and it is a good idea not to use the surface that has been coated until it has sufficiently hardened. If this is used in an industrial application it could be difficult to not use certain surfaces for the length of time required to allow the coating to cure, but if that is the case then certain areas should be coated one at a time and should be roped off so that the surface has the chance to harden.
If you are ready to recoat your industrial flooring, epoxy is a good option because of the durability and affordability of the product. You can choose any colour that you like along with texture to be added to the coating. It is always a good idea to hire an experienced crew to prepare the floor for epoxy and install the coating so that it will adhere correctly and be as durable as possible for the long run. Coating your industrial floors with epoxy is a good option when it comes to floor coverage because it can liven up any floor surface and make renew it. Epoxy is a good choice for industrial flooring, and it is also a good option for residential flooring or garages. The good thing about this product is that it is versatile and can be used for a wide range of applications. Locate a company where you can access a wide range of good quality epoxy products at a fair price, and you have already won half the battle.
---
Interesting Related Article: "4 Ways Protective Coatings Can Protect Your Commercial Flooring"