The actual introduction of cryptocurrencies into circulation happened, by the standards of the digital economy, quite a long time ago. A milestone in this process is considered the famous pizza deal by American crypto activist Laszlo Heinitz for 10,000 BTC in 2010. It would be wrong to classify this deal as a buy/sell. In fact, it was an exchange transaction. However, it was this episode that triggered the widespread introduction of digital assets into international economic circulation, as the cryptic currency proved to be an efficient, fast and secure means of calculation.
Today, transactions in cryptocurrencies reach multimillion dollar values.
Are cryptocurrencies money?
In the economic sense, cryptocurrencies are certainly money. After all, money in economics is a conventional unit of exchange accepted by society. Cryptocurrencies are recognized by the world community, their rate is determined by exchanges, they can be exchanged for goods and services (to buy or sell) and other currencies, including fiat currencies.
However, legally, cryptic currencies are not money. After all, the legal meaning of money, in addition to the listed economic properties, is to provide the fiat or national currencies of different countries around the world support states.
However, this does not mean that cryptocurrencies are illegal and operations with them cannot be performed. In this case, almost everywhere for individuals there is an opportunity to buy bitcoins and other cryptocurrencies.
At the end of June, ForkLog editors asked their subscribers in a telegram channel what they most often pay for with bitcoins. It was attended by 3558 respondents. The majority of respondents – 59% – prefer not to spend the crypt currency, earning on the growth of its rate. Another 23% of subscribers admitted that they do not own bitcoins.
Among the most popular spending items with bitcoin owners were money transfers – 8% and online purchases – 6%.
1% of respondents spend their money in restaurants, online casinos, travel and expensive purchases, such as real estate and jewelry.
Absolutely unclaimed among our subscribers were spending on taxis/transportation and education – 0%.
How do I find a place to spend my bitcoins?
Spendabit
The Spendabit search engine makes it possible to find several million products that are available for purchase at Bitcoin. The system finds various trading platforms and stores on the Internet that match your needs. Using Spendabit is easy: you just need to hammer the product you are looking for in the search bar.
OpenBazaar
OpenBazaar is a fully decentralized e-commerce platform. Calculations are made only in bitcoins without any additional fees. You can either download the OpenBazaar application or use the Duosearch search engine (a product from OpenBazaar) to find the desired products.

Purse.io is a tool for gift card holders who can buy for you products in return for your bitcoins. It is the best way to sell your Amazon gift card for money. The algorithm is very simple: you need to select an item and pay for the purchase with your bitcoin. Amazon Gift Card Holders use their Amazon Gift Card certificate to pay for your order in exchange for your Bitcoins.
Coinmap and SpendBitcoins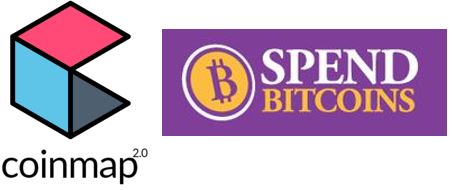 These two tools are a map of the world that shows the location of stores that take bitcoins. The map is easy to use: just zoom out to find points in your city.
As of August 2019, over 15,000 firms and individual entrepreneurs are registered on the Coinmap website. They are mainly based in the USA, Japan, South Korea and Western Europe – in Belgium, the Netherlands, Italy, Switzerland, Austria and the UK.
CoinATMRadar
CoinATMRadar will easily find a bitcoin ATM anywhere in the world so you can quickly and easily convert your bitcoins into fiat currency. This is very convenient if you only have your bitcoins with you, but they are not accepted as payment anywhere near you.
Synthesis
The trend is that opening and maintaining bank accounts is becoming increasingly difficult and expensive. Banking technologies do not keep up with the market development. Thus, SWIFT-transfers require opening a bank account, and the transaction itself may take up to 4-5 days.
Video – Cryptocurrencies
---
---
Interesting related article: "What is a Digital Wallet?"