If you are completing your MBA and want to head a business, consider buying a promising small company. If you do so, you can become its CEO immediately. It is an option for those who completed their MBA but have neither the experience to be considered for CEO positions nor their own innovative startup idea.
Buying a promising small company and heading it is not a pipe dream, says Peter Kelly, a search fund veteran. Such a strategy is the core idea behind 'search funds.' Search funds form part of a rapidly-growing niche in the private equity market.
Prof. Kelly is a Lecturer in Management at the Stanford Graduate School of Business in California.
With search funds, entrepreneurs find venture capitalists to fund and mentor them. These entrepreneurs are often people who have just completed an MBA course. Venture capitalists are people who invest in startups, young companies, or new ideas.
Searching for a promising small company
During the search phase, the investor essentially pays the entrepreneur to search for a promising small company.
During the acquisition phase, investors provide the entrepreneur with money to purchase the company. Some investors also provide guidance. Specifically, guidance in building the promising small company into something bigger.
We often refer to this type of investor as an angel investor.
Prof. Kelly has taught a course on search funds since 2009. In a new Report (citation below), which he led, he shows that the funds are "racking up real profits and growth."
Other report authors were H. Irving Grousbeck, Austin Yoder, and Sara Rosenthal. Grousbeck is a Professor at Stanford Business School and co-owner of the National Basketball Association basketball franchise the Boston Celtics. Yoder is Associate Director of Entrepreneurial Curriculum at Stanford Business School's Center for Entrepreneurial Studies. Rosenthal is a Senior Case Writer at Stanford Business School's Center for Entrepreneurial Studies.
Investors, who have learned from earlier failures and successes, are gradually becoming more professional. A growing number of entrepreneurs are executives who are already in the middle of their careers.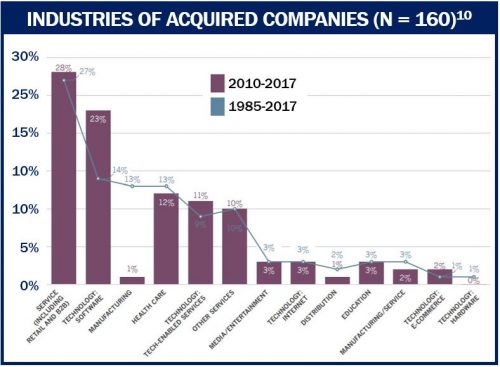 Promising small company – impressive returns
The returns, overall, are impressive. Since 1984, of 325 funds, Prof. Kelly calculates that investors get an average annual return of 33.7%.
Investors, on average, have recouped nearly seven times their original capital.
Search funds have created approximately $6 billion in additional equity, Prof. Kelly estimates.
In 2017, there were 86 active search funds – an all-time high. Also in 2017, there were seventeen acquisitions, which was also a record.
Sometimes, the 'small promising company' is not so small. In one acquisition, the purchaser paid $117 million.
Prof. Kelly said:
"There has been tremendous growth in the past 10 years, and it's been driven by entrepreneurs who want to become owner-managers without starting their own companies from scratch."
"These are solid companies in very attractive industries, and the entrepreneurs buying them are on their way to becoming excellent CEOs. They're just inexperienced and need mentoring to be successful."
Jim Ellis and Kevin Taweel
Jim Ellis and Kevin Taweel, two Stanford MBA graduates, are examples of legendary search fund success. In 1995, they acquired a small promising company in Texas. The company provided roadside assistance.
The two entrepreneurs soon steered the young company into the nascent cell phone insurance market. Today, that company, Asurion LLC, has 17,000 employees and revenues of nearly $9 billion.
Prof. Kelly said:
"It's encouraging and a little surprising that the returns have stayed high even with that much growth in the number of search funds," Kelly says. "I think it means that the model has a lot of power."
Search funds may acquire a small promising company in a wide range of industries. Most acquisitions occur in the United States. However, there is a growing number of search funds in Latin America and Europe.
Typical small promising company – now and before
There has been a shift in market sector. In the '80s and '90s, manufacturing firms were popular. Today, services and technology firms have become more dominant.
Over one-third of acquired businesses have been in tech sectors over the past seven years. Another 28% and 12% were in services and health care respectively. The services sector includes retail.
In 2017, the average purchase price was $13.1 million. Investors provide equity capital for most of the purchase price and borrow the remaining amount, as is the case with traditional private equity funds.
Why do mid-career executives or young MBAs launch search funds? According to Prof. Kelly, in most cases, it is because they want to own and lead a company.
Search funds – an option for MBA graduates
According to a Stanford Graduate School of Business press release:
"For people right out of graduate school, who usually don't have the track record to run a large enterprise or the money to buy a company on their own, search funds offer a way to become owner-managers without having to build a business from the ground up."
Search fund entrepreneurs typically run their small promising company for many years. Prof. Kelly, for example, ran Pacific Pulmonary Services for seventeen years. Having successfully run a company also makes them highly attractive as CEOs for larger companies.
In fact, large private equity firms today look at search fund entrepreneurs as possible candidates to run their own portfolio companies.
Citation
"2018 Search Fund Study: Selected Observations," Peter Kelly, H. Irving Grousbeck, Austin Yoder, and Sara Rosenthal, 2018 | Case No.E662 | Length 34 pgs.