Whether you've been working for a few years or you've just graduated from an undergraduate program, you might be thinking about pursuing your MBA (Master of Business Administration).
Earning your MBA can help you grow your career and command higher compensation. You'll also find an MBA will make you feature more prominently in the job market. Many employers are looking for candidates with MBAs when recruiting for certain management positions.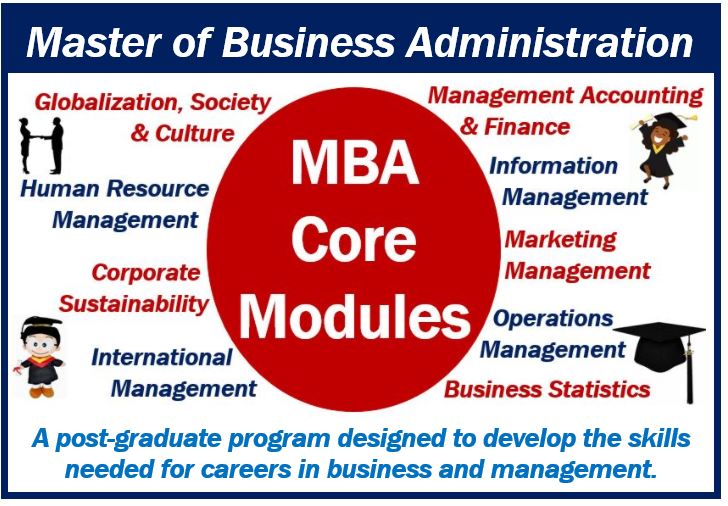 An MBA will also equip you with skills and expertise that can prove invaluable when you're starting out in business. However, an MBA from a reputable business school can cost as much as $90,000 or more in tuition fees, so it is advisable to do plenty of research before deciding on pursuing an MBA or DBA.
If you're undecided about whether you should pursue an MBA, continue reading to gain a better understanding of what an MBA is, the potential benefits and downsides, plus the value of an MBA in today's market.
What is an MBA?
An MBA is a professional degree whose coursework encompasses several business-related topics such as accounting, finance, marketing, entrepreneurship, economics, and business law.
MBA programs are designed to prepare students to become founders of startups or for potential careers in financial institutions or positions of leadership/management.
Many business schools consider the work experience of the applicant before enrolling them in an MBA course. But while an excellent performance in academics sets a good foundation, business schools provide MBA programs that are better tailored to suit real-world possibilities.
For instance, EMBA (Executive Master of Business Administration) programs are curated especially for older people who are still working in leadership roles. Business schools know academic records won't have much of a bearing on the students so they put more emphasis on work experience.
MBAs are the most popular graduate degree in the U.S. and they are available as full-time MBA programs or as part-time or online MBA programs.
Full-time MBAs usually take two years and are designed for people who've just graduated from their undergraduate. Part-time MBA programs are more flexible and are designed for people balancing their work-life or other responsibilities with their school program.
To be eligible for an MBA, you have to have a bachelor's degree, standardized test results, and letters of recommendation. The standardized test results could either be the Graduate Admission Council-administered GMAT (Graduate Management Admission Test) or the GRE (Graduate Record Examinations), provided by the Educational Testing Service.
Reasons Why You Should Get an MBA
1. Gain Access to a Wide Business Network
As an MBA student, you will have a great opportunity to grow your business management skills. You will have placed yourself in a convenient environment where you can interact with professors, lecturers, fellow students, and people with incredible business management skills.
People who enroll in MBA programs are often young practitioners of business. You'll find that most of them have around two years of experience in their professional careers, but don't be surprised to find a few senior employees in your classes who you can engage and learn from as well.
You will also get to access an extensive alumni network that can provide you with great insight into the business world depending on the MBA program you enroll for. This exposure can give you a deep understanding of how the business environment works.
2. Develop and Refine Sophisticated Business Management Skills
An MBA program will help you equip you with the skills you would need to run a company successfully. The study content of each MBA program might differ, but you'll find common competencies across nearly all programs.
Some of the skills you can expect to develop include:
Problem-solving skills such as a financial crisis or public scandal.
Better people management (employee retention and recruitment).
Leadership and corporate management.
Financial management.
Tough decision-making.
Collecting and interpreting reports on company data.
Networking and establishing mutually beneficial partnerships.
3. There are Plenty of MBA Specializations that Align with Your Goals
Plenty of business schools and universities offering MBAs have developed specialties across a variety of aspects in the business world. This leaves you, as the student, with a myriad of MBA specializations to choose from depending on what you feel fits your precise career goals.
Some of the common specializations you can expect to find include:
Finance: Course content focuses on statistics, data analysis, and accounting. They are ideal for chief financial officers, finance controllers and managers.
Marketing: For people engaged in service or product promotion.
Operations Management: Great for managers responsible for optimizing production processes.
Strategic Management: Helps students get ready for long-term business planning.
Entrepreneurship: Perfect for students with an original business idea and want to launch a startup.
Human Resources: Curriculum focuses on team motivation, conflict resolution, and outlining job responsibilities. Great for managers who work with large groups of employees or are responsible for HR teams.
4. You Can Make More Money
Job security and a higher salary are some of the most significant benefits of getting an MBA degree. The average income of someone with an MBA is much higher than a regular Master's graduate. If you have a regular university degree, you can expect to make twice as much.
A study done in 2010 found that the starting salary for an MBA graduate went up by nearly 50% compared to what they earned before getting the MBA. As the graduate grows into their career, that number could get even bigger.
Cons of Getting an MBA
1. MBA Programs Can Be Very Expensive
Getting an MBA can set you back up to $100,000, which isn't exactly pocket change. This could be just tuition fees alone, not considering other expenses such as textbooks or housing if you're taking up a full-time MBA program.
If you are studying full-time, you also have to consider the loss of earnings you'd have made as you take the time out to study.
2. You Need to Commit Considerable Time to Obtain Your MBA
Depending on the program and country you're studying in, an MBA program can take 2-3 years to achieve. If you're studying part-time, the MBA program might stretch for even longer. You need to consider the impact that this considerable amount of time can have on both your life and your expenses.
3. Success is not Guaranteed
Despite all the upsides of getting an MBA that are listed above, there is absolutely no guarantee that you will get your dream job after graduating.
Even if your country has a very healthy job market, you might experience other challenges associated with earning your MBA such as keeping up with the curriculum or fitting into the school environment.
A good way of thinking about it is that not every person in business requires an MBA to achieve success. Not having an MBA will not stop you from launching your startup and working your way up.
4. Online Learning MBA Programs are not as Effective
A lot of universities and business schools offer MBA programs online through their distance learning programs. These programs are highly convenient and flexible for students who are either limited by their work, responsibilities or simply live too far from the university to attend their classes.
However, online learning MBA programs do not provide the same networking value that is vital when earning or using your MBA. The corporate world is founded on networking and interacting in person in a business context.
Online learning often operates in business environments which are not conducive for MBA learning since lessons are conducted through internet chat rooms, video feeds, or email messaging. While some students will not feel the lack of face-to-face contact will hurt their opportunities, for others, personal contact is very important for them to enhance their skills.
Consider the Value of an MBA in Today's Market
The points highlighted above would prompt anyone who is considering getting an MBA to question whether it's worth the cost, time, and hassle. The truth is that it all depends.
For some people, the three letters that come after their name can open several doors and get them a seat at the table. Others are not open to spending tens of thousands of dollars to go back to school for two or three grueling years.
There's also the fact that not all MBAs are created the same. The number of business schools, universities, and colleges offering MBA programs is increasing every day. However, unless a student gets a degree from a reputable program, it might not have as much value as you'd expect.
Recruiters and employers will most likely not hold an MBA earned from an unknown school in the same kind of light as they would an MBA from a reputable institution.
If you are contemplating getting an MBA, weigh the pros and cons of enrolling in an MBA program and assess whether it is the right decision for your professional career as well as your life outside your job.
If developing those skills, mindset, and networking access are committing your time and money, then go for it. But if not, then you may want to look for a better alternative.
---
Interesting related article: "What is a Master of Business Administration?"