The most common nootropics in today's society are the brand-name drugs Provigil and Nuvigil, manufactured by Cephalon, Inc. Nuvigil is the newer version of Provigil & is similarly effective. Known by scientists as armodafinil, it is the single-isomer formulation (R-isomer) of Provigil (modafinil). It is known to have a longer half-life compared to modafinil. Also, in some instances, armodafinil is considered to be stronger than its "brother" with better wakefulness effects. While both meds can have similar negative reactions, some of them can be more common in one med versus the other.
Aside from prescribing such meds to treat excessive sleepiness, a medical specialist can prescribe it for depression & fatigue, opioid-related sedation, attention deficit hyperactivity disorder (ADHD), Alzheimer's disease, jet lag, etc.
These brand-name drugs have earned a great reputation on the global market because their demand is getting higher with the price. Provigil & Nuvigil are money makers for Cephalon. Their expensiveness is mainly due to the fact that the original drug maker performs costly research & development (R&D) activities. The company also spends much on marketing. So it raises the prices of Provigil & Nuvigil to cover the drug R&D costs.
Both products are also available as generic meds. Generic forms of drugs have the same active ingredients as the original versions but are significantly cheaper than their branded counterparts. This is because generic drug makers piggyback on all the R&D done by Cephalon [1]. So generic modafinil & armodafinil manufacturers don't bear the same R&D costs. Besides, they don't spend a lot of money on marketing — a massive cost for Big Pharma [2][3].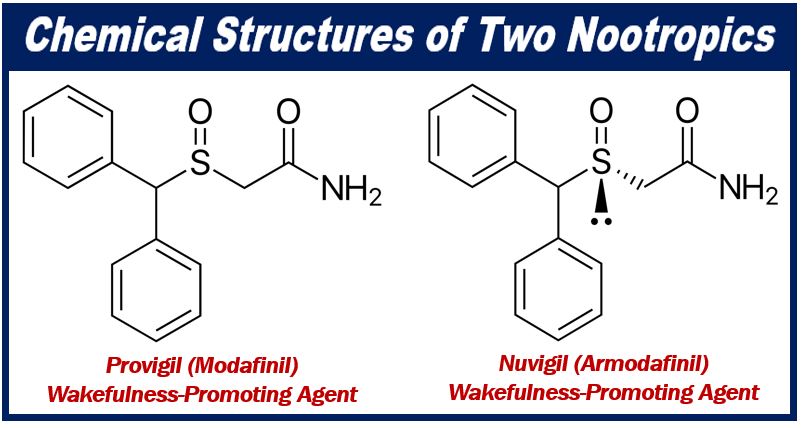 How Much Do Provigil and Nuvigil Cost?
It is hard to tell the exact cost of Provigil and Nuvigil because there are numerous variables to take into consideration. For a cash-paying shopper, the cost for Provigil® 100 mg 30 pills is around $1,363 and the cost of Nuvigil® 150 mg 30 tabs is $976.66 [4][5]. However, it depends on the local pharmacy you visit. These prices are not covered with insurance plans, but they can be reduced by using Provigil & Nuvigil coupons & rebates as well as patient assistance programs (PAPs).
Generic modafinil & armodafinil meds are covered by insurance plans. This makes their prices drastically drop compared to brand-name versions. Insurance companies may have a preferred medicine list where one generic brand is preferred over others.
In this case, non-preferred meds will cost you more out of pocket than preferred meds. However, the desired product can be easily sourced online at a reasonable value — less than $3 per pill. Stop wasting money on branded meds. Get a generic version and enjoy the benefits you want.
Why Do Healthy People Use a Smart Pill?
A high percentage of people, especially factory workers, business executives, IT specialists, coders, and other professionals, take a "smart pill" to foster their productivity & improve mental acuity. Students use such a drug to stay up late, concentrate longer, ameliorate focus, augment cognitive function, & succeed in school. The same applies to sports professionals using a "smart pill" to compete & win in sports.
These meds are fantastic and well-tolerated. Military officials who have used modafinil have found it so effective that some have referred to it as a "super med." Astronauts also take it to cope with fatigue & to optimize their performance.
Where to Buy Generic Nuvigil and Provigil at a Low-Cost Online?
Generics cost around 85% less than name-brand meds, according to the Food and Drug Administration (FDA) [1]. Purchasing unbranded meds of modafinil & armodafinil is not like opting for cheap toilet paper. Less expensive drugs here doesn't necessarily mean lower quality. Generics are chemically identical to the original versions, meaning that they work just as well.
Due to this, there exist various online nootropic pharmacies that offer generic versions of modafinil & armodafinil. There can be big variations in the cost of generic meds at different local & online pharmacies. The recommended vendor loved by many "smart pills" enthusiasts around the world is BuyModafinilOnline (BMO). It is known for its low-cost nootropic drugs sourced from approved Indian big pharmas such as Sun Pharma, HAB Pharma, Intas Pharmaceuticals, and Healing Pharma.
The good news is that BMO offers free modafinil trial samples. You don't have to chip in a lot of money. Only shipping is needed. First things first: Ask your physician whether you're suited to use the trial version of modafinil or armodafinil (Modalert / Artvigil). Although a prescription is not required, your health is paramount, and it's necessary to consult a physician before using a prescription med.
Get these free trial samples delivered from India straight to your doorstep by mail. You don't have to order in bulk if you don't know if modafinil/armodafinil will work for you. These trial samples are all free and 100% legit to order from BMO without a prescription, especially in the United States, just to bring a little joy into your life.
References:
Generic Drug Facts. Published: January 6, 2018. Fda.gov.
Stop wasting money on brand-name drugs. By Julia Belluz. Published: February 16, 2016. Vox.com.
How a Drug Maker Tries to Outwit Generics. By Jonathan D. Rockoff. Published: November 18, 2008. Wsj.com.
Provigil Prices, Coupons and Patient Assistance Programs. Retrieved: January 21, 2021. Drugs.com.
Nuvigil Prices, Coupons and Patient Assistance Programs. Retrieved: January 21, 2021. Drugs.com.
---
Interesting related article: "What are Nootropics?"